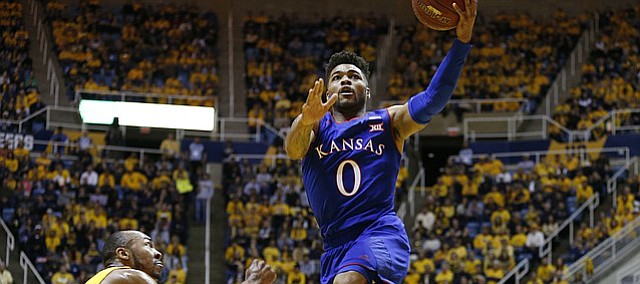 Morgantown, W.Va. — Booed every time he touched the ball, thanks to a directive from the West Virginia student section's pregame flyer known as the Mountaineer Maniacs Musings that dubbed him the Bum of the Game, Kansas point guard Frank Mason III had an off night during the Jayhawks' 85-69 loss to No. 18 West Virginia.
Fifteen points, four rebounds, two assists and two steals in 39 minutes may not sound sluggish, but the KU senior was not nearly as effective driving to the rim as he has been throughout the season and he also played his role in the Jayhawks' ole' defense that gave the Mountaineers easy bucket after easy bucket throughout the night.
Asked if they noticed the extra attention from both the WVU student section and Mountaineers players frustrating Mason, his KU teammates stopped short of saying their leader was rattled.
"This is a tough game for a point guard because it kind of takes them out of the rhythm.... They made it hard on him tonight," said fellow-senior Landen Lucas.
Photo Gallery
Kansas Basketball v. West Virginia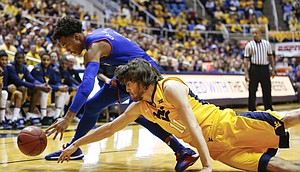 View a gallery of images from Tuesday night's game between the Jayhawks and Mountaineers at WVU Coliseum.
Added junior guard Svi Mykhailiuk, who finished with six points and seven assists on 2-of-9 shooting: "I don't think anyone played good today. Frank did what he was supposed to do. He didn't turn the ball over a lot and he controlled the game for the most part. It's just hard to play here when you (handle) the ball and they press the whole game."
Other notable jabs from the Maniacs Musings included: claiming that Devonte' Graham bears a resemblance to Franklin the Turtle, from the popular Canadian television children's show Franklin and Friends; that they also did not know how to pronounce Sviatoslav Mykhailiuk; that Josh Jackson is a bandwagon Chicago Cubs fan; that Mitch Lightfoot is baby-faced; and that Lagerald Vick's middle name is Montrell.
Jackson for 3
For the second consecutive game Kansas freshman Josh Jackson shot the ball well from beyond the 3-point line, connecting on all four 3-point tries en route to a team-high 22 points.
Asked if the recent hot streak was a sign that he had found his shot, Jackson shrugged and focused instead to spend most of his time criticizing KU's shortcomings instead of praising his own play.
"I've got confidence in it, my teammates do, my coach does and when I'm open I'm gonna just shoot it and hopefully it goes in," Jackson said of his long-range stroke.
Said Self of his freshman's productive night: "I thought, offensively, he played pretty good, but I didn't think defensively anybody played very well at all. He's gotta get more than four rebounds in a big-boy game like that, especially when Landen's out with foul trouble."
Illness no issue
Foul trouble and a quicker West Virginia front line frustrated Lucas into a forgettable, 2-point, 10-rebound night in which he finished with four fouls in just 24 minutes.
But the senior forward refused to use his recent illness as an excuse for his difficult night. Asked if he was over the bug that was ailing him during last weekend's win over Texas, Lucas said simply, "I am. Yes."
Cashing in
Several of West Virginia coach Bob Huggins' recent meetings with Kansas have been profitable both in the win column and his bank account.
As if having defeated KU in each of the Jayhawks' last four trips to Morgantown did not have a sweet enough ring to it, Huggins has picked up a little extra cash for those victories.
Tuesday's win delivered another $25,000 bonus for Huggins, whose contract extension, signed in 2012, included a clause pledging that amount for beating the Jayhawks.
According to the Charleston Daily Mail, the contract states that Huggins will collect $25,000 for "any victory over the University of Kansas during the regular season."
ESPN's Andy Katz reported Tuesday that Huggins donates the money to cancer research in the name of his late mother.
History repeating?
Kansas freshman Mitch Lightfoot, who snagged one rebound and blocked one shot in eight minutes against the Mountaineers, said recent Kansas history suggests that Tuesday's loss might not be all bad news for the Jayhawks.
"We're all for each other in the locker room," Lightfoot said after the game. "We're not gonna let each other down. The last time we lost we rebounded pretty well, with a pretty fun game. I feel like that can happen now and we just need to play our butts off and defend. That's the most important thing."
That last loss, 103-99 in overtime to Indiana in November, was followed by a thrilling win over No. 1-ranked Duke in New York City. And with another blue blood awaiting the Jayhawks after this loss — Saturday at No. 4 Kentucky — Lightfoot is hoping the Jayhawks will achieve a similar bounce-back.
"We've gotta be tougher down the stretch and we've gotta come together as a team," he said. "But this is good for us and we're gonna come back better. I'm 100 percent sure of that."
This and that...
KU's lead in the all-time series with West Virginia dipped to 6-4, including 1-4 in games played in Morgantown.... The Jayhawks are now 4-1 in true road games this season and 8-2 in games played away from Allen Fieldhouse.... KU was out-rebounded by WVU, 39-32, marking the second time in the last 12 games that Kansas was beaten on the boards.... The 85 points surrendered by the KU defense was the third highest total scored by a Kansas opponent this season (Indiana, 103, and Kansas State, 88).
— See what people were saying about the game during KUsports.com's live coverage.
---
More news and notes from Kansas vs. West Virginia
---