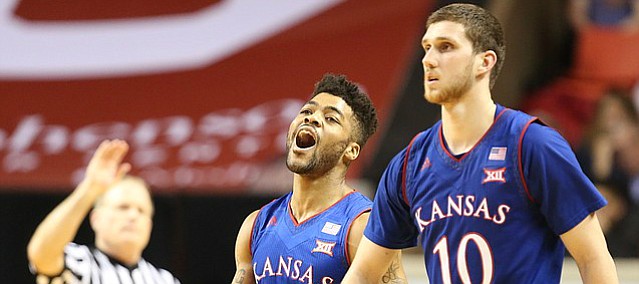 No. 2 Kansas Jayhawks (18-1 overall, 7-0 Big 12) vs. No. 18 West Virginia Mountaineers (15-4 overall, 4-3 Big 12)
Time: 6 p.m. | Location: WVU Coliseum, Morgantown, West Virginia
TV: ESPN | Radio: IMG Jayhawk Radio Network
Log on to KUsports.com for our live game blog coverage and follow the KUsports.com staff on Twitter: @KUSports @mctait @TomKeeganLJW @bentonasmith & @nightengalejr
Keys for Kansas
1. Take care of the ball
It almost seems too simple to state such a difficult task in such a matter-of-fact way, but ball security is by far the biggest key for Kansas in this one and everybody knows it.
KU coach Bill Self, the Kansas players who have experienced it and even those who haven't have spent the past couple of days obsessing over how to prepare for West Virginia's vicious pressing defense. Each has come up with the same simple answer — be smart, stay poised and attack.
"It's always a challenge," said KU senior Frank Mason III. "They do a great job of being active, guys in the right spot. And they do a great job of rotating and also just trapping and playing with unbelievable energy. It'll be fun."
WVU leads the NCAA in turnovers forced per game (23.2) and also leads the Big 12 in scoring (88.3 points per game), steals (12 per game), turnover margin (+11.5) and defensive rebounds (15.6 per game).
Each of those statistics is related in some way, and Kansas' goal of preventing the Mountaineers from flourishing in each of those areas will come down to how cool, calm and collected the Jayhawks can remain when these two teams are out there flying around the floor.
"It's very important because everybody knows they're pressing and they force a lot of turnovers," junior Sviatoslav Mykhailiuk. "So, for us, it's going to be real important to keep the ball alive and limit mistakes."
2. Embrace the moment
It's been four years since Kansas walked into WVU Coliseum and left with a victory and the Jayhawks, who have won 18 consecutive games after dropping the season opener back in November, find themselves in a great position to end their three-game road losing streak against WVU.
Reeling from back-to-back losses — at home against Oklahoma last week and at Kansas State over the weekend — the Mountaineers dropped 11 spots in the polls this week and have to be dealing with at least some doubts and confidence concerns as they prepare to welcome the nation's second-ranked team into their home arena.
Of course, nothing would go further in helping WVU get back on track than a strong effort against Kansas in front of what figures to be a wild and rocking home crowd.
The Jayhawks experienced something similar early last week at Iowa State and, after that win, KU coach Bill Self said he thought his players enjoy playing in those types of atmospheres.
This will be one of them and the Jayhawks appear to be primed and ready for the challenge.
Said Self, whose team is set to kick off a nasty, three-game stretch at No. 18 West Virginia, at No. 4 Kentucky and home vs. No. 5 Baylor: "We can't be in a better position than we're in right now, but it would be nice if we kick it into another gear. Because, if we don't, we'll be looking, two weeks from now, at the situation saying, 'OK, it's anybody's race.' And it still is anybody's race, but we've put ourselves in a decent position and now we have to capitalize on our efforts so far."
3. Start fast
One way to take the home crowd out of it is by jumping out of the gate fast and taking control of the game. The Jayhawks did that against both Texas and at Iowa State in their most recent victories and a similar effort here would go a long way toward not only keeping the WVU fans quiet but also allowing even more doubt to creep into the minds of the West Virginia players themselves.
KU's fast start in both of those games was aided as much by stellar defense as it was sharp shooting and strong play on the offensive end.
So far, Kansas has shown a propensity throughout the season to answer big runs with timely shots and the Jayhawks figure to need more of that in this one. But the one way to limit just how many of those clutch plays they might need starts with turning up the defensive intensity and getting easy buckets in the first five minutes.
"It's definitely up there with K-State, Iowa State and then I would say it's West Virginia," said Mason, when asked to name the toughest places to play in the Big 12. "But sometimes they can be up there for one of the best."
Mega Matchup
Backcourt vs. Backcourt
You could nitpick and try to find the big man battle that might tip the balance one way or the other or look to the bench, where WVU both goes deeper and gets more production than Kansas, but the bottom line is this one figures to be decided by the guards.
KU veterans Frank Mason III and Devonte' Graham along with freshman Josh Jackson against West Virginia vets Jevon Carter, Daxter Miles and Tarik Phillip. Whichever trio out-produces the other likely will lead its team to victory.
All six players in that group find ways well beyond scoring to impact each game, from defensive intensity and veteran leadership to setting up teammates and scrapping for extra possessions.
For Mason, the individual match-up with Carter will mark the third time in the past four games that he has faced one of the Big 12's elite point guards.
Jayhawk Pulse
After weeks of looking ahead to the gauntlet that's now in front of them, the Jayhawks are set to jump into a two-week stretch of games that will prove beyond a shadow of a doubt whether they truly are one of the top teams in the country.
Self recently said he thought KU was ranked high because of its impressive record, but he added that, since opening the season against Indiana and Duke, the Jayhawks had not truly been tested the way they will in the next three weeks.
Five games against Top 20 foes — including three on the road — awaits, and there is not a tougher place to kick it all off than Morgantown, West Virginia.
The Jayhawks are coming off of one of their most impressive defensive efforts in their win over Texas but also allowed that game to be more competitive than it looked like it would be after the Jayhawks' 14-2 run to open the game.
It's unlikely that Kansas will survive this stretch in good standing without flashing at least some kind of the killer instinct that has eluded them, and it's that aspect, as much as defensive improvement and continued offensive punch, that will be under the microscope in the immediate future.
Probable Starters
No. 2 Kansas
G – Frank Mason III, 5-11, 190, Sr.
G – Devonte' Graham, 6-2, 185, Jr.
G – Josh Jackson, 6-8, 207, Fr.
G – Sviatoslav Mykhailiuk, 6-8, 205, Jr.
F – Landen Lucas, 6-10, 250, Sr.
No. 18 West Virginia
G – Jevon Carter, 6-2, 200, Jr.
G – Daxter Miles Jr., 6-3, 200, Jr.
F – Brandon Watkins, 6-9, 225, Sr.
F – Esa Ahmad, 6-8, 225, Soph.
F – Nathan Adrian, 6-9, 235, Sr.