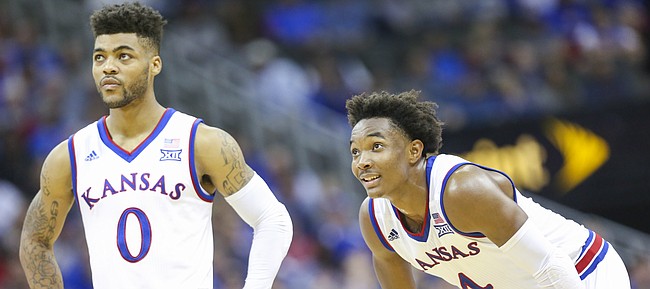 Rowing upstream with a defense that gave up way too many easy baskets and routinely got beat off the dribble, Kansas coach Bill Self a few weeks ago challenged guards Frank Mason III and Devonte' Graham to lead the charge to fix the KU defense.
While all three will tell you that there remains plenty of room for growth and improvement, Self believes things have gotten better.
"I think the boat is pointed in the correct direction now," Self said. "But I don't know if I would say (we've turned it around). I think we're guarding a little bit better than we have. So much of guarding is finishing the possession. And we're rebounding it a little bit better."
Now a third of the way through the conference schedule — with the second third beginning at 1 p.m. Saturday when Texas comes to Allen Fieldhouse — Self and the Jayhawks are looking to take the next step toward becoming a better defensive team.
For some, like Mason, that means improving your ability to play team defense. For others, like Graham, that means improving individual defense. And with those two leading the way, inspiring, pushing and challenging the five players in the rotation behind them, there is a sincere belief that better days are still ahead.
"If you look at our games so far in league play, we haven't played poorly," Self said. "But we haven't played great either. So collectively, I do think that they're doing better, but I don't think we've reached our potential on that end by any stretch.... We certainly have got another gear that we can go to."
So far, that improvement has come in the form of baby steps. After allowing 45.3 percent shooting and maintaining a plus-3 rebounding margin during the first three games in Big 12 play, the Jayhawks have responded during the next three by trimming the opponent's field goal percentage to 42.6 percent and bumping their rebounding edge to plus-8.
Even with things trending in the right direction defensively, five of KU's six conference wins have included noticeable flaws.
Wins over TCU, Kansas State and Oklahoma State came down to the final couple of minutes. Victories at Oklahoma and Iowa State featured rough first halves and strong second halves. Only the Texas Tech victory, Jan. 7 at home, came from the Jayhawks' ability to put together back-to-back strong halves.
"I think we've had some stretches in each half where we've looked really good," Self said. "And the other thing about this team, and I've said this about other teams, we can be pretty average, especially at home, and (then) have that four-minute period that creates enough separation where it can lead you to a win. I think that's happened several times."
While the goal, night in and night out, remains to deliver quality play from start to finish, Self made it clear he realized that doing that often over the course of a 30-game season is quite a challenge. What's more, Self also proved he's fine with his team racking up victories by simply finding a way to win.
"You look across the country historically, and most teams that have pretty good records, they've had to win some games when they weren't their best," he said. "I tell our guys all the time, if you want to divide the season up into 30 (games), there are going to be 10 games where you stink. How many of those 10 can you still win when you play bad? And there are going to be 10 games where you're average, and how many of those 10 are you going to win when you're average? And then there are going to be 10 games where you play really well, and if you play really well, and you have really good players, you can probably guess what the record would be.
"I think we're in that mix right now. I think we've played a lot of games where we're in that middle category, but somehow been good enough and figured out a way."