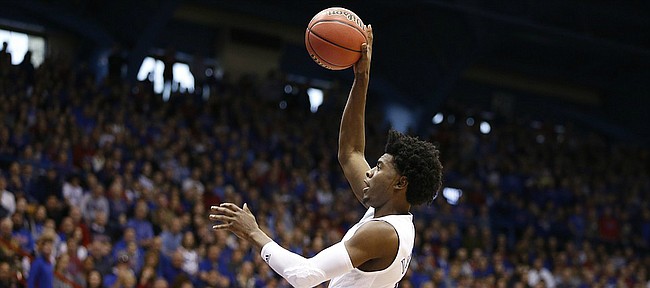 No. 2 Kansas Jayhawks (17-1 overall, 6-0 Big 12) vs. Texas Longhorns (7-11 overall, 1-5 Big 12)
Time: 1 p.m. | Location: Allen Fieldhouse, Lawrence, Kansas
TV: CBS | Radio: IMG Jayhawk Radio Network
Log on to KUsports.com for our live game blog coverage and follow the KUsports.com staff on Twitter: @KUSports @mctait @TomKeeganLJW @bentonasmith & @nightengalejr
Keys for Kansas
1. Battle of the bigs?
While Kansas has been able to utilize its four-guard lineup for much of the season without worrying about paying for it in the front court, KU coach Bill Self said his team's match-up with Texas might require the Jayhawks big men to play big minutes.
Landen Lucas already has been doing plenty of that, so this might be one of those games where Carlton Bragg is asked to step up. Good timing, huh? Bragg had arguably his best game of the season on Monday night against Iowa State and appears to be more confident than he has been at any point this season.
Still, with two traditional big men in the starting lineup and more coming in off the bench behind them, the Longhorns will pose a major challenge to both Lucas and Bragg and this one could come down to which team's style gives the other team more fits.
"They're young, extremely athletic, and extremely big in size," Self said of the Longhorns. "Probably the biggest team that we've played, at least that I can remember in quite some time. So we'll have to defend them a little differently than what we have been."
2. Offense wins
While Bill Self is never going to subscribe to this theory, he might be willing to concede that it could be true for his team in this match-up.
The Jayhawks enter Saturday's game with Texas averaging 85.8 points per game, 16.2 points per game more than the Longhorns' average of 69.6. So right there you're looking at a mismatch of sorts in that one team likes to put up points and does it with ease and the other struggles to reach 70.
Add to that the fact that KU is out-shooting Texas from both the floor (50.4-43.9) and 3-point range (41.2-29.7) and it's easy to see that if the Jayhawks merely hit their averages in this one, that should provide Kansas with enough offensive firepower to run past Texas.
To make matters worse for Shaka Smart and Texas, it sure looks as if KU might be due for a hot shooting night. In its last game at Allen Fieldhouse, Kansas made just 5-of-20 shots from 3-point range and shot just 44.1 percent overall. Kansas improved from the outside Monday night against Iowa State, but the 6-of-15 clip from deep was still nowhere near the red-hot shooting the team had enjoyed during its three previous games.
3. Pressure the point
With the departure of two-headed-point-guard-monster Isaiah Taylor and Javon Felix from last year's squad, the Longhorns have asked athletic wing Kerwin Roach, Jr., to handle a good chunk of the ball-handling and point guard duties so far this season.
While that had led to varying degrees of success and failure, Roach has started to find his way of late.
"I think he's gotten better," UT coach Shaka Smart said. "He's made major progress. He's handling the ball much more, his assist-to-turnover ratio is significantly better and it can continue to improve."
Roach is averaging 11.6 points and 4.8 assists in 35 minutes in Texas' last five games while shooting 50 percent from the field and 41.7 percent from 3-point range.
While his size (6-4, 175) likely will inspire KU to try different defensive looks against him, getting Frank Mason III, Devonte' Graham and perhaps even Josh Jackson to make him uncomfortable is key. After all, Roach leads all UT perimeter players with 42 turnovers this season and is still fine-tuning his ability to play the point.
Mega Matchup
UT freshman Jarrett Allen vs. KU senior Landen Lucas
The old man vs. the new kid on the block. Size and savvy vs. athleticism and intensity. However you want to draw up the trailer for this big man battle, make sure you put enough emphasis on just how important it will be to the outcome of this game. Few players in the conference are as hot as Allen, a 6-11, 235-pound freshman from Round Rock, Texas, who actually picked UT over Kansas during his recruitment. Allen has averaged 18 points, 8.7 rebounds and 2.3 blocks in 33 minutes per game during the last three outings and is gaining confidence and comfort by the possession. Overall, Allen is fifth in the Big 12 in rebounding, at 7.8 boards per game, and also adds 11.9 points per game and has recorded a team-high 29 blocks this season. To put that number in perspective, KU's leading shot blocker is freshman forward Josh Jackson, with 26, while Lucas ranks second with just 15.
Jayhawk Pulse
With games against West Virginia, Kentucky and Baylor looming and coming off of an intense and profitable trip to always-tough Ames, Iowa, it would be easy to call KU's home game against a sub-.500 Texas team as one that the Jayhawks could overlook.
But then Oklahoma went into West Virginia on Wednesday night and knocked off the No. 7 team in the country and provided the Jayhawks with a probably-not-so-needed reminder that if they don't bring it every night in the Big 12 Conference, they're vulnerable to defeat.
Because of that, and because their overall mission remains to improve as much as possible every day and approach every immediate challenge with razor sharp focus, Self believes the Jayhawks will enter the UT game with the right mindset.
"I don't know if we needed that to happen to get them up," Self said of OU beating WVU. "But when we put together our tape of Texas and show our players, they'll see their capabilities.... I think the word is going to spread about how talented their young players are, and certainly our guys know how athletic dangerous they are."
Probable Starters
No. 2 Kansas Jayhawks
G – Frank Mason III, 5-11, 190, Sr.
G – Devonte' Graham, 6-2, 185, Jr.
G – Josh Jackson, 6-8, 207, Fr.
G – Sviatoslav Mykhailiuk, 6-8, 205, Jr.
F – Landen Lucas, 6-10, 250, Sr.
Texas Longhorns
G – Kerwin Roach Jr., 6-4, 175, Soph.
G – Jacob Young, 6-2, 185, Fr.
G – Eric Davis Jr., 6-3, 195, Soph.
F – Jarrett Allen, 6-11, 235, Fr.
F – Shaquille Cleare, 6-8, 275, Sr.
More like this story on KUsports.com