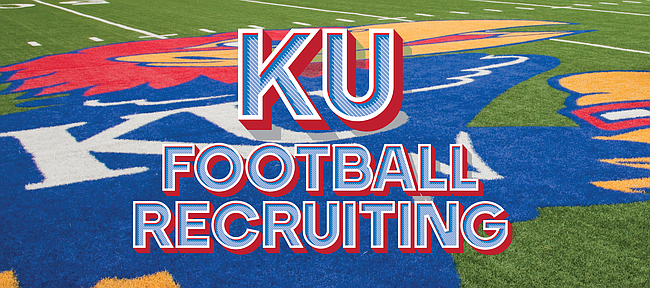 Another in-state prep football player is headed to the University of Kansas.
Pratt senior Hunter Kaufman announced via Twitter his decision to attend KU and join the Jayhawks' football program.
"Can't wait to get to work," Kauffman, a 5-foot-11 high school running back and safety tweeted out with his declaration.
Kaufman, who helped Pratt win the Class 4A DII state championship this past fall, joins Sunflower State prep commitments Joey Gilbertson (Wichita Northwest), Cooper Root (Wichita Collegiate), Kenyon Tabor (Derby) and Jay Dineen (Lawrence Free State) in the Class of 2017.
In his final season at Pratt (12-1), Kaufman averaged 9.7 yards per carry and scored 21 rushing touchdowns, made 30 catches for 472 yards and six scores and accounted for 1,396 yards of total offense. As a defensive back, he made 50 total tackles and three interceptions.
Expected to be a walk-on with the Jayhawks, Kaufman's commitment tweet included the following note: "I am blessed and excited to announce that I will continue my academic and athletic career for the University of Kansas as a Jayhawk. I would like to thank God for this awesome opportunity and my parents and my past and current coaches for their support."
Since taking over the program ahead of the 2015 season, KU head coach David Beaty and his staff have proclaimed their desire to recruit and land more in-state players.
In 2016, KU had 20 homegrown Jayhawks on its roster: Lawrence Free State's Bryce Torneden, Sam Skwarlo, Joe Dineen and Keith Loneker Jr., Bishop Miege's Ryan Willis and Montell Cozart, Basehor-Linwood's Ben Johnson, Wichita native and Andover alum DeeIsaac Davis, Louisburg's Mesa Ribordy, Prairie Village native and Rockhurst alum Joe Gibson, Olathe South's Frank Seurer Jr., Wichita Northwest's Deron Thompson (a running back transfer from Colorado State), Baldwin's Reese Randall, Hesston's Ryan Schadler, Topeka Washburn Rural's Nathan Miller, Blue Valley's Mazin Aqi, Blue Valley West's Hunter Saulsbury, Blue Valley Southwest's Beau Lawrence, Blue Valley Northwest's Austin Moses and Shawnee Mission Northwest's Will Smith.
Smith was a senior last season and Willis transferred out of the program, to Virginia Tech.
Big recruiting weekend ahead
According to Jon Kirby of Jayhawk Slant, KU football will have three recruits who are not committed to the program visiting campus this weekend.
While preps Dominic Williams, Robert Topps, Kenyon Tabor, Liam Jones and Jay Dineen will make official visits, too, all have previously committed to Beaty and his staff.
They will be joined by un-committed Darreon Jackson and Antonio Cole, as well as well as Quan Hampton, who currently is committed to Texas State.
Rivals ranks Jackson, a 6-foot-1 safety from Coffeyville Community College, as a three-star juco prospect. Cole, a 6-1 cornerback from Highland Community College, is a three-star juco player, according to the recruiting website.
Hampton, a 5-8 prep receiver from Texarkana, Texas, is considered a three-star prospect by Rivals.
National Signing Day is Feb. 1.
Some Jayhawks returning
Though nothing official has yet been announced, a pair of former KU football defensive players soon are expected to join the staff as graduate assistants.
Kansas teammates from 2013 to 2014, former safety Cassius Sendish and ex-linebacker Victor Simmons, who finished their careers playing for Charlie Weis and interim head coach Clint Bowen, will help out on Beaty's staff.