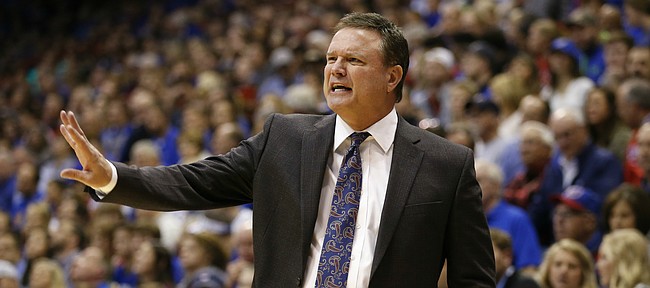 Depending on where you look, strength of schedule can be a difficult statistic to trust, with the various rankings including everything from detailed data points to the eye test and most recent performances.
According to the average strength of schedule numbers from Ken Pomeroy (16), CBS Sports (20) and ESPN (26), the Kansas men's basketball team, ranked No. 2 in the nation by The Associated Press and No. 1 in the USA Today coaches poll, registers a number between 20 and 21. This reveals that the Jayhawks have had the fifth toughest schedule to date among Top 10 teams.
There is something to be said for consistency, though, and outside of No. 6 Baylor, which has an average strength of schedule of 17, only one other Top 10 team has less of a gap between the three numbers than the Jayhawks.
The difference between KU's best strength of schedule number (16) and its worst (26) is just 10 spots. Baylor's gap is the smallest (16 to 17) and top-ranked Villanova's is eight (11 to 19).
Beyond that, things get interesting and significantly more spread out, with third-ranked UCLA having a gap of 44 spots between its best (96) and worst (140) and fourth-ranked Gonzaga registering an even wider gap, from 56 on kenpom.com to 126 on ESPN.com.
Even fifth-ranked Kentucky (7 to 32) and ninth-ranked North Carolina (11 to 24) have wider margins between their best and worst strength of schedule numbers than Kansas, even though both have a better average than the Jayhawks.
So what does it all mean? According to Kansas coach Bill Self, it's merely one of many signs that the season remains a work in progress.
Although Kansas is used to living in the Top 10 in strength of schedule year after year, these Jayhawks (17-1 overall, 6-0 Big 12) have not made it there quite yet. Outside of back-to-back, season-opening games against then-No. 7 Indiana (now unranked) and then-No. 1 Duke (now 18th), KU's schedule has not carried its usual pop.
"I think our team is respected nationally," KU coach Bill Self said Thursday. "But I don't think we're thought of as highly as other teams. I think some people rank us high because our record's good. Whereas, if you look at us, we haven't done anything to really knock anyone's socks off since the Duke game because we haven't had a chance because of the schedule."
That's about to change. After facing just one team currently ranked in the Top 25 in the season's first 19 games — KU hosts Texas at 1 p.m. Saturday at Allen Fieldhouse in Game No. 19 — the Jayhawks will rip off a nine-game stretch that features five games against the current Top 7 — two against West Virginia, two against Baylor and one at Kentucky.
Self said it was that reality that likely kept Kansas out of the No. 1 spot this week and allowed Villanova to jump from third to first. But neither Self nor his players had any issue whatsoever with the way things have shaped up in the national polls.
"We've played good teams, but we haven't had a chance to play a Top 5 team again or Top 10 team again," Self said. "Whereas Villanova goes and plays at Butler, and Villanova blows out Xavier, those types of things. So I'm not disappointed at all where we are. I can certainly understand it. But I do think that we'll have an opportunity here in the next two to three weeks to show whether or not we deserve to be there."
Sophomore forward Carlton Bragg Jr. agreed and said the team was looking forward to the challenges that lie ahead.
"I believe we're still trying to find out who we are and these big challenges that are coming up, we've just gotta prepare for it and we will see," Bragg said.
Asked if the Jayhawks had reached their full potential yet, Bragg answered immediately.
"I don't think so. Not at all. Not at all," he said. "Not defensively, and I think we can play a lot faster than we're playing now."
Mason OK
Senior point guard Frank Mason III, who tweaked his right knee Monday night during the Jayhawks 76-72 victory in Ames, Iowa, is doing fine and is not expected to miss any time, including practice.
That message was right in line with Self's thoughts following Monday's victory.
"Just like what we said," Self said Thursday. "He practiced (Wednesday), and he may be a little sore or stiff or whatnot, but structurally, he's OK."
Azubuike progressing
Freshman big man Udoka Azubuike, who broke his wrist in late December and will be sidelined for the remainder of the season, recently had his stitches from surgery removed and is wearing a regular cast.
That's good news, according to Self, who said that was the first step in Azubuike's long road to a full recovery.
"He's able to do cardio and stuff now," Self said. "And he needs to. So he's back on the mend as far as working out and things, but he's still gonna have the cast on for another two months, I believe."
Vick a pro?
After a strong summer and good start to his sophomore season, Lagerald Vick has leveled off a bit and settled into a role as one of KU's primary bench players.
Asked Thursday to assess where Vick was in his development, Self paid the Memphis native a strong compliment.
"Oh, I think he could be a pro," Self said. "I think Lagerald Vick could play in the NBA. I think he's got the length, he's got the ball handling, he's got the body, he's a natural athlete, all of these things. I think that he was a little bit further along than what we anticipated early in the season, and I think now he's probably where we anticipated him being at this point in time. So I think he's right where we had hoped he would be. But after seeing how well he played early in the season, I think that there's something in there that he will get that back. He's on an uptick now, and I think he'll get that back, playing at that very high level."