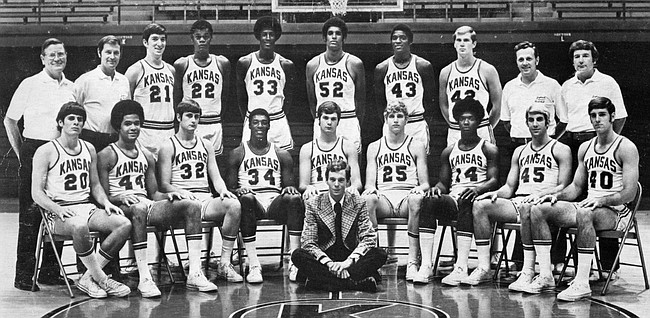 Sometimes seven is enough, as the Kansas basketball team has shown so far this season and showed 43 seasons ago.
The Jayhawks made it all the way to the 1974 Final Four with a seven-man rotation that included six players who played their high school ball in the state of Illinois. Ted Owens' eighth man, Von Moore, appeared in just 13 of KU's 30 games that season.
Tom Kivisto and Dale Greenlee started at guard, Roger Morningstar and Norm Cook at forward and Danny Knight at center. Rick Suttle was the reserve big man, Tommie Smith the reserve guard. Knight, from Hutchinson, was the lone Kansas native.
Kivisto, the captain, was the only senior in the rotation. Cook was a freshman and the other five players were juniors.
"That was in an era when the game was starting to move from very deliberate Hank Iba kind of stuff into a more fast-paced, John McLendon kind of thing," said Roger Morningstar, proprietor of Morningstar's New York Pizza, where basketball talk so often hangs in the sweet-smelling air. "We were muddling around somewhere in the middle of all that."
Seasons are 10 games longer and played at an even faster pace now, so it's a tougher task to make it through a season using seven players now than it was then.
Since Udoka Azubuike went down with a season-ending wrist injury, Self has used a seven-man rotation, prompting many to look at the team's 17-1 record and No. 2 national ranking and say, "Self's done a great job with this team," to which Morningstar is quick to respond: "Name a team he hasn't done a great job with."
Morningstar is the only Lawrence resident among the seven players who lost to Marquette in the national semifinal and then to UCLA in the consolation game in Greensboro, N.C. Knight died at the age of 24 from a brain aneurysm. Cook, who battled mental illness through much of his life, died in 2008.
Morningstar keeps in touch with the others from the magnificent seven-man rotation that defied the odds by making it to the Final Four after going 8-18 the previous season.
Morningstar reports that: Kivisto, an entrepreneur after whom the Memorial Stadium field was named in the wake of his $12 million pledge, lives in Chicago. Greenlee lives and works in Indianapolis. Smith is retired and living in Topeka after a lengthy career in state government. Suttle had a long basketball career overseas and is back in East St. Louis living in the home in which he grew up.
The Jayhawks were the surprise team of that Final Four, one in which only Marquette used more than seven players.
After losing to Marquette, the Kansas players watched one of the greatest games in Final Four history, featuring two of the most celebrated players college basketball ever has known. David Thompson's North Carolina State team defeated Bill Walton's UCLA squad, 80-77, in double-overtime. NC State's bench outscored the Bruins', 4-2. Walton and Greg Lee, the point guard who fed him, played 50 minutes as did the Wolfpack's guards, Monte Towe and Mo Rivers.
The stars didn't disappoint. Walton totaled 29 points and 18 rebounds and Thompson had 28 points and 10 boards for the victors, but the details from that game aren't burned in Morningstar's memory.
"We weren't in much of a mood," Morningstar said.
These days, it's difficult to imagine Roger, a friendly, laid-back man always up for talking Kansas basketball, being in a rotten mood, but losing will do that to a competitor.
More like this story on KUsports.com