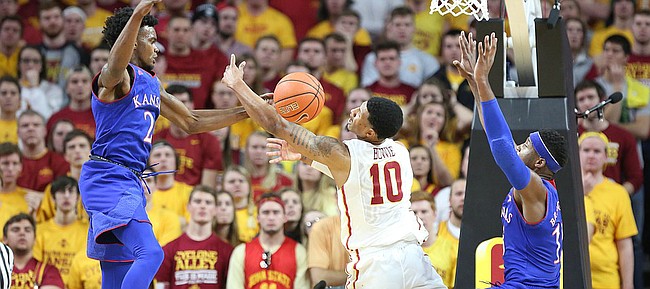 Ames, Iowa — Add soothsayer to the list of roles Kansas basketball coach Bill Self plays at work. Motivator, tactician, recruiter, promoter and now, forecaster of the future.
Self aimed his pre-game talk at his bench, which is to say two players who had been pulling more no-shows than not of late.
"You two are going to win the game for us," Self told sixth man Lagerald Vick and seventh man Carlton Bragg before they took the Hilton Coliseum court to face Iowa State.
Photo Gallery
Kansas basketball v. Iowa State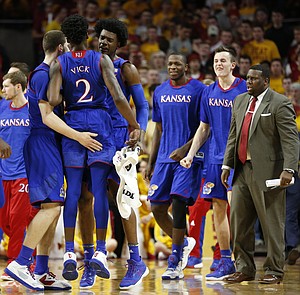 View a gallery of images from Monday night's game between the Jayhawks and Cyclones at Hilton Coliseum.
So naturally, Bragg produced his first double-digit scoring game since Nov. 18 against Siena in Allen Fieldhouse. Playing this time against much tougher competition and a fiery crowd, Bragg stayed close to the bucket against one of the conference's shorter teams and totaled 10 points, and six rebounds in helping Kansas score a big 76-72 victory in front of 14,384 at Hilton.
Iowa State — or was it the red glow sticks distributed to the spectators? — rattled Kansas into 11 first-half turnovers, yet trailed at the half, 43-37, in large part because both sophomore reserves did more in the first 20 minutes than they had done for a full game in a while.
The duo combined to play 61 minutes in victories against the two Big 12 members from Oklahoma, made 1 of 11 field goals, scored eight points, didn't have an assist and turned it over five times.
That didn't exactly translate to high expectations for them in the eyes of most, especially playing in an always-hostile environment brimming with energy even when the athletic department doesn't spend $12,000 to purchase glow sticks.
Relatively inexperienced in such situations, Bragg and Vick practiced the art of feeding off the enemy crowd, rather than getting eaten up by it.
In the first half alone, Bragg and Vick combined for 12 points and eight rebounds, half off the offensive glass, in 24 minutes. At the defensive end, Vick made himself useful prowling the passing lanes and swatting shots. He turned bucket-hanging into points at the other end. Vick stepped in front of a pass, took it in for a dunk and scored another on a tip-in. His first half included six points, five rebounds, three assists, two blocked shots and a steal. He finished with eight points.
Vick missed both of his 3-point attempts but made all four from inside the semi-circle, including a dunk at the end of a press-break that put KU up five points with 18 seconds left.
The victory kicked off an extremely challenging 10-game stretch for the Jayhawks (17-1, 6-0), winners of 17 in a row since a season-opening loss to Indiana. In order to stay undefeated in the lower 48, Kansas will need performances such as Monday's to become the norm, rather than the exception.
"Collectively, as seven goes, we kind of labored here lately, that if the starting five didn't have a great night it would be hard for us to win," Self said. "Tonight we had a couple of (starters) not have our best night and those guys totally made up for it."
Self said that better performances in practices from both reserves made his prediction less difficult than it might seem to those on the other side of the closed practice doors.
"Carlton was great in shoot-around," Self said. "You could just tell his head was right."
Bragg missed an uncontested layup and a rebound went right through his hands, but it was his best game in a long while.
"It's huge," center Landen Lucas said of the reserves delivering. "It's crazy 'cause coach kind of called it before the game. He said that we needed big games from both of them and called them out specifically. And next thing we know both of them came out and had great first halves and great overall games. He called that. He understood what we needed from them and both of them were due to have a good game.
"As far as Carlton goes, I'm very proud of him, being a fellow big man. I'm definitely happy for him having such a good game in such an important game."
Bragg said of his 15-minute effort: "Just stepping up to the challenge, getting (Self's) trust back, getting my rhythm back and playing hard. It feels great. I just have to do it each and every game. Come practice, I have to do the same thing."
Vick said he "definitely felt more confident going into the game, first true road game, stepped up."
They combined for more points (18) Monday night than they had in the last three games (17). Better late than never.
— See what people were saying about the game during KUsports.com's live coverage.
---
More news and notes from Kansas vs. Iowa State
---