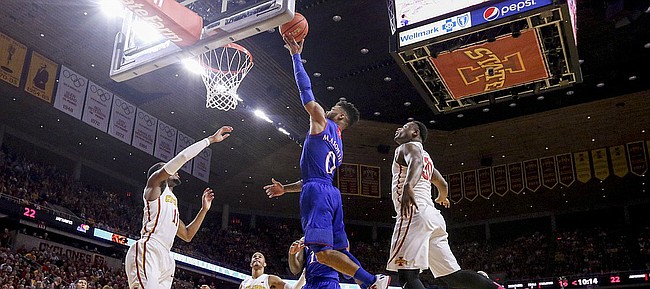 Ames, Iowa — Monday night, in a match-up pitting the Big 12 preseason player of the year against arguably the best player in all of college basketball so far this season, Kansas senior Frank Mason III helped his team out-duel Iowa State's Monte Morris at Hilton Coliseum in a 76-72, last-man-standing type of victory for the second-ranked Jayhawks.
Mason led the Jayhawks with 16 points, including a couple of crucial buckets late, and connected on 7-of-12 shots — 2-of-3 from 3-point range — on the heels of one of his worst shooting games of the season.
Perhaps Mason's biggest play of the game — a game in which he played 33 minutes despite tweaking his right knee early on — came with just under two minutes to play and Kansas leading by eight.
With Kansas in possession and looking to inbound along the baseline, KU coach Bill Self called a play from the bench and asked Mason if he wanted to run it. Without saying a word, Mason shook his head and then let his play do the talking, soaring to the rim for a tough, left-handed finish in traffic that turned Hilton Coliseum silent.
"Frank tweaked his knee and played with it the whole game," said Self, adding that he did not think there was any reason for concern. "But I thought Monte Morris had a spectacular game. And Frank would be the first to tell you that. I thought he played fabulous. And Frank was solid. But when we needed Frank to step up, that last drive he made, that was a big time play."
Photo Gallery
Kansas basketball v. Iowa State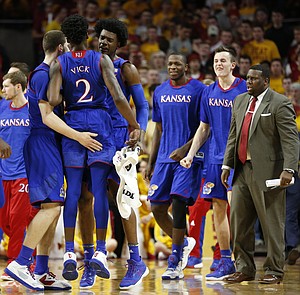 View a gallery of images from Monday night's game between the Jayhawks and Cyclones at Hilton Coliseum.
Morris, who finished with a game-high 23 points to go along with seven rebounds and seven assists, delivered the better stat line. But Mason walked away with the win.
"It was a great match-up," KU senior Landen Lucas said of the stellar point guard showdown. "They both played well. Morris had a great game. He controlled a lot of the pace and did a good job, but that's two great players and two great point guards, two of the best in the country. For them to go at it was fun to watch and Frank should definitely be happy because he led our team to a victory."
Mason, of course, did not do it by himself. The Jayhawks (17-1 overall, 6-0 Big 12) needed a little bit of everything from all seven players who entered the game to leave the state of Iowa with their perfect Big 12 record intact and this one came down to Kansas' ability to better execute its game plan.
The Jayhawks limited ISU to 44 percent shooting, out-rebounded the Cyclones, 41-24, and matched Iowa State's scrappy, physical play all over the floor from start to finish.
After watching the Cyclones (11-6, 3-3) slice into their lead before halftime, the Jayhawks needed just 150 seconds to push their advantage back to double digits to start the second half.
KU's lead never grew larger than 10, but thanks to the Jayhawks' toughness and willingness to scrap, they did not need it to.
Kansas held ISU within arm's length for most of the second half and did so with different players stepping up at different times. Landen Lucas (14 points, 6 rebounds) was big inside. Lagerald Vick (eight points, five rebounds, three assists) played 27 tough minutes. Svi Mykhailiuk drained three of five 3-pointers and finished with 13 points.
"They made (their runs)," Lucas said. "But luckily we had some guys who experienced that last year, and during one of the timeouts we were like, 'OK, they made their run now we gotta cut it off."
Iowa State led just twice all game — 4-2 and 8-6 in the first five minutes — and Self said he was impressed by the way his team overcame 18 turnovers and made tough play after tough play to win in Ames for the first time since 2014.
"If they get over the hump, then you know the crowd will be into it even more," Self said. "And I thought our guys did a good job of answering their runs.
"This was the first time that we've been in a place like this. No disrespect to where we've played, but this is by far the best home court we've played in so far. It was a great atmosphere and we made just enough plays."
One of the biggest came in the closing seconds after Iowa State used a few long-range bombs to trim the KU lead to three and give themselves a chance.
Despite advancing the ball on uneasy ground, KU broke Iowa State's pressure and got an easy two-handed dunk from Lagerald Vick to reclaim a five-point lead with 18 seconds to play.
Morris calmly cashed two free throws three seconds later and the Jayhawks were in the exact same position they found themselves in one possession earlier. This time, Vick inbounded cleanly to Devonte' Graham (nine points, eight assists), who hit one of two free throws to push the lead back to two possessions with 12.8 seconds left.
"How we played at the end wasn't very good," Lucas said. I think we could've closed the game better. Credit to them for hitting some big shots, but we've gotta be better at not even giving them a chance.... We shouldn't have been in that situation, but when we were Devonte' did a great job and I've got confidence in him. He's clutch. All the guards are."
— See what people were saying about the game during KUsports.com's live coverage.
---
More news and notes from Kansas vs. Iowa State
---