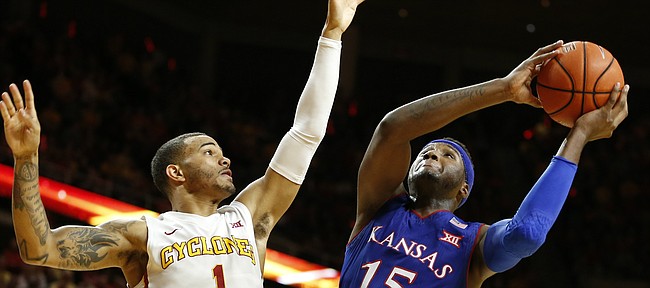 Ames, Iowa — Monday night was one of those games that Kansas coach Bill Self likes to refer to as "big-boy games."
And thanks to some of the biggest boys on the Kansas roster, the Jayhawks came away victorious, 76-72 over Iowa State at Hilton Coliseum.
Senior forward Landen Lucas led the Jayhawks' big men with 14 points and looked a bit like Shaquille O'Neal against the backdrop of the smaller, scrappier Iowa State lineup that ISU coach Steve Prohm put on the floor for most of the night.
"I thought it was big," Self said of KU's advantage inside. "You know, they're not very big and they play small a lot. That makes them really, really hard to guard. But if there is an advantage we would have it would be in standing height, so we've gotta take advantage of throwing inside some and getting to the glass."
Photo Gallery
Kansas basketball v. Iowa State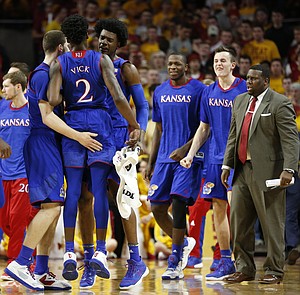 View a gallery of images from Monday night's game between the Jayhawks and Cyclones at Hilton Coliseum.
KU out-rebounded ISU 41-24 and outscored the Cyclones 52-28 in points in the paint.
It seemed as if every time the Jayhawks found themselves in trouble, staring a dangerous Iowa State rally right in the face, they settled down in the half-court, looked over the top and inside to Lucas and sophomore Carlton Bragg Jr. and watched good things happen from there. It wasn't always pretty. But it was effective, and that was all that mattered to the Jayhawks.
"That was the plan," Lucas said. "And Carlton did great. I didn't think I did very well given the match-up. I could've rebounded a lot better; I'm not very happy about that. But there's always things you can improve on and the most important thing is that we won. Whatever we did do worked, so that's fine."
No weather concerns
An expected, ice storm that caused panic throughout northeast Kansas and left central Iowa in a winter storm warning through midnight Monday had no negative affect on KU's travel plans.
The Jayhawks, who traveled to Ames by bus, arrived around 6:15 p.m. Sunday night and had an altogether uneventful trip to the most hostile environment they've played in this season.
KU was scheduled to leave after Monday's game and arrive back in Lawrence around 4 a.m. Tuesday.
Superb signage
Among all the loud roars, crude chants and handmade signs that fired venom toward the Kansas bench stood one of the best signs you'll ever see.
In simple black-and-white letters on the face of a tombstone, it read: "RIP Perry Ellis' college career, 1942-2016."
Even with KU's No. 8 all-time leading scorer now playing in the NBA Development League, the Old Man Ellis jokes are still making their way around the Big 12 Conference.
We're No. 2 — and No. 1
Despite getting more first-place votes (32) than any team in the country, the Jayhawks stayed at No. 2 in this week's Associated Press poll and watched Villanova (17-1, 28 first-place votes) jump over them from No. 3 and back into the top spot.
"It really doesn't matter," Self said. "I told our staff that Villanova would jump us in the AP (poll). They beat Xavier last week by 25, so that doesn't surprise me at all. But we're in a pretty good spot right now."
Baylor, the nation's No. 1 team last week, dropped to No. 6 in the AP poll after suffering its first loss of the season — at West Virginia last Tuesday.
Kansas did move into the top spot in this week's coaches poll, replacing Baylor and earning 23 of 32 possible first-place votes in that poll.
No. 3 UCLA (18-1, 3 votes) and No. 4 Gonzaga (17-0, 2) were the only other teams to earn first-place votes in the AP Poll.
"At the end of the day, it's the end of the season that matters the most," Lucas said. "We were No. 1 for most of the second half of the season last year and Villanova crept up and beat us and ended up winning it all and finishing No. 1. That's all that really matters."
Jackson honored again
After averaging 18 points, 7.5 rebounds and 2.5 steals in KU victories over Oklahoma and Oklahoma State last week, Kansas freshman Josh Jackson earned co-Big 12 Newcomer of the Week honors, marking the fourth time this season the Detroit native has been recognized for the award.
Jackson shared newcomer of the week honors with Texas freshman Jarrett Allen.
Historically, Jackson's four Big 12 Newcomer of the Week recognitions ties the run by Tyshawn Taylor for the most by a Jayhawk.
After winning the Big 12 Player of the Week in late December, Jackson became just the third Jayhawk to earn Big 12 newcomer and player of the week honors in the same season, joining Ben McLemore (2012-13) and Mario Chalmers (2005-06).
This and that...
Kansas now leads the all-time series with Iowa State, 179-63, including a 69-39 record in games played in Ames, and a 25-21 mark at Hilton Coliseum.... KU's current 17-game winning streak ties for the fourth longest streak of the Self era.... The Jayhawks moved to 6-0 in Big 12 play for the 10th time in the 21-year history of the conference.
— See what people were saying about the game during KUsports.com's live coverage.
---
More news and notes from Kansas vs. Iowa State
---