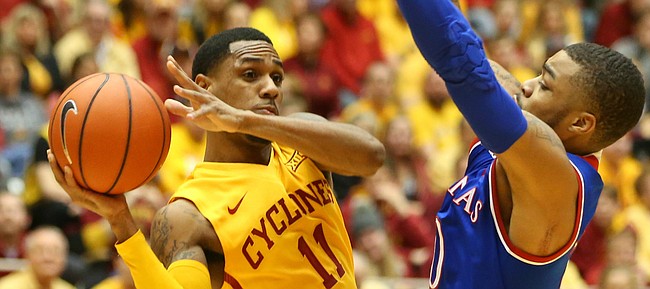 Forget the lofty ranking, the 5-0 start in Big 12 play or the 16-game winning streak the team currently is riding.
For Kansas guards Frank Mason III and Devonte' Graham, the focus was on something that, at least for the moment, is much more important than any of those things — winning in Ames, Iowa.
Both were happy to talk about it just minutes after the Jayhawks improved to 16-1 on Saturday evening with a hard-fought win over Oklahoma State at Allen Fieldhouse. And both sounded eerily similar in the way they worded the challenge they'll face Monday night at Iowa State's Hilton Coliseum.
"I'm excited, man," said Graham, who poured in a season-high 21 points in the win over OSU. "I haven't won at Iowa State yet, so that's the key."
Added Mason, who tallied a team-high 22 points and bumped his Big 12 leading scoring average up to 20.5 points per game: "I haven't won there personally, and we want to go up there and play our best basketball and just get ready."
Even though the Cyclones (11-5 overall, 3-2 Big 12) enter the first Big Monday game of what promises to be a wild Big 12 season unranked and on the heels of a road loss to TCU, their lineup features a host of veterans who have logged a lot of miles in the Big 12 and had varying degrees of success against the Jayhawks.
Kansas coach Bill Self on Saturday reminded folks that he picked Iowa State to win the Big 12 this season.
"I think they're really good," Self said.
Iowa State starts five seniors, including preseason Big 12 player of the year Monte Morris. Four of the five can shoot. All five are legit athletes. And the group, as a whole, has both great respect for Kansas and a strong desire to take the Jayhawks down.
That desire burns hottest for senior guard Naz Long, who has played the role of Jayhawk killer in the past but missed out on two opportunities to do so last year because of an injury that cost him all but eight games of the 2015-16 season. Granted a medical red-shirt following the end of what would have been his senior year, Long is back and, in 16 starts so far this season, leads the Cyclones with 15.7 points per game.
"Man, this is it," Long said before the start of the season. "After this, we're gonna be taking a step into the real world, wherever that leads us. And this is it. It's our last chance playing against Kansas and at Texas and at Oklahoma and you've gotta cherish every one of those moments."
While each Big 12 game and whatever comes next will be special to Long, few are as special as the match-ups with Kansas. KU and ISU have developed a nationally recognized rivalry during the past several seasons. And even though all-time ISU great Georges Niang is no longer in a Cyclones uniform, that does not mean that the rivalry is dead.
"We have a nice little rivalry going and that was kind of solidified when Bill Self said that our rivalry with them was as significant as anybody's in the country," Long said. "That's pretty cool to hear from him and I'm gonna pay my respects to that program. They get it done. And when we look back on those games, those will definitely be games we never forget for the rest of our lives."
Asked to name one game that sticks at the top of Long's list, the 6-foot-4 Canadian pointed to a four-point win over KU in the Big 12 tournament title game two years ago.
"It was half red and half blue, just a crazy atmosphere," Long recalled. "We were losing the whole game, we couldn't buy a lead. But in the second half we had a nice little surge and pulled it off."
It's games like that and performances from a long list of great players on both sides that made the rivalry what it has become. And Long said experiencing it firsthand is a dream come true.
"That's why we came to Iowa State, man," he said. "We could've gone to different schools that had winning traditions in the past but we didn't because we wanted to come build a winning tradition at Iowa State and now people know who Iowa State is. We're definitely on the map now."
More like this story on KUsports.com