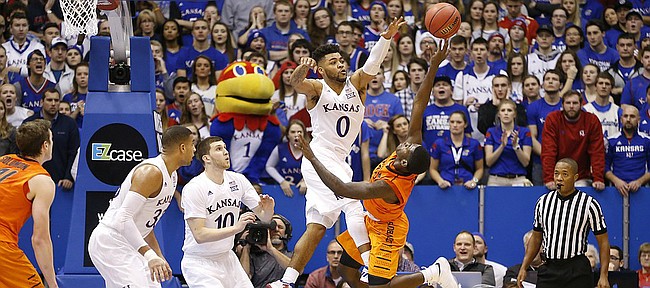 Fans, critics and analysts alike, have been saying all season that the time would come when the Kansas men's basketball team would not shoot the ball well from the outside and would not be able to rely on the 3-point shot to bury an opponent.
That game arrived on Saturday afternoon at Allen Fieldhouse, but the result remained the same. Depsite shooting just 5-of-20 from 3-point range, the Jayhawks prevailed, 87-80, over a scrappy Oklahoma State squad. And senior point guard Frank Mason, as has come to be expected, was a big reason for it.
But it wasn't Mason's smooth stroke or eye-popping 3-point percentage that led Kansas to a 16th-consecutive victory and the brink of becoming the No. 1-ranked team in the nation. Instead, it was his heart.
"I thought Frank was really good defensively today, but, offensively, that's about as average as he's been because he didn't make shots," said KU coach Bill Self of his point guard who finished 6-of-16 from the floor, but still tallied a team-high 22 points. "Usually, if he gets four good looks he makes three. We get pretty spoiled. And today he made just one. But he gets the ball where it needs to go.
"I can get onto him and he can frustrate me and all this stuff, but I'm not gonna take him for granted.... He is so competitive and he just seems to make plays. I thought today he was average, but he competed hard."
Photo Gallery
Kansas Basketball v. Oklahoma State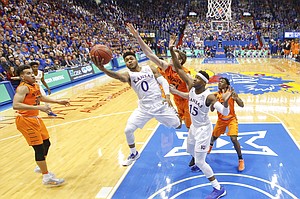 View a gallery of images from Saturday's game between the Jayhawks and Cowboys at Allen Fieldhouse.
And it took every ounce of sweat, each defensive slide and all of the friendly bounces, timely plays and clutch moments Mason and his teammates could provide to will Kansas (16-1 overall, 5-0 Big 12) past an Oklahoma State that smelled upset for 39 minutes.
Led by its own terrific trio of Jawun Evans (15 points, six assists), Phil Forte III (10 points, six rebounds) and Jeffrey Carroll (23 points, seven rebounds), the Cowboys raced out to an 11-point lead in the first half by giving maximum effort on every play and hitting a scorching 70 percent of their shots to open the game. That trio combined to score OSU's first 17 points, a feat that went completely against what Kansas wanted to do defensively.
"That was our whole game plan, making sure those guys didn't have big nights," Self said. "For them to only end up with 48 (points) after the way they started, we obviously were better after that."
Podcast episode
Kansas basketball coach Bill Self met with the media following Saturday's 87-80 victory over Oklahoma State and discussed his team's defense in the second half and potentially rising to No. 1 in national polls.
The Jayhawks never led in the first half and trailed for 19:09 during that stretch, tying the game on three separate occasions but only for a matter of seconds each time.
OSU's ability to answer every punch KU threw its way, including a 12-2 run that pulled the Jayhawks within one with 7:55 to play in the first half, played a huge role in the way the first half played out.
The Jayhawks had one quality opportunity to claim the lead but a corner 3-pointer from Sviatoslav Mykhailiuk rattled in-and-out and the Cowboys answered on the very next trip down the floor with a 3-pointer of their own to turn a 35-34 lead into a four-point cushion.
The Cowboys (10-7, 0-5) took that lead into the locker room and did not surrender control until Devonte' Graham's driving layup with 14:10 to play put Kansas ahead, 51-50.
All three of Graham's 3-pointers came in the second half, two during the Jayhawks' climb to claim the lead, while Mason and Mykhailiuk only made one apiece, in 10 combined attempts, to account for all of KU's outside shooting Saturday.
After quickly building a five-point lead following Graham's go-ahead bucket, OSU tied things with a ferocious rally of their own with 11:22 to play. The teams remained separated by just a possession or two into the final two minutes and Kansas did not claim its largest lead of the day until Graham swished a pair of free throws with 21 seconds to play.
"Their pace early in the game made us play faster than we wanted to," Self said. "And I thought we took some bad (shots), off balance. The second half, we drove it downhill a lot more and got to the free throw line. That was our best offense tonight."
After making 12 of its first 14 shots from the free throw line, KU connected on 30 of 45 for the game, compared to just 11-of-14 free throw shooting for Oklahoma State.
Those freebies, along with KU's second-half performance on the glass — outrebounding OSU 27-15 after being outworked by three in the first half — helped KU hold off the strong challenge from the Cowboys.
KU trailed at halftime for the second game in a row and fourth time this season, but moved to 4-0 in those games thanks to another challenge from Self.
"It's an emphasis every game," Graham said of winning the rebounding war. "We were getting out-rebounded at halftime and, once again, coach called us out and we just responded to the challenge in attacking the boards."
Whatever warts accompanied his team's latest victory mattered little to Self after the game. They may at some point. And before it's all said and done, there will be plenty of things about Saturday's game the Kansas coach points to as areas that need improvement. For now, though, the focus is on KU's next challenge, which will come Monday night in Ames, Iowa against Iowa State.
"We are not going to apologize for this," Self said. "It was a good win against a good team. I knew it would be a hard game and certainly all we did today by winning was set up a big game in Ames on Monday. Happy to win, but our focus needs to shift to the Cyclones."
— See what people were saying about the game during KUsports.com's live coverage.
---
More news and notes from Kansas vs. Oklahoma State
---