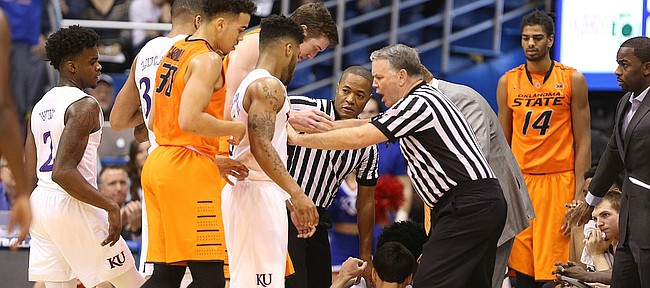 With his team in a dogfight and crunch time quickly approaching, Kansas freshman Josh Jackson was whistled for a charging foul on a bucket that, had it stood, would have given the Jayhawks their first lead of the game.
After hearing the whistle and confirming the call, Jackson, who three times already this year had been hit with technical fouls for reacting to plays in the heat of the moment, raced to the other end of the floor with a pained look on his face and disagreement dripping from his body language.
Asked after KU's 87-80 victory over Oklahoma State how he was able to keep his composure after such a tough play, Jackson showed the kind of growth that Kansas coach Bill Self has been expecting.
"I don't really think that I kept my cool," Jackson admitted. "I think I could've handled it better than I did, actually. Sometimes I just don't agree with the call and it gets to me a little bit. I'm just glad I didn't get a technical this time."
Photo Gallery
Kansas Basketball v. Oklahoma State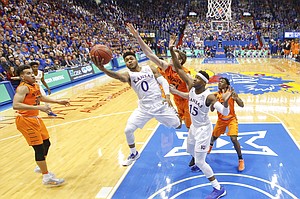 View a gallery of images from Saturday's game between the Jayhawks and Cowboys at Allen Fieldhouse.
Self, who actually argued the charge call with officials after the whistle, said he did not think Jackson did anything wrong on the play or in the moments after it. But he would like to see Jackson take another step toward controlling those small outbursts.
"Part of competing is being able to think next play and not put your team at all in jeopardy more," Self said. "We drill him and talk to him and do those things. He's an emotional guy, which I would much rather him be emotional than not emotional, but I think he can probably handle some situations, from a body language standpoint, better when things don't go his way."
Hearing that Jackson agreed and called himself out for his reaction proved to be an encouraging sign in Self's eyes.
"I didn't bring it up with him," he said. "I just told him keep his mouth shut. And, of course, his reply was, 'I didn't do anything,' which, I've never known a player that does do anything wrong. But I think he's one of those guys that after something happens and after he can digest it, he's very rational in his thoughts."
Podcast episode
Kansas basketball coach Bill Self met with the media following Saturday's 87-80 victory over Oklahoma State and discussed his team's defense in the second half and potentially rising to No. 1 in national polls.
We're No. 1?
KU's win Saturday, combined with No. 1 Baylor's loss on Tuesday at West Virginia, clears the way for the Jayhawks (16-1 overall, 5-0 Big 12) to climb into the top spot in the polls when the updated versions are released Monday.
Such news remained fairly insignificant to Self and the Jayhawks, who hardly were celebrating the potential move up following Saturday's victory.
"I don't think that we were overly impressive today," Self said. "But I think we've been pretty consistent for 16 straight games. I feel like we've done more than we had done two weeks ago, but who knows if that means anything. It's really not a big deal."
KU senior Frank Mason agreed: "It's good to be ranked No. 1, but we want to be ranked No. 1 when it matters the most, and that's later in the season. I guess you get a pat on the back for being No. 1, but we want to play our best ball moving forward."
Happy homecoming
Oklahoma State coach Brad Underwood, a native of McPherson who played at Kansas State and also worked as an assistant coach there from 2006-12, said being back in the Sunflower State was almost perfect.
"It's great, other than coming here," Underwood joked after Saturday's game. "Sheesh. I just told the team I'm 0-9 in this building. Let's hurry up and get the heck out of here."
"This is such a special state," Underwood continued. "You have three universities that produce top-level basketball. You have top community colleges and Division II basketball. This place is special. Kansas is always going to be home and I'm always going to be proud to be a part of this state and everything that transpires here."
Nothing like a day game
KU senior Frank Mason, who led the Jayhawks with 22 points and pushed his Big 12-leading scoring average to 20.5 points per game, said Saturday that he loved playing early games at Allen Fieldhouse, which have become fewer and far between with television networks jumping at the opportunity to put the Jayhawks in prime time.
"Nothing is better than an afternoon game here in Allen Fieldhouse," Mason said. "The fans are great and it just gives us time to kind of hang out with our family for the rest of the day and gives us time to relax instead of going straight to bed."
This and that...
Kansas now leads the all-time series with Oklahoma State 112-57, including a 47-9 mark inside Allen Fieldhouse.... Arizona State transfer Sam Cunliffe was at Allen Fieldhouse on Saturday, wearing street clothes and sitting on the Kansas bench. Cunliffe, a freshman, will sit out the next two semesters and become eligible to play for KU next December.... OSU forward Mitchell Solomon's 6-of-6 shooting performance against Kansas on Saturday marked the most field goals made by a KU opponent without a miss since Iowa State's Stevie Johnson made all five shots he attempted in February of 1998.... Frank Mason III passed Brandon Rush for 23rd place on KU's all-time scoring list, with 1,481 points.
— See what people were saying about the game during KUsports.com's live coverage.
---
More news and notes from Kansas vs. Oklahoma State
---
More like this story on KUsports.com