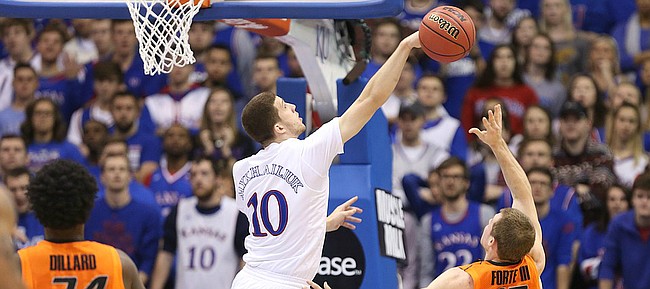 With a balanced effort from its starting five, No. 2-ranked Kansas basketball scraped together just enough offense to defeat underdog Oklahoma State, 87-80, Saturday afternoon at Allen Fieldhouse.
The visiting Cowboys, desperate for a marquee victory, out-played the Jayhawks throughout the first half, leading by as many as 11 points. However, led as usual by senior point guard Frank Mason III, KU eventually wore down OSU down the stretch to win its 16th consecutive game.
Though many of Mason's shots didn't connect (6-for-16 from the floor and 1-for-4 on 3-pointers), he led the team in scoring for the 13th time this season, with 22 points.
Photo Gallery
Kansas Basketball v. Oklahoma State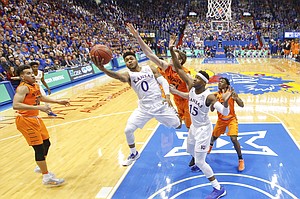 View a gallery of images from Saturday's game between the Jayhawks and Cowboys at Allen Fieldhouse.
His longtime backcourt partner, junior Devonte' Graham, proved just as important for KU (16-1 overall, 5-0 Big 12) versus the Cowboys (10-7, 0-5). Graham scored 17 of his 21 points in the final 20 minutes of a game the Jayhawks never led in the first half.
Freshman sensation Josh Jackson had his shooting issues, too (5-for-13 field goals, 10-for-17 free throws), but contributed 20 points, 11 rebounds and four steals.
Though foul trouble kept him on the bench for a stretch of the second half, junior wing Svi Mykhailiuk scored 14 points in the win. Steady senior post presence Landen Lucas added seven points and 12 boards as KU extended the nation's current best home-court winning streak to 52 games, including 49 at the field house.
Here's a quick look back at some of the action:
• The game turned when: Kansas finished the final few minutes in solid fashion, particularly with its late-game defensive stops and rebounds.
After 2-for-11 3-point shooting from the home team in the first half led to a 40-36 deficit at the break, and the Cowboys didn't fold as the Jayhawks mounted their rally.
Once KU finally took a lead in the second half, Oklahoma State kept fighting, and the Jayhawks didn't lead by more than six until the final minute.
It took key buckets in the final four minutes from Graham and Jackson and a handful of free throws from Jackson, Mason, Graham and Mykhailiuk to keep OSU — led by Jeffrey Carroll's 23 points — from pulling off the upset.
• Offensive highlight: After an 11-for-27 first half, Kansas eventually got more shots to fall after intermission.
Though OSU maintained its halftime lead early in the second half, the Jayhawks found an easy score in one of Bill Self's trademark plays.
On a baseline out-of-bounds set following an OSU foul, Mason watched the play he has run countless times in his career play out in front of him. On this occasion, Mykhailiuk benefited from the action, as the junior cut hard from the right corner, using the final screen to elevate and finish an alley-oop with authority.
The dunk put Mykhailiuk in double figures and got the home crowd making the kind of noise it is known for, with the OSU lead trimmed to 47-43.
• Defensive highlight: Seconds after Graham swooped in for a layup that gave Kansas its first lead of the game, 50-49, he was so charged up the 6-foot-2 junior guard turned into a rim protector.
Making sure OSU didn't take the lead right back, Graham skied in the paint to swat away a Brandon Averette layup attempt. It was just one of many crucial plays by the veteran in the final half, as Kansas bounced back from a slow start to keep OSU winless in the Big 12.
• Key stat: Assists. As in KU didn't have enough of them. The Jayhawks' season-low 11 assists in the victory show just how difficult it was for Kansas to score at times against the Cowboys.
KU also benefited from its 16 offensive rebounds and 18 second-chance points.
• Up next: The Jayhawks make their 2017 ESPN Big Monday debut in Hilton Coliseum, which should be the most hostile environment they've seen this season, Monday night at Iowa State (8 p.m.).
— See what people were saying about the game during KUsports.com's live coverage.
---
More news and notes from Kansas vs. Oklahoma State
---