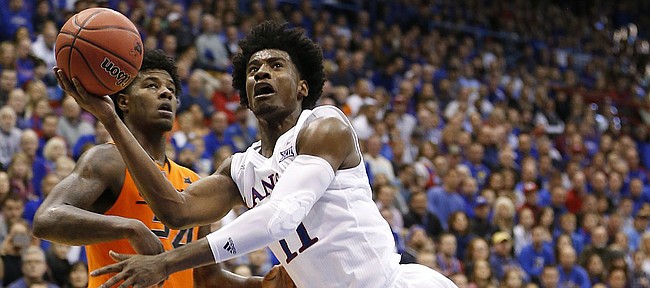 In preparation for his first trip to Allen Fieldhouse as a head coach, Oklahoma State's Brad Underwood got right to the essence of what makes Kansas such a tough team when he wrote one word next to Josh Jackson's name on the scouting report: "Dog."
After the final buzzer sounded on the Jayhawks' 87-80 victory that pushed their Allen Fieldhouse winning streak to 49 games Saturday, Underwood told Frank Mason more than congratulations, he told him, "If it ended today he'd be the national player of the year. He refuses to let them lose. It's both ends of the court."
Again, Underwood went canine, the ultimate compliment from basketball coaches, in describing Mason.
"I've watched Frank for four years and with that bulldog mentality, he's getting that thing to the rim, he's going to make the stop, he's going to sit down and guard, he's going to do whatever it takes for that team to win," Underwood said. "There are not many people who have that."
Photo Gallery
Kansas Basketball v. Oklahoma State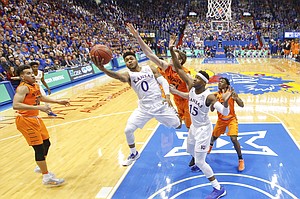 View a gallery of images from Saturday's game between the Jayhawks and Cowboys at Allen Fieldhouse.
Mason sometimes has been described as a bulldog, sometimes a pitbull. Regardless of the specific classification, all would agree that he's of the junkyard variety. Once upon a time, saying a player had a lot of dog in him meant that he would lay down on the job. Now it means a fearless competitor who never backs up, goes for the throat, doesn't wait for the world to come to him.
Mason, Jackson and Devonte' Graham give KU a pack of junkyard dogs who perform at their best when the heat rises.
"Josh's stuff is legendary," Underwood said. "He stood out on the AAU circuit, and it's probably a shame because of our culture today, but he stood out because he played hard. He's talented, but he plays hard. He's motored up. We just wrote 'Dog,' next to his name because that's what he is. I appreciate that. And Devonte', I don't know where he is in leadership, but he falls right along."
Graham leads the pack when that's what's needed. He facilitates when that's the missing piece of the puzzle. The talented, relentless trio never lets a defense rest.
A team that uses seven players and so far has had only one effective big man in Landen Lucas can't go 16-1 without knowing how to compete and that trait is what Underwood, the former Kansas State assistant and Stephen F. Austin head coach, admires most about the team gunning for the school's 13th-consecutive Big 12 title.
"There's a refuse-to-lose mentality that they have," Underwood said. "We don't have that yet. Yet. Yet. Put that in all caps: YET, because, by God, we're going to get it at some point."
Nothing about the way the Cowboys (10-7, 0-5) competed Saturday suggested they were anything but a tough out and in Jawun Evans, they too have a standout point guard.
In Mason and Graham, Kansas starts two point guards and it's possible that will be the position where Jackson will spend most of what figures to be a long NBA career.
"This league, this year, has elite point guards all the way up and down the conference, elite point guards," Underwood said. "More importantly, most of them are veteran point guards. I've used the term it's like having Tom Brady at quarterback. There's nothing you can throw at them that they have not seen."
That certainly applies to Mason and Graham. Jackson's so smart that after he sees something for the first time, the next time he sees it his brain fools him into thinking he's seen it since he learned how to walk, which presumably came several years before he learned how to fly.
For a variety of reasons, this team doesn't defend up to coach Bill Self's typical standards and certainly doesn't have typical depth, but three junkyard dogs are so hard to guard, and know how to guard effectively, that the Jayhawks will take the court against Iowa State in Ames on Monday night riding a 16-game winning streak and likely ranked No. 1 in the nation.
— See what people were saying about the game during KUsports.com's live coverage.
---
More news and notes from Kansas vs. Oklahoma State
---