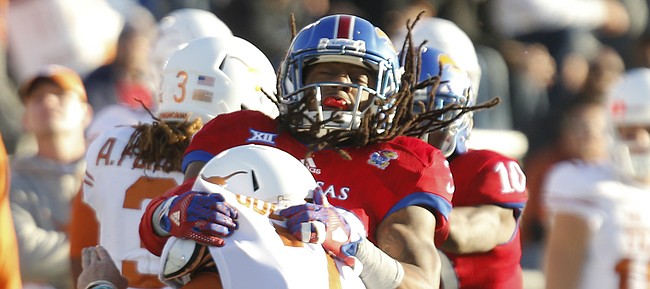 Three Jayhawks hoping to showcase their football skills for professional scouts will get a chance to do so this Sunday, in Daytona Beach, Florida.
Defensive end Damani Mosby, cornerback Marnez Ogletree and safety Tevin Shaw — all seniors for Kansas football in 2016 — will team up again at the second annual Tropical Bowl.
Mosby, Ogletree and Shaw all will play for the "American" team at the event, to be played at 8 a.m. (Central), at Daytona Beach's Municipal Stadium.
Approximately half of the players who participated in the first Tropical Bowl found their ways on to NFL rosters at one point or another, and 27 organizations from the league attended the game.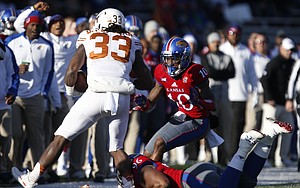 "This is a great opportunity for us," Ogletree said in a release. "We have had a lot of eyes on us while we were playing for KU, but this is a chance for scouts to see us practice and play one last time. The game is really important, but the practices are what the scouts are really going to evaluate us on. They want to see what kind of initiative we take and are we stepping up trying to be in that top spot."
All three Jayhawks started for KU's much-improved defense this past season. Shaw, a 5-foot-11 nickelback, ranked fourth on the team, with 56 total tackles, while contributing five pass breakups and 4.5 tackles for loss. Ogletree, a 5-foot-10 corner, broke up eight passes and made 34 total tackles. Mosby, a 6-foot-3, 258-pound end, made seven tackles for loss, 25 total tackles, a sack and forced and recovered two fumbles.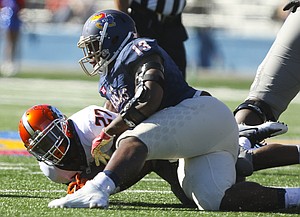 "I am really looking forward to the experience and will hopefully help myself for the future," Ogletree said. "I am really glad to get to go down there with two of my teammates. We have been through a lot together and it will be nice to have some familiar faces beside me. I know we are focused on putting our best foot forward on the field, but hopefully we can have some fun too."
The Tropical Bowl will be broadcast online at AudibleSports.net and Speaker.com.
Another KU defensive starter with pro aspirations, safety Fish Smithson will play in the East-West Shrine Game, on Jan. 21, in St. Petersburg, Florida.