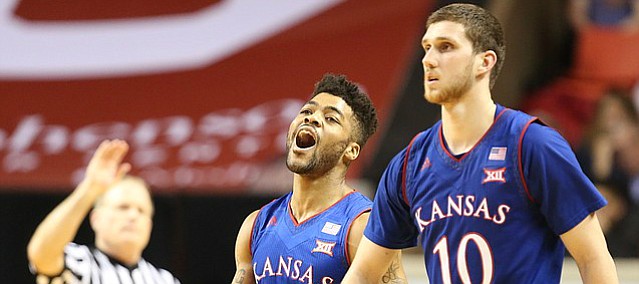 Seldom does a college basketball player dominate a quarter of a game the way Kansas senior guard Frank Mason did Tuesday night to rally the Jayhawks to an 81-70 victory at Oklahoma.
He scored 18 of his 28 points in the first 10:04 of the second half, which once men's college basketball follows the lead of the women's game and goes to quarters instead of halves, would just about equate to the third quarter.
You see that sort of dominance in gyms across America when a Div. I prospect toys with players who will spend the rest of their lives bragging about their high school glory days, but seldom at the college level.
For a Big 12 player to do what Mason did for a quarter of a road game requires a senior's savvy, extraordinary athletic ability and refined basketball skill. He scored just one point the rest of the way because he chose to become a facilitator.
"Late game, I thought Frank turned down two or three looks to give the shot to Josh or whoever, when in my opinion he should look to shoot them," Kansas coach Bill Self said.
Had Mason put his mind to it, he could have scored 40 points and still delivered the Jayhawks with a double-digit victory.
I remember asking Mason after he had a big game as a freshman or sophomore whether he thought he could one day match his high school single-game scoring output of 52 points. He said he wasn't sure, an interesting answer that revealed he knew he could develop into the big-time scorer he is now for Kansas.
If the college basketball season ended today, Mason would edge Villanova do-it-all shooting guard Josh Hart as national player of the year.
Mason is at the controls of the most likely team to move to No. 1 in the nation Monday, provided it takes care of business Saturday in Allen Fieldhouse vs. Oklahoma State. He leads the Big 12 in scoring (20.4) and 3-point accuracy (.549). And with 5.6 assists per game, ranks second by one-tenth of an assist behind conference leader Monte Morris of Iowa State.
Hart of reigning national champion Villanova, another candidate to move to No. 1 Monday, also has a strong case. He leads the Big East in scoring (19.8) and ranks fourth in rebounding (6.7).
Mason's teammate Josh Jackson, Kentucky guards De'Aaron Fox (16.7 ppg, 5.1 rpg, 6.4 apg) and Malik Monk (21.7 ppg, .410 3-point pct.) are other perimeter players who will gain consideration.
Caleb Swanigan (18.3 points, 12.9 rebounds) of No. 17 Purdue stands out among big men.