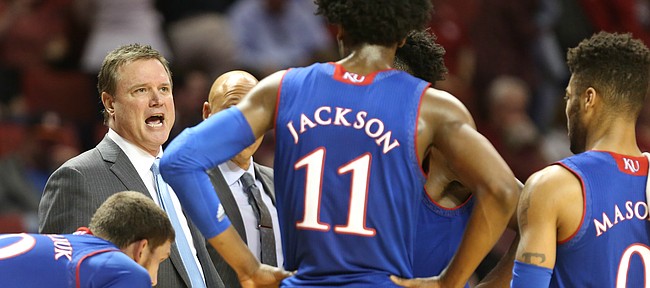 A couple of hours before the Kansas men's basketball team put the finishing touches on an impressive comeback victory over Oklahoma Tuesday night in Norman, the top-ranked Baylor Bears were whipped by No. 10 West Virginia, clearing the way for Kansas to climb into the No. 1 spot in next week's polls.
But that hardly registered as good news inside the Kansas locker room following the Jayhawks' 81-70 victory over the Sooners.
"We don't deserve that," said KU coach Bill Self, who also picked up his 400th victory as the leader of the Jayhawks on Tuesday night. "I've coached for a while and I've felt like there are some teams that have put in time and effort, and I don't feel like this team quite has."
Winners of 15 straight after a season-opening loss to Indiana in the Armed Forces Classic in Honolulu, Kansas (15-1 overall, 4-0 Big 12) opened the season ranked No. 3, fell to No. 7 after the loss to the Hoosiers and has been on a steady climb back toward the top ever since.
However, in back-to-back weeks and in separate polls, Baylor, which suffered its first loss of the season on Tuesday night, jumped the Jayhawks, first from No. 3 to No. 2 in the AP Poll and then from No. 3 to No. 1 in the coaches poll the following week.
After each, Self said he anticipated the Bears' rise in the polls, largely because of their unblemished record at the time and a strength of schedule that ranked among the nation's best.
In the first month of the season alone, Baylor (15-1, 3-1) picked up wins over four Top 25 teams and became one of the most talked about teams in the country.
"I was actually happy Baylor jumped us, to be candid with you," Self reiterated Tuesday night.
Typically, these types of honors and accomplishments mean more to fans, and sometimes even players, than they do coaches. But KU freshman Josh Jackson, who after the OU win was asked what being No. 1 next week would mean, also seemed less than impressed about the possibility of claiming the top spot in the polls in mid-January.
"It doesn't mean that much," Jackson said of the potential for KU to become the nation's No. 1 team with a win over Oklahoma State Saturday at Allen Fieldhouse. "It (would be) a little pat on the back for all the work we've done so far, but we know that we have a long way to go and it doesn't really mean that much right now."
Added Self: "If we win Saturday, we could go to that, but I'd much rather be 5-0 (in Big 12 play) than be ranked No. 1."