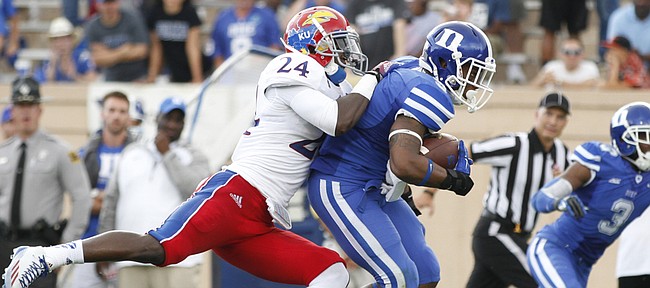 It won't happen immediately, but the Kansas football team soon will begin playing a heartier non-conference schedule.
A little more than a year ago, the Big 12 Conference decided to require its football programs to face at least one non-league opponent from one of the so-called Power 5 conferences every year. At the time, Kansas already had its schedules for 2016 and 2017 set.
The ramification of the rule will finally play out for the Jayhawks beginning in 2018, though, as evidenced in the team's Wednesday announcement of future opponents.
KU disclosed it has finalized its schedule through the 2021 season and will face both Boston College and Duke, from the ACC, as well as the Big Ten's Illinois, in the years to come.
In December of 2015, the Big 12 deemed to beef up its scheduling in order to help its teams' chances of landing one of the four highly coveted spots in the College Football Playoff.
"This move will strengthen the resumes for all Big 12 teams," Bob Bowlsby said at the time. "Coupled with the nine-game full round robin conference schedule our teams play, it will not only benefit the teams at the top of our standings each season, but will impact the overall strength of the conference."
The strategy also included a rule stipulating no team could face more than one non-FBS opponent a season.
In 2018, Kansas will play host to Nicholls State (Sept. 1) and the Big Ten's Rutgers (Sept. 15), and face Central Michigan on the road (Sept. 8).
In 2019, KU opens with back-to-back home games against Indiana State (Aug. 31) and soon-to-be FBS program Coastal Carolina (Sept. 7). Then the Jayhawks travel to Boston College (Sept. 14).
For 2020, the Kansas slate features home games with Wagner (Sept. 5) and BC (Sept. 19), as well as a road date with Coastal Carolina (Sept. 26).
The following year, in 2021, KU will welcome South Dakota (Sept. 4) and Coastal Carolina (Sept. 11) to Memorial Stadium. On Sept. 25 that season, the Jayhawks will play at Duke.
Although scheduling for 2022, 2023 and 2024 isn't completely in place, KU also announced the following non-conference games: Kansas at Houston (Sept. 17, 2022), Duke at Kansas (Sept. 24, 2022), Illinois at Kansas (Sept. 9, 2023), Houston at Kansas (Sept. 16, 2023) and Kansas at Illinois (Sept. 7, 2024).
This coming fall — as scheduled far in advance — Kansas will face Southeast Missouri State (Sept. 2) and Central Michigan (Sept. 9) in Lawrence, and then travel to Ohio (Sept.16).
More like this story on KUsports.com