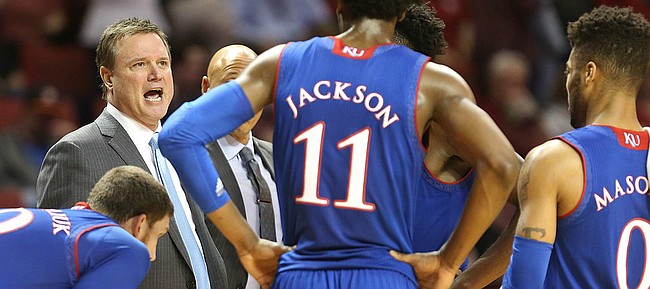 Norman, Okla. — By the time Kansas basketball coach Bill Self sits in front of the microphones to discuss the game his team just played, he's in board-room mode, smoothly reviewing the key points with a calm demeanor, sprinkling in humor, clearly communicating his message.
That works for him and his program. So does the disposition he manufactures to approach his team during intermission when things aren't going so well.
In medical emergencies manufactured in Hollywood, the doctor puts the paddles on the patient's heart and shocks him back to life.
Bill Self's words are his paddles and on Tuesday night they shocked his team back to life.
Photo Gallery
Kansas basketball v. Oklahoma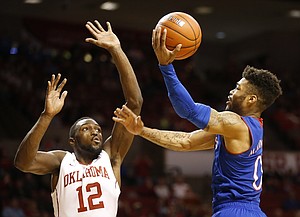 View a gallery from Tuesday night's game between the Jayhawks and Sooners in Norman, Okla.
So what exactly did he say to get Kansas to defeat Oklahoma 81-70 in a game the Sooners led at the half, 36-27?
Frank Mason tried to figure out a way to sugar-coat it, but he just didn't have enough printable material, so he surrendered.
"I can't tell you the message, but you know, it was, it was, um ... I can't even say it," Mason was smiling and slowly shaking his head from side to side. "Coach got onto us and I think we responded pretty well. We just have to start the game off better as a team."
Freshman Josh Jackson repeatedly has said he came to Kansas to be coached hard. He got what he wanted at halftime Tuesday night.
"He definitely got onto us, but he gets onto us a lot and we all know most of the time he's right," Jackson said. "We had to come out with more energy the second half, rebound and play defense a little better, and I think we did that."
Podcast episode
After Kansas erased a nine-point halftime deficit at Oklahoma to win 81-70, head coach Bill Self discusses the improved effort, the importance of senior guard Frank Mason III and much more.
Self doesn't apply the verbal paddles at halftime as often as some might guess. He picks his spots, knowing that if it were to become a habit, it would lose its, well, shock value.
"That was one of those games where you had to flip the switch at halftime," Self said. "Usually you don't do that."
I've always wondered when a coach plays the verbal-shocker card, how much of it is intended to jolt the players back to life and how much is genuine frustration boiling over and rifling off the tongue. So I asked Self.
"I'd say it's probably 50/50," Self said. "No matter what, you want to tell them how to attack better at whatever they're doing wrong. But also, jolt's a fine term. I don't know if they were jolted at halftime tonight, but certainly I tried to."
Oh, they were jolted, all right.
Clearly, Self picked the right spot, volume and colorful language, which was his second-smartest move of the night, ranking behind his decision to put Frank Mason in the lineup. He doesn't deserve any credit for that one, of course. Mason scored 18 of his game-high 28 points in the first 10:04 of the second half, the most phenomenal outburst of an amazing career.
Mason will have an off night sooner or later because everyone does and when that happens, another first half such as Tuesday's could cost the Jayhawks, winners of 15 in a row.
"We were so passive and soft," Self said of a first half that put him in a rotten mood. "OU was quicker. They were better than us the first half without question. We didn't rebound at all, didn't compete. Second half, we challenged our guys a little bit."
A "little bit" is a relative term. Whatever the tone, the volume, shade of blue, it was precisely what his players needed to hear.
— See what people were saying about the game during KUsports.com's live coverage.
---
More news and notes from Kansas vs. Oklahoma
---