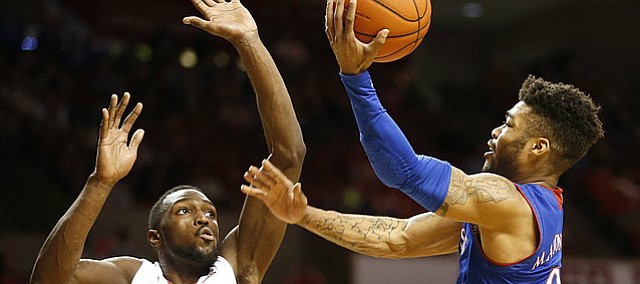 Norman, Okla. — The exclamation point on a ferocious Kansas comeback Tuesday night at Lloyd Noble Center against Oklahoma came with 7:47 to play, the perfect time on the game clock to describe the way KU freshman Josh Jackson soared through the sky.
Leading by eight at the under-eight media timeout and sensing an opportunity to bury the Sooners, KU coach Bill Self drew up one of his signature lob plays in the huddle and then watched as Devonte' Graham and Jackson executed it to perfection.
With Graham dribbling high on the left wing, Jackson received a back screen on the right side of the basket and flew above the OU defense for an easy alley-oop flush that put the Jayhawks up 10.
Oklahoma never drew closer than eight from that point on and Kansas improved to 15-1 overall and won for the 15th consecutive game and fourth time in four tries in Big 12 play.
For those who might have caught just the second half of Tuesday's 81-70 Kansas victory, it probably looked a lot like business as usual for the No. 2 team in the nation against the sub-.500 Sooners.
Photo Gallery
Kansas basketball v. Oklahoma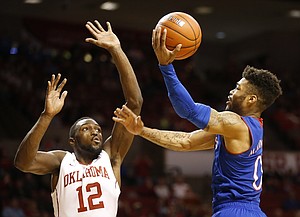 View a gallery from Tuesday night's game between the Jayhawks and Sooners in Norman, Okla.
But those who witnessed the game's first 20 minutes and saw the Sooners (6-9 overall, 0-4 Big 12) unleash a 24-6 run to close the final 9:19 of the first half and take a nine-point lead into halftime might not have believed it would — or even could — be so easy for the Jayhawks.
"We talked in the huddle about how there were no nine-point plays," Jackson said. "We didn't know how fast we were gonna come back, but we knew we were gonna do it."
That comeback became a reality, in large part, because of the play of the Jayhawks' leader, Frank Mason III, whose sensational and sizzling start to the second half willed the Jayhawks right back into the game and never let doubt or the fear of losing enter the Jayhawks' minds.
"It's just amazing," said Jackson of all Mason did during a 28-point night, two off of a career high. "(He's) one of the toughest guards in the country. We all trust him a lot and when he gets it going like that we all know to try to find him."
Podcast episode
After Kansas erased a nine-point halftime deficit at Oklahoma to win 81-70, head coach Bill Self discusses the improved effort, the importance of senior guard Frank Mason III and much more.
After jogging off the floor with their heads down at halftime, the Jayhawks, clearly stunned by their sloppy first half, emerged from the locker room with a new mentality and champion's swagger.
Shots came easier, minds looked more free and the ball went in the basket at a rapid rate. Kansas made seven of its first 10 shots of the second half for a 13-0 spurt and answered the 24-6 run the Sooners used to close the first half with a 20-6 run of their own to reclaim a five-point lead just five minutes into the second half.
KU's run, along with its lead, stretched to 29-11 at the 12-minute mark, with Mason accounting for 15 of those and Sviatoslav Mykhailiuk, who missed all three shots he took in 15 first-half minutes, swishing three 3-pointers as Mason's wing man.
"That first three he made to start the second half got the lid off for him," said Self of Mykhailiuk, who finished with nine points and nine rebounds in 34 minutes. "Little things like that make a big difference and then, of course, Frank took over. He took over and everybody else kind of just followed."
Mason, who entered the night as the Big 12's scoring leader at 19.9 points per game, went over the 20-point mark with a 3-pointer with 14:00 to play.
The senior point guard who lived up to his Fearless Frank moniker finished 11-of-19 from the floor, including 5-of-6 from 3-point range and made big play after big play and big shot after big shot to help Kansas outscore Oklahoma 54-34 in the decisive second half.
"I think our second half was pretty good and that's the way we need to play moving forward," Mason said. "I think we came out more aggressive on the defensive end. We rebounded the ball the way coach wanted us to in the second half and I think that was the difference in the game."
Self agreed.
"I never get too giddy just because you make shots," he said of his team's .457 shooting mark in the second half, which included nine 3-point makes in 16 attempts. "We executed better in the second half and, when we didn't score, it appeared to me that we got the shots we wanted so I was pleased with that, but I thought our energy level defensively was a lot better the second half."
As he stepped to the podium for his postgame meeting with the media following Tuesday's victory, Self, a native Oklahoman, was asked by an old friend in the Oklahoma media how he was doing.
The question was rhetorical, a greeting of sorts akin to simply nodding and saying hello.
As he sighed and took his seat, Self responded with, "Better than I was," and then spent the next 6:29 explaining why.
Self and the Jayhawks will return to action at 1 p.m. Saturday, when they welcome Oklahoma State to Allen Fieldhouse.
— See what people were saying about the game during KUsports.com's live coverage.
---
More news and notes from Kansas vs. Oklahoma
---