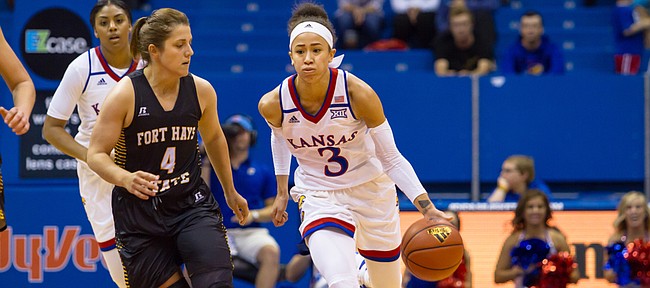 Who: Kansas vs. Kansas State
When: 7 p.m. Wednesday
Where: Bramlage Coliseum, Manhattan
Series: Kansas State leads, 68-46
Sunflower breakdown
This will be the first installment of the Sunflower Showdown this season. Kansas doesn't have a favorable track record against its in-state rival, particularly as of late. The Wildcats have got the best of the Jayhawks in each of the last five meetings. KU has won just 16 of its 31 games in Manhattan. In fact, they have not been able to notch a victory inside Bramlage Coliseum since 2014.
Rough start
Under second-year head coach Brandon Schneider, the Jayhawks have gone winless in conference play during the regular season. But the gauntlet the team has faced to open this Big 12 season hasn't made life any easier for Schneider to earn his first league win. Six of the first seven opponents that KU has to face are nationally ranked. No. 25 KSU (12-4) earned a spot in the polls for the first time since 2012. The Jayhawks are currently 0-3 against their ranked foes.
Streaking
Junior guard Jessica Washington continues to be the team's saving grace through a winless start to league play. The transfer has led the team in scoring in three of the four games in conference play, including three double-digit efforts. As of right now, Washington is averaging 16.8 points per contest in the Big 12, which ranks her third in the league.
Slumping
Not all transfers are having a smooth introduction to the Big 12. Sophomore guard McKenzie Calvert has yet to reach double figures in league play. She hasn't been able to score more than three points against league opponents. To put that in comparison, Calvert began the year as the team's leading option on offense, courtesy of four consecutive games in double-digits to start the season.
Probable starters
Kansas
(6-9, 0-4 Big 12)
G — Jessica Washington, 5-8, jr.
G — McKenzie Calvert, 5-9, so.
G — Kylee Kopatich, 5-10, so.
G — Chayla Cheadle, 6-0, jr.
F — Sydney Umeri, 6-0, sr.
Kansas State
(12-4, 2-2 Big 12)
G — Karyla Middlebrook, 5-7, jr.
G — Kindred Wesemann, 5-7, sr.
F — Shaelyn Martin, 6-1, jr.
F — Peyton Williams, 6-3, fr
C — Breanna Lewis, 6-5, sr.