Frank Mason III added another not-so-subtle reminder of his importance to the success of Kansas basketball this season Saturday night at Allen Fieldhouse, where the 5-foot-11 senior guard produced his eighth game of 20-plus points, leading the No. 3 Jayhawks to an 85-68 home win over Texas Tech.
Mason set up the 2,200th victory in KU's tradition-rich history by putting up 26 points, five rebounds and four assists. As many Kansas opponents have encountered, Mason proved difficult to keep in check, and he shot 3-for-4 on 3-pointers and 11-for-12 at the foul line.
Junior Devonte' Graham, who got off to a hot start in the first half, finished with 20 points and four assists for KU (14-1 overall, 3-0 Big 12), while freshman Josh Jackson added 17 points and 10 rebounds.
The victory, which made Kansas 2,200-837 all-time, marked its 15th consecutive win against Texas Tech, which hasn't defeated KU since 2009, in Lubbock, Texas. The Red Raiders never have beaten Kansas in Lawrence (0-17).
The Jayhawks now have won 48 straight inside Allen Fieldhouse, where they are 214-9 since Bill Self took over the program, in 2003.
Photo Gallery
Kansas basketball v. Texas Tech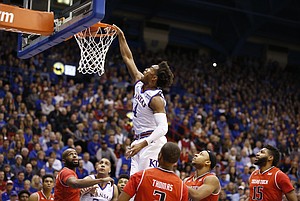 View a gallery of images from Saturday's game between the Jayhawks and Red Raiders at Allen Fieldhouse.
Here's a quick look back at some of the action:
• The game turned when: The Jayhawks realized late they weren't going to win the game simply because it was played on their home floor against a team they typically beat.
The Red Raiders (12-3, 1-2) had cut KU's lead down to five with more than eight minutes left in the second half, behind the power of four 3-pointers in just more than four minutes.
It was at that point KU turned it on and quickly padded its advantage to as many as 19 points. The defense picked up for sure, but so did the focus and smart possessions on offense.
Baskets from Mason and Landen Lucas set up the run, before Svi Mykhailiuk made his first basket of the game — a 3-pointer— with 6:36 to play. A Mason 3 and a Graham jumper followed quickly after. By the time Mason made his eighth and ninth free throws with 4:56 to play, Tech trailed 76-57 and didn't have enough time or gas left to mount another rally.
• Offensive highlight: After taking it easy on the rim earlier in the evening, Jackson opted for a different approach in the final minute of the first half.
Just as he had in the opening minutes, Jackson came away with a steal near midcourt with an open floor in front of him. The first time around, the wildly athletic freshman kept it simple: rise up, drop in a dunk, two points.
The second time, not so much. This takeaway came moments after Jackson thought Tech got away with a lane violation and a a defensive rebound on a missed free throw. And apparently that was enough to send him over the edge. Jackson took a much more aggressive takeoff and hammered a one-handed slam in for a 32-27 lead.
• Defensive highlight: Jackson already had a pair of steals on his personal stat line when in a 10-second span early in the second half he added a couple of swats.
First, Aaron Ross tested the long-armed Jackson in the paint and got turned away with a block. Seconds later, following a missed transition opportunity for Kansas, Jackson was back defending the rim again. On this occasion, 6-foot-2 junior Shadell Millinghaus had visions of a viral jam inside Allen Fieldhouse playing in his head when he took off and brought the ball back on what he hoped to be a violent finish. The follow-through never came, though, as Jackson reached over to stymie the dunk before it got close enough to the rim to do any damage.
• Key stat: Field-goal percentage defense. Much had been made of late about KU's lack of defensive prowess, what with a couple of high-scoring close calls versus TCU and Kansas State, and Self's squad responded by pestering the Red Raiders much of the night.
Tech shot just 12-for-32 in the first half (37.5 percent) and only made three of 13 3-pointers (23.1 percent) during the first 20 minutes.
Kansas came into the game allowing opponents to make 40.1 percent of their shots, but couldn't do any better against Texas Tech, which made 41 percent of its shots in a loss. The Jayhawks' inability to hold the visitors under 40 percent in the second half kept the game closer longer than they would've liked. Tech hit 44.4 percent of its second-half shots.
TCU shot 44.3-percent overall against Kansas, while K-State made 50.8 percent.
• Up next: The Jayhawks hit the road after back-to-back home games, to take on Oklahoma on Tuesday (8 p.m. tipoff, ESPN2).
https://www.youtube.com/watch?v=5KQDpw4z2RM
— See what people were saying about the game during KUsports.com's live coverage.
---
More news and notes from Kansas vs. Texas Tech
---