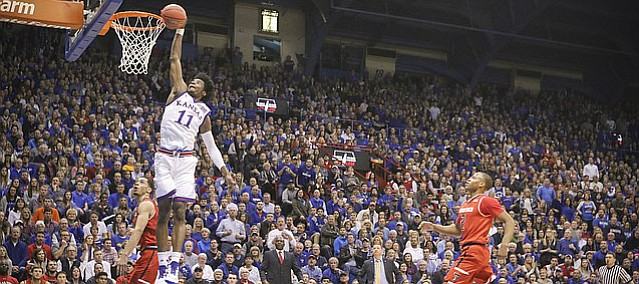 A pretty game it was not, unless you were looking through the eyes of Kansas coach Bill Self.
"I think our activity level was much better. I do," said Self following third-ranked KU's 85-68 victory over Texas Tech at Allen Fieldhouse.
Four days after publicly calling this group the worst defensive team he has coached in 14 seasons at Kansas, Self watched the Jayhawks hold the Red Raiders to 41 percent shooting, swipe nine steals and out-rebound the best rebounding team in the Big 12 Conference, 38-29.
For Self, the effort, though appreciated, was more in line with what he expects from his teams night in and night out.
Photo Gallery
Kansas basketball v. Texas Tech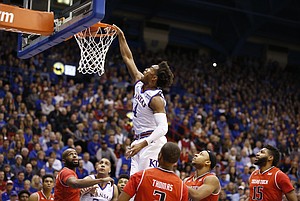 View a gallery of images from Saturday's game between the Jayhawks and Red Raiders at Allen Fieldhouse.
For the players, many of whom have been around Self and the program for a number of years, the opportunity to please their coach with their play on his favorite end of the floor went down as a little redemption sprinkled with a dash of relief.
"Once you get called out like that, you gotta respond," said junior guard Devonte' Graham, who scored a season-high 20 points in the win. "You can't just back down. It's a sign of weakness if you don't (respond). We're competitors, and nobody likes being called out like that, so we're just gonna continue to get better."
That sustained excellence, much more than seeing his team show up on Saturday, was the point of Self's post-Kansas State message. And where the Jayhawks (14-1 overall, 3-0 Big 12) take it from here figures to be of much more interest to both parties involved.
Asked if watching his players respond to his criticism in a positive way the very next time they hit the floor showed an element of toughness that he was not sure existed, Self pondered the question before offering, "Yeah, maybe. It might. Or it could be a situation (where) you can't play any worse, defensively. But I thought the guys played with a little bit more competitive spirit on that end."
Podcast episode
Kansas basketball coach Bill Self talks about his team's 85-68 victory over Texas Tech, improvements on defense and Frank Mason's strong play.
Backed by that defensive intensity, Kansas jumped out to a 17-7 lead early in the game thanks in large part to a Texas Tech scoring drought that spanned 4:15.
However, after trailing 24-13 midway through the first half, the Red Raiders began making shots — many of them right at the rim — and crawled out of the early hole before getting buried.
In the final minute of the half, Tech (12-3 overall, 1-2 Big 12) had a chance to trim KU's lead to one or even tie the game, but a Josh Jackson steal and flush was followed by a timely steal by Frank Mason that wound up leading to five Kansas points — and ultimately a 10-point halftime lead — just before the break.
The first three came on four free throw attempts after Mason was fouled on the drive. He got two extra cracks at the line following a technical foul whistled against Texas Tech big man Anthony Livingston, who exchanged words with KU forward Landen Lucas following the foul.
"That's our point guard and he got fouled pretty hard so I just went up, very nicely, and asked (Livingston) not to foul him that hard," Lucas explained after the game. "He felt like I was attacking him or something and wanted to throw himself against the back of the hoop and then realized that that didn't do anything so he came up, pushed me and then go the tech. I was really just making sure that he knew not to foul Frank that hard.... It reminded me of someone who used to play at Oklahoma State."
Texas Tech coach Chris Beard, who lamented his team's inability to take anything away from the Jayhawks' offense, called the end of the half meltdown an unraveling and said that was a turning point in the game. Lucas agreed.
"It was (big)," Lucas said. "We always like to finish the half strong."
The Red Raiders drained three straight shots to open the second half and quickly cut the Kansas lead to five points. But once they started missing, they found out KU's defense actually never went anywhere. And that defense was a big reason for a few of the Tech misses, never more obvious than Jackson's one-handed block of a point-blank, dunk attempt by Red Raider Shadell Millinghaus, who cocked the ball back in his hand and prepared to hurt the rim only to have Jackson's mitt change the flight pattern. That led directly to an alley-oop from Mason to Lagerald Vick (six points, two steals, 27 minutes) that pushed KU's lead back to 10.
Texas Tech's best shot at putting real pressure on Kansas came with just under 10 minutes to play, when Aaron Ross stepped to the free throw line, looking to pull the Red Raiders within four.
But Ross missed the front end of the one-and-one and on the very next possession, Josh Jackson drilled a three-pointer to put the Jayhawks up nine.
Two possessions later, Jackson scored in close despite getting his first two shots in the lane blocked. That put Kansas up 60-52 and helped maintain the cushion that carried the Jayhawks to victory.
Kansas delivered the knockout blow with a 16-2 run late in the second half that included five consecutive made field goals and a pair of made free throws on both sides of that stretch, turning a 60-55 Kansas lead into a 76-57 lead with five minutes to play.
"A lot of teams come into this building and play with them for 32 minutes," Beard said. "But they run you off the floor for eight minutes and you get on the bus and get a sandwich."
Said Self: "There's no Earth-shattering deal on why we actually guarded a little bit better tonight. Guys were more into it, they played harder and they played with more energy. It's not that complicated."
— See what people were saying about the game during KUsports.com's live coverage.
---
More news and notes from Kansas vs. Texas Tech
---