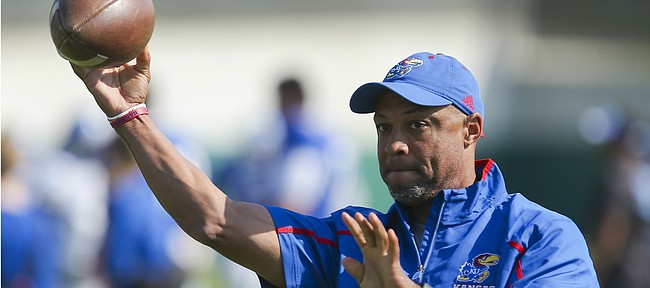 After spending one season on David Beaty's Kansas football staff, wide receivers coach Jason Phillips has left the program to head to Pac-12 country, where he'll work for coach Gary Andersen at Oregon State.
A former assistant at SMU, Houston and Baylor, as well, Phillips will coach receivers at Oregon State and serve as the team's passing-game coordinator.
Phillips became the second assistant to leave Kansas for the Pac-12 in the past several weeks, after former offensive coordinator Rob Likens moved on to work at Arizona State.
The departure of Phillips gives Beaty and Kansas an opening for one of the team's nine full-time coaching spots.
In Phillips' brief time with KU, sophomore receiver Steven Sims Jr. and junior LaQuvionte Gonzalez emerged as legitimate Big 12 receiving threats. Sims, a 5-foot-10 wideout from Houston, finished fourth in the conference in receptions per game (6.0), while Gonzalez ranked 10th in the category (5.2).
Sims also cracked the top 10 in receiving yards per game, ranking ninth, at 71.6.
In 2015, when Kansas went 0-12, Tre' Parmalee led the team with 41 receptions, 599 yards and three touchdowns. This past fall, under Phillips' tutelage, Sims emerged as the Jayhawks' top pass-catcher and produced significantly larger numbers: 72 receptions, 859 yards, seven touchdowns.
Gonzalez, a transfer from Texas A&M;, also helped Phillips positively impact the passing game, adding 62 catches, 729 yards and three scores.
During the season, Sims credited Phillips for playing a major part in his development, following a 30-catch freshman campaign.
"I've learned a lot from Coach Phillips in the couple months he's been here," Sims said at the time.
Andersen announced the hiring of Phillips and safeties coach John Rushing (who left the Los Angeles Rams) on Thursday.
"Coach Phillips and Coach Rushing are tremendous additions to our coaching staff," Andersen said in a release. "Both are very experienced coaches, great recruiters and take great pride in building young men and pushing them to excel at a high level on and off the field. The entire staff is excited to get to work for the upcoming season."
Oregon State finished 4-8 overall in 2016, and 3-6 in the Pac-12. Kansas went 2-10 this past year, with a 1-8 mark in the Big 12.