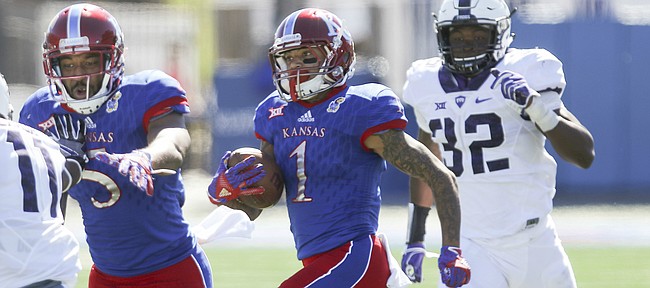 In the second quarter of a rare winnable Big 12 game this past November against Iowa State, David Beaty and his staff decided to try something unorthodox.
Shortly after the Jayhawks, who were leading at the time, gave up a touchdown, special teams coordinator Joe DeForest sent kick returner LaQuvionte Gonzalez to the end zone — to hide.
KU's blue uniforms perfectly matched the turf where Gonzalez lay in wait, and after Steven Sims Jr. fielded the ISU kickoff nearby, Gonzalez popped up, caught a lateral and returned the ball out to the 34-yard-line.
Ultimately, the play didn't set up a score — or even a victory — but it proved bizarre enough to populate the college football Twittersphere and highlight shows on Nov. 12, and the "camouflage" kickoff now has KU up for USA Today Sports' Coach's Play Call of the Year.
"Joe (DeForest) brought that with him," Beaty said of the unique approach on special teams, "and we felt we were going to need a momentum changer in this game and something that would help us. We thought we might be able to get completely out on that one. I thought it was a really cool design by Joe, and I thought our kids executed it pretty well."
At the end of the regular season, USA Today Sports writers selected five plays where the head coach's play call — not player talent or other factors — made a difference in the game. Fans can vote online for one of the five nominees until Friday. Once fan voting closes, USA Today will rank the five plays, with input from fan voting being one of several criteria to determine a winner.
In the days following KU's trick play, Sims, a sophomore, said Twitter stardom for Gonzalez, a junior, didn't surprise him.
"Quiv's used to all of that," Sims said, referencing the transfer's time at a nationally renowned program, Texas A & M. "I know he's used to all of that. We were just laughing about it. Like that's crazy. It really blew up."
The one negative about the "camo" call, though, was that KU wouldn't soon be able to confuse an opponent with it again.
"I actually saw their coaches," Sims revealed of the play, explaining ISU staffers noticed what Gonzalez was up to. "They saw it coming but they couldn't get to the team fast enough. It was funny, though."
Here's a glimpse at the other four plays and coaches up for consideration:
• Former Houston — now Texas — head coach Tom Herman and his staff sent Brandon Wilson to the end zone on a 53-yard field goal try by Oklahoma. When the kick failed to reach the uprights, Wilson returned the miss for a touchdown, helping the Cougars knock off the Sooners, who eventually won the Big 12.
• With his team down three points in the second overtime, against rival Michigan, Ohio State coach Urban Meyer opted to go for it on fourth-and-one, risking a loss. However, quarterback J.T. Barrett rushed for a first down, and OSU went on to win on the very next play.
• Pitt coach Patt Narduzi and the offense opted for a bit of a trick play against Georgia Tech in an ACC matchup. Instead of utilizing one of Pitt's skill players, offensive lineman Brian O'Neill caught a lateral and ran 24 yards for a touchdown.
• Utah coach Kyle Whittingham, with his team trailing by three in the final minute and facing a fourth-and-one versus USC, decided to forgo a potential game-tying field goal. The Utes went for it, converted and knocked off the Trojans in regulation.
The winner will be revealed during the broadcast of The American Football Coaches Awards, on CBS Sports Network, at 8 p.m. Tuesday. The live one-hour program will air from the Grand Ole Opry House, in Nashville, Tenn.
As of Wednesday afternoon, Herman led the USA Today fan poll with a whopping 55 percent of the vote. Beaty and KU ranked fourth, with 8.7 percent.