Wednesday, January 4, 2017
If it was not already evident from his 15-point, 17-rebound effort last Friday in a road win over TCU, Kansas senior Landen Lucas buttered his own bread and made it obvious during Tuesday's 90-88 victory over Kansas State.
Lucas is back. And his career-high 18 points and 12 rebounds (6 offensive) against the Wildcats on Tuesday certainly proved that.
"Landen has kind of emerged as our most consistent player," KU coach Bill Self said after Tuesday's thriller. "I thought he played really well and was a presence. He scored inside tight (and) he's kind of on a roll, not doing anything exceptional but certainly finishing a lot better."
Photo Gallery
Kansas basketball v. Kansas State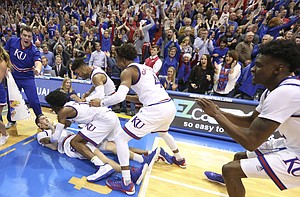 View a gallery of images from Tuesday night's game between the Jayhawks and Wildcats at Allen Fieldhouse.
Lucas said the recipe for his recent offensive production — 33 points on 15-of-19 shooting in the past two outings — had absolutely nothing to do with worrying about his offense.
"It felt good," Lucas said. "Another step forward. Making progress each and every game. Coming off the TCU game, I wanted to make sure I came out and rebounded again, and when I focus on that, there's so much attention on our guards and they're so good that it's easy to score off of them, so I was able to take advantage of that and score some points tonight, too."
Jackson technical
For the second game in a row and third time this season, KU freshman Josh Jackson was hit with a technical foul for protesting an official's call.
Asked after the game what he did to earn the 'T,' Jackson spelled it out.
"I don't really know," he said. "All I said was, 'That's a foul,' and next thing I know I was hit with a technical."
Although Self said he did not think that Jackson deserved either of his most recent technicals, he also acknowledged that it's up to Jackson to keep the officials from T'ing him up.
"Surely he's going to learn; he's got to learn," Self said. "He's too good of player. And, you know, he's developed a reputation now that he's gotta get the last word.
"His last two technicals, I don't think he deserved either one at all. But I do think you can't say, 'Call a foul.' If you gave a technical to everybody that said, 'Call a foul,' you'd have 20 technicals a game. But, still, he can't say that. He's got a reputation of saying things and he's gotta be able to think next play as opposed to trying to win a battle that's not winnable."
Podcast episode
Kansas basketball coach Bill Self discussed the Jayhawks' 90-88 victory over Kansas State on Tuesday, Landen Lucas becoming more consistent and his disappointment with his team's defense.
Udoka update
KU freshman Udoka Azubuike, who suffered a season-ending wrist injury prior to KU's win at UNLV, was not on the bench for Tuesday's win over K-State because he was preparing for an early-morning surgery on the wrist today.
Scooter's back
Scott "Scooter" Ward, KU's associate athletic director for academic and career counseling, was back in Allen Fieldhouse on Tuesday night for the first time since a scary and serious heart condition left him fighting for his life at University of Kansas Hospital in Kansas City.
Seated behind the north baseline near the KU bench, Ward was greeted by hugs and smiles throughout the night and received a standing ovation from the Allen Fieldhouse crowd after being introduced by the public address announcer during a timeout in the second half.
Lucas Player of the Week
Lucas on Tuesday became the third Jayhawk this season to earn Big 12 Player of the Week honors for his 15-point, 17-rebound effort in KU's victory over TCU last Friday in Fort Worth, Texas.
Lucas joins Frank Mason III and Jackson in earning the weekly honor. It marks the second season in a row that the Jayhawks had three different players earn conference player of the week nods.
This and that...
KU now leads the all-time series with Kansas State, 192-93. The Jayhawks are 47-18 all-time against KSU inside Allen Fieldhouse, including a stretch of 10 consecutive victories.... Speaking of consecutive wins, KU's homecourt winning streak now sits at 50 in a row overall and 47 straight at Allen Fieldhouse.... KU is 36-5 all-time against K-State in Big 12 play.... KU's victory was win No. 2,199 all-time — second only to Kentucky — giving the Jayhawks an all-time record of 2,199-837, good for a .724 winning percentage.... Mason started his 88th consecutive game and now leads the Big 12 with a 19.8 points per game average following his 15-point effort.... Junior Devonte' Graham passed Tyshawn Taylor for 19th place on KU's all-time 3-point shooting list with 123 career treys.
https://www.youtube.com/watch?v=jVTwU7--A_E
https://www.youtube.com/watch?v=SHHjQ4I5sco&t=50s
https://www.youtube.com/watch?v=KBdA08J_VvA&t=2s
— See what people were saying about the game during KUsports.com's live coverage.
---
More news and notes from Kansas vs. Kansas State
---