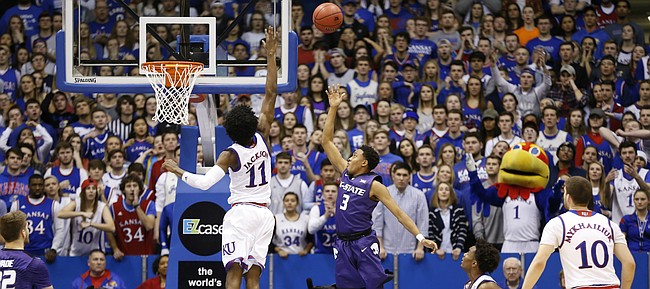 Tuesday night, in thrilling fashion, a second consecutive Kansas basketball victory was overshadowed, at least to those within the program, by serious concerns about the Jayhawks' defense.
"We've never had a team this poor on that end," said KU coach Bill Self of his 14 seasons at Kansas. "This is without question the poorest defensive team we've ever had, and I thought we would be probably one of the better defensive teams we've had because we have quickness. But we don't do anything to disrupt anybody. You play small, (you're usually) scrappy, but we're not very scrappy."
For Self, KU's defensive struggles are about a lot more than the numbers that show up on the stat sheet. But following Tuesday night's 90-88 victory over Kansas State, even those left the KU leader lamenting his team's defensive production.
Kansas State, which nearly won the game on a breakdown by the KU defense, shot .508 from the floor, .333 from three-point range (including 50 percent in the first half) and .826 from the free throw line.
Until Tuesday, the highest shooting percentage against the Jayhawks this season came from Duke, which shot .489 in the second game of the season. After that, only two of KU's 12 other 2016-17 opponents had even topped 43 percent in a game.
But it's not so much the percentages as it is the way the baskets are being scored. Too often, the Kansas defenders let their man drive right by them to the rim. Add to those the missed assignments or trouble following the points of emphasis on the scouting report, and you've got arguably the angriest leader of a third-ranked team on a 13-game winning streak in college basketball history.
"It took us a while to get this poor," said Self when asked what he would emphasize between now and Saturday, when the Jayhawks play host to Texas Tech at Allen Fieldhouse. "You don't just get this bad overnight, (and) it's gonna take us a while to get better defensively, too.
"It's hard to get better in two days ... Maybe I don't understand the game well enough (and) you can just wave a magic wand and all of a sudden you get better. You get better by practicing the right way and paying attention to detail and putting yourself in game-like situations and taking pride in everything you're doing. And you don't just do that in one day and automatically get better. It takes a long time for things to become a habit."
One of the first steps toward fixing any problem is admitting there is one. Self is clearly there. And his players seem to be, too. Although they all were thrilled to leave the floor with another victory over their in-state rival on Tuesday night, no one in the KU locker room let the outcome mask the issues this team is facing.
"It was terrible," said KU senior Landen Lucas of the Jayhawks' defense. "We know that. We know that we can only get so lucky night in and night out. We've gotta guard. We can't leave it up to luck. We've gotta get better, and obviously you'd rather get better while winning. But we definitely know we've gotta guard better."
Added Tuesday hero Sviatoslav Mykhailiuk: "I don't think we played really good defense. We stole the ball like two times the whole game, we let them score a lot of easy baskets, they scored 88 points. I think that's terrible. ... We know we played bad and we know we need to get better, because it's not gonna go that we're winning without playing defense."
While the players and coaches have tried to pinpoint exactly what is causing the Jayhawks (13-1 overall, 2-0 Big 12) to struggle on defense — from ball screens and transition to the absence of a true shot blocker in the lane — the whole epidemic really comes down to one thing for Self.
"It's something where you've gotta have some pride in wanting to get better and, right now, we're not a real prideful team on that end," he said. "I'd like to see some marginal improvement, no question, from a competitive standpoint and a pride standpoint. I don't know if we can change who we are in two days. But I do think we've got a lot more than we're giving right now."