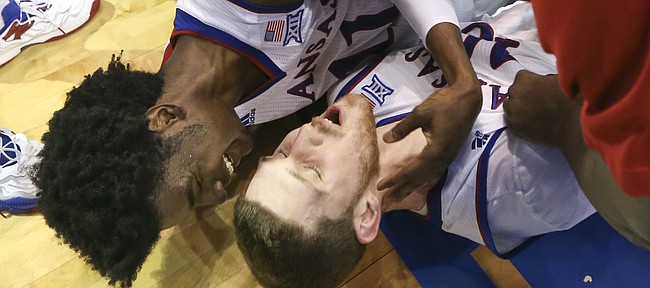 Sviatoslav Mykhailiuk traveled all the way from Ukraine to Lawrence to pursue his dream of becoming an NBA player.
He's a world traveler, all right, but never had he experienced any travel as memorable as one from Tuesday night that he'll never forget.
Call the dance step that had 16,300 euphoric spectators dancing into the night the Svi, Svi, Svi.
To execute it, take three quick steps with a basketball in your hands, throw it off the glass and in to win. That's what Svi did in a hotly contested Big 12 rivalry game at the buzzer.
Photo Gallery
Kansas basketball v. Kansas State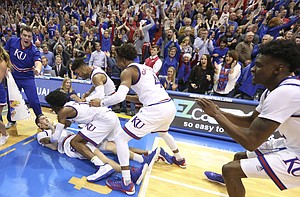 View a gallery of images from Tuesday night's game between the Jayhawks and Wildcats at Allen Fieldhouse.
It doesn't matter that Svi clearly traveled on the buzzer-beating shot that he banked in. It just matters that the officiating crew didn't see him travel. Consequently, Kansas defeated Kansas State, 90-88.
We'll never know who would have won the game had it gone into overtime, we just know that the OT should have been played.
"I think everybody here knows what happened," K-State coach Bruce Weber said. "Want to see my phone? ... But it didn't happen. We had our chances."
The travel didn't happen because the refs didn't call it, but everybody saw it happen.
Podcast episode
Kansas basketball coach Bill Self discussed the Jayhawks' 90-88 victory over Kansas State on Tuesday, Landen Lucas becoming more consistent and his disappointment with his team's defense.
It's not that the refs gift-wrapped Kansas a victory on that non-call. It's just that K-State was denied a five-minute opportunity to try to win it and end KU's home-court winning streak, which grew to 50 games overall, 47 at Allen Fieldhouse.
Regardless of the extra steps, Svi made a tough play in a hurry.
"Svi showed some athletic ability at the end," Kansas coach Bill Self said. "I haven't seen it, so I don't know if he walked or not. I know everybody said he did, at least I know some people did, so I don't know. It was still a heck of an athletic play to get all the way to the hole on two bounces."
That it was. 
Svi looked like a wide receiver dribbling a basketball and then carrying it before putting up the shot.
It ended a possession that started under K-State's hoop with 5.6 seconds left after a timeout.
The last words Svi heard before being handed the ball under the basket by the referee came out of Devonte' Graham's mouth.
"No timeouts (left). No timeouts," Graham said as he waved his arms in the fashion of an umpire making a safe call.
Kansas State put two men on Frank Mason III and Svi had trouble finding anywhere to throw the ball. He passed it to Graham, flared left and received the ball back from Graham more than 70 feet from the hoop, after K-State left him open. He took two long-stride, power dribbles, picked up the ball and took three choppy steps, creating the Svi, Svi, Svi, certain to become a popular dance in both Kansas and the Ukraine.
"I thought a call was going to be made, but it wasn't," K-State center D.J. Johnson said.
Svi banked in a tough shot and immediately was swarmed by teammates.
Moments later, Svi, Landen Lucas and Josh Jackson sat at the table for the post-game press conference. Svi said that he saw the replay. What did he think?
"It was a good basket," Svi said and smiled. Jackson tried to check his laughter, but failed. There was no denying the refs badly blew the call, missing a blatant travel.
Being denied a chance to extend the game five minutes, the improved Wildcats could use the disappointment to play with a chip on their shoulders the rest of the way.
"I hope so," Weber said. "I hope, but we've got to get better. That's my most important thing. I just talked to (KSU broadcaster) Stan Weber and he said the football team, when they missed the field goal at West Virginia, they could go home and pout about it, but K-state football got better and went on a run to finish the season, a real good run that surprised everybody."
Any team that plays Kansas even in Allen Fieldhouse for 39 minutes and 59 seconds can't count on surprising anybody anymore. Kansas State is a good basketball team playing a conference packed with them. Kansas survived this scare. The potential exists for many more such nights.
— See what people were saying about the game during KUsports.com's live coverage.
---
More news and notes from Kansas vs. Kansas State
---