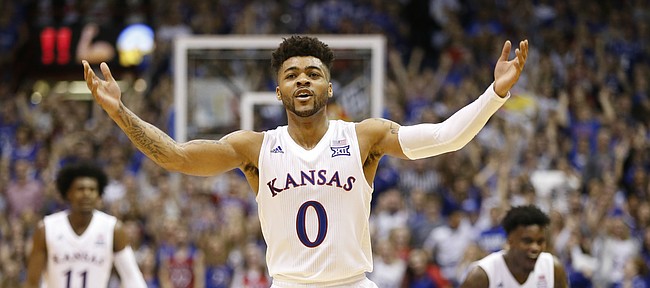 The last person in the building who cared was the one who did the most to inspire the comments.
Whether you're talking about numerous chants of "M-V-P, M-V-P" from the Allen Fieldhouse crowd throughout Monday's 73-63, comeback victory over Oklahoma or KU coach Bill Self anointing his senior point guard as the national player of the year when introducing him before his senior speech, Frank Mason III has put himself in position to become KU's first John R. Wooden and/or Naismith award-winner since Danny Manning in 1988 and the first ever to play for Self.
A handful of former KU greats went on to win other national player of the year awards in the years after Manning. Drew Gooden (2002) and Nick Collison (2003) won the NABC honor. Sherron Collins (2010) was CollegeInsider.com's Lute Olson Player of the Year and also won the Frances Pomeroy Naismith Award. And Thomas Robinson (2012) was named ESPN.com's national player of the year after his stellar junior season.
But no one since Manning has landed the nation's most prestigious and widely talked about player of the year awards, and Self said he introduced Mason the way he did on Monday night because he believes the KU point guard is more than deserving.
"Well, everybody's gotta stand up for their guys, don't they," Self explained. "There's probably five to seven national player of the year deals and, you know, everybody talks about the Naismith or the Wooden awards, but there's some other ones too and I would hope that he could at least get one of 'em and I think he'd have a great chance to get one."
With one game remaining in a regular season that has seen the Jayhawks win 27 of 30 games — two of their three losses came in overtime — and ascend to the No. 1 spot in both major polls on Monday, Mason is still averaging right at 20 points per game (20.3) and is knocking on the door of becoming the first player in Big 12 Conference history to finish a season with averages of 20 points and five assists.
Mason needs seven assists in KU's regular season finale at Oklahoma State — 5 p.m. Saturday on ESPN — to push his assists-per-game average (currently 4.93) to an even 5.0 and 12 points or more to keep his scoring average at 20 points or higher.
His 1,740 career points also put him just 15 points shy of cracking the Top 10 and passing Kirk Hinrich (1,753 points from 2000-03) and Dave Robisch (1,754 from 1969-71) on KU's all-time scoring list.
Self was not the only coach in the building on Monday night discussing Mason's chances at becoming the nation's best player. Oklahoma's Lon Kruger also got in on the act, flashing an equal amount of respect and amazement over the things he has seen Mason do and saw him do again in the thrilling win over the Sooners on Monday night.
"He's terrific," Kruger said. "He can hurt you in so many different ways. He's become such a great shooter. With a guy who is that quick, who can also shoot it, if you step at him at all he can go by you so strong. He's got great instinct on finishing and getting his body into you. He just knows how to play. He's a great competitor. He had all that together and that's why he's maybe the best player in the country."
Mason, of course, does not want to discuss any of this. For one, he's too much of a team player to worry about individual accolades. For two, the fact that it's time to talk player-of-the-year voting means that, win, lose or draw, Mason's tremendous KU career is coming to a close. And that thought, as many saw on Monday night, is enough to move Mason to tears.
In addressing the thousands of Allen Fieldhouse fans who stayed in their seats after Monday's victory, Mason said he would sign up to play at Kansas for another four years in a minute if he could. After the speech, he explained why.
"It means everything to me," Mason said of KU. "Kansas has changed my life, and I'm just thankful for this opportunity. It's something I'll remember every day for the rest of my life and I'm just so thankful for the experiences I had here at this university."