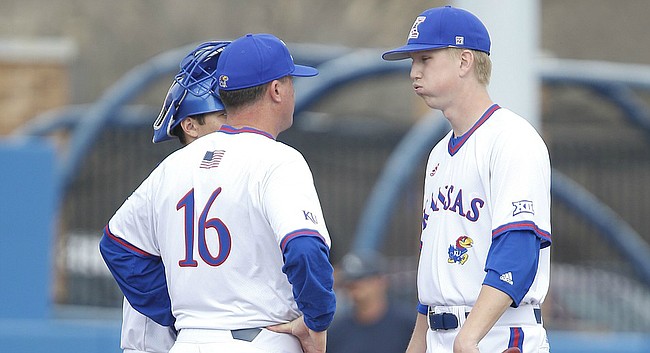 Kansas baseball coach Ritch Price could tell right away that something was different from the moment the first pitch left the hand of freshman pitcher Ryan Zeferjahn.
The right-hander, who normally has a fluid delivery out of a three-quarter arm slot, appeared to be dropping his arm angle lower than normal. And Zeferjahn's velocity went with it.
Oral Roberts took advantage, charging him with five runs in the first inning, to spark a 12-1 route over KU at Hoglund Ballpark Tuesday. The Jayhawks (2-6) have lost four consecutive games.
"Obviously, we got off to a bad start with Zef giving up a five-spot in the first. He kind of buried us," Price said. "I thought he was dropping his arm on the first hitter that walked into the batter box today."
Just last week, Zeferjahn earned his first collegiate victory in the home opener. The Topeka Seaman product showed a glimpse of his prominent potential as he held Omaha to one run over three innings. Most of his pitches sat around the mid-90s according to the radar gun at the ballpark.
But with a lower arm-slot, Zeferjahn was unable to get anywhere near that threshold. He sat in the low-90s and high-80s, recording his fastest pitch at 92 mph. He faced a total of eight batters, in which he allowed five runs on five hits before exiting one out shy of a full frame.
About the only thing Zeferjahn was able to do was get ahead of batters. He threw a first-pitch strike to all but two batters and even got into three different 0-2 counts. Still, the 6-foot-4 hurler surrendered a pair of extra-base hits, while also walking one batter and plunking another.
"In the big leagues you make 36 starts," Price said. "You got great stuff one-third of the time, you got average stuff one-third of the time, and bad stuff one-third of the time. The key to surviving is to be able to get six innings and keep your team in the ballgame when you don't have your best stuff."
From then, it was pretty clear what kind of day it was going to be for Kansas.
Junior left-hander Blake Weiman induced a groundout for the final out of the first inning. He proceeded to sit down the next six batters he faced over the next two frames, to help keep the Jayhawks in it.
However, KU was unable reward Weiman for his efforts. The Jayhawks left the bases loaded twice in the first two innings. In the first, they had their first two batters — Matt McLaughlin and Kaimana Souza-Paaluhi — reach second and third before they even recorded an out.
"Early on, we were stringing some hits together, our offense looked good," Weiman said. "We just didn't get the timely hits and the clutch at-bats that we needed."
The Golden Eagles (7-1), who were coming off a road series sweep over Alabama, made them pay for the early miscues with a four-spot in the fifth inning, which was highlighted by Brent William's three-run homer to straight center. Then in the ninth, Williams and Noah Cummings both went yard on consecutive solo shots for good measure.
McLaughlin served as the team's saving grace in the near-shutout. He knocked in a run on a fourth-inning single to put KU on the board. Kansas has scored a total of three runs over the last four games, and McLaughlin (1 run scored, 1 RBI) is responsible for all but one run.
"In the game of baseball, when you are going bad that ball is caught and when you are going good, that ball finds a gap," Price said. "We have to keep grinding and keep trying to have better at-bats. We have to trust the process and by the end of the month, hopefully we will be a good team."
Kansas will play host to Northwestern State at 3 p.m. Friday.
ORU 500 040 012 — 12 13 0
KU 000 100 000 — 1 7 1
W — Justin McGregor, 2-0. L — Ryan Zeferjahn, 1-1.
2B — Noah Cummings, Michael Hungate (2), Trevor McCutchin, Dylan Synpes, ORU. HR — Noah Cummings, Brent Williams, ORU.
KU highlights — Matt McLaughlin, 2-for-3, 2 walks, RBI; Jaxx Groshans, 2-for-3; Blake Weiman, 2.1 IP, 0 H, 0 R, 0 BB, 2 K; Gabriel Sotomayor, 2 IP, 0 H, 0 R, 1 BB, 1 K.