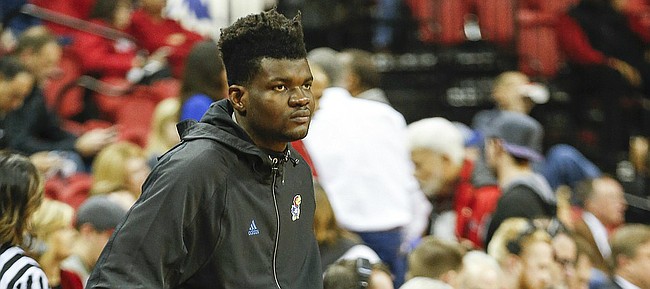 Now that the new-car smell has faded from the UCLA-tying 13th-consecutive conference title, it's time to examine what it will take for Kansas to own the outright record by securing a 14th Big 12 title in a row.
Let's put it this way: If anybody offers taking the field and letting you have Kansas for even money, grab his or her hand as fast as you can and shake it firmly.
At the very least, Kansas loses its point guard, a likely first-team All-American, its center and its do-it-all potential All-American wing from a team that lacks depth. But that doesn't mean next year's talent pool will fall short.
Best-case scenario
Devonte' Graham and Svi Mykhailiuk decide to return for their senior seasons and 6-foot-2 jumping jack Trevon Duval out of IMG Academy in Bradenton, Fla., the nation's No. 3 recruit and top point guard, disappoints Duke and signs with Kansas.
If that happened, Kansas could send an even better scoring team onto the floor than this season with Duval, Graham and Malik Newman on the perimeter. Billy Preston, a 6-9 do-it-all forward and 7-foot wide-body Udoke Azubuike round out the staring lineup.
Lagerald Vick, Svi, 6-6 guard Sam Cunliffe (Arizona State transfer eligible as soon as the first semester ends), freshman Marcus Garrett, a 6-5 guard, Dwight Coleby and Mitch Lightfoot supply depth. So does Carlton Bragg, if he returns to Kansas.
That happens and Kansas opens the season projected as a No. 1 seed in the 2018 NCAA tournament.
Worst-case scenario
Graham and Svi decide to make themselves eligible for the NBA draft and Duval signs with Duke.
That happens and the door flies open for an intense competition.
Newman very well could lead Kansas in scoring next season and Garrett can play some point, but neither is ideally suited to be the team's primary ballhandler. Such a scenario would leave Kansas scrambling for a point guard, either a high school player or graduate transfer or both.
Middling scenario
Kansas has either Graham or Duval on the roster, but not both. KU still would enter the season as the favorite to claim another title.
Kansas isn't the only school sweating out possible early NBA entries. Baylor's Johnathan Motley and Oklahoma State's Jawun Evans likely will enter the draft and Texas freshman Jarrett Allen also might. Either way, Baylor shapes up as a contender, as do West Virginia and maybe Oklahoma, which returns every player from Monday night's game in Allen Fieldhouse. Also, the Texas recruiting class ranks 14th at this point.