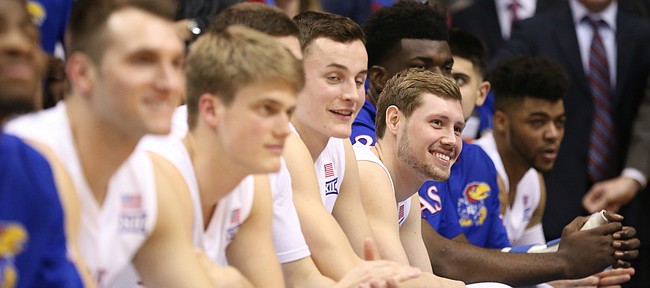 When the final horn sounded on Kansas' 73-63, Senior Night victory over Oklahoma on Monday night, it signaled the Allen-Fieldhouse-end of a five-year run that has been like no other for the head basketball coach at KU.
During that time, Bill Self has enjoyed something that only a few other college coaches have had the opportunity to experience. And, sure, while most would think that Self's unique endeavor had to do with his insane win total, the experience actually had very little to do with the outcome of any of the 176 games (and counting) that have taken place during the past five seasons and a lot to do with his son, fifth-year senior walk-on Tyler Self.
"It's been fun," Self said after Monday's victory. "I've enjoyed coaching all my years here, without question. But I've really enjoyed the last five years more because I get a chance to be around him every day."
That was the idea behind putting Tyler on the team in the first place. No one ever entertained thoughts that the Free State High grad would become a regular in KU's rotation or make a name for himself as a basketball player. But none of that mattered to either the player or the coach. Instead, being on the team and traveling on the bus and being there in practice, after games, during the good times and bad, was all about a chance to learn the game and carve out some quality, if not completely unique, father-son bonding time.
Tyler said after Monday's game — before joking as he walked away about how nice the media room was — that he and his father established early on that they would have a player-coach relationship on the court and a father-son relationship off of it.
For the most part, it went exactly that way. But Monday night, when Tyler made the first and only start of his Kansas career, the line blurred just a little bit.
"It was great," Self said of seeing his son in the starting lineup. "You know, I wish we would've played better early so I could've kept him out there a little longer, but I actually thought he did pretty good."
In all, Tyler played three minutes and was whistled for one foul. He did not attempt a shot — though the Allen Fieldhouse fan base desperately wanted him to do so — and he did not record a rebound, a steal, an assist or even a turnover.
In many ways, though, it was the perfect ending to a career that really was never about basketball.
During these past five years, Tyler earned the respect of his teammates by working hard, setting an example of how to prepare — in practice, in the film room and in the classroom — and sacrificing everything for an opportunity to be a part of the team.
He also earned the respect of his father, who proudly boasted during the Senior Night festivities that there were three words that came to mind whenever he saw Tyler, thought about him or heard his name mentioned — "That's my son."
"It's been a great run," Self reiterated. "(Senior) Landen (Lucas has) been here five (years), (fellow-senior) Frank (Mason III has) been here four, but Tyler's been here 14 so he's been able to see and touch all the guys coming through here and had a lot of good role models that came before him. To see him be a part of it is pretty special.... There'll be a lot of things he'll remember that I won't, and probably a lot of things that I'll remember that he didn't think was a big deal.
"Every parent probably wishes they could spend more time with their kids growing up, while they're chasing the carrot, and I certainly chased it. You know, you can't get time back, but certainly it makes it that much more special when you can get quite a bit of time (together).... It's not an even trade, but certainly I'll take it."