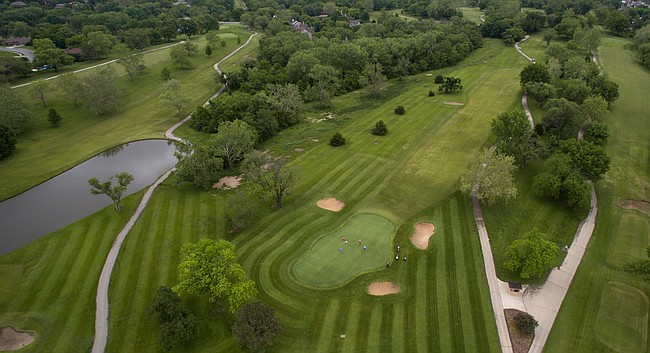 In a unique licensing and branding allowance by the University of Kansas, Lawrence's Alvamar Country Club is now called the Jayhawk Club, with a Jayhawk-emblazoned logo to match.
KU on Monday announced the licensing agreement between the university and club ownership, an LLC headed by Lawrence developer Thomas Fritzel and his family, who also developed Rock Chalk Park.
Alvamar, now the Jayhawk Club, has been and remains the home course of the KU men's and women's golf programs.
KU licenses lots of apparel and products but it's rare, possibly unprecedented, for the university to license use of the Jayhawk name and mascot to a privately owned business.
University officials said the agreement is unique and that it reflects a unique opportunity for KU.
"Alvamar Country Club has been a great home for the University of Kansas men's and women's golf programs, and there has been a terrific partnership between the club and the university during that time," Tim Caboni, KU vice chancellor for public affairs, said in a statement. "This new license agreement is an extension of that partnership that will benefit The Jayhawk Club, the university, our student-athletes and the entire region. We are excited to have our university's name and our world-famous Jayhawk affiliated with the facility."
The golf facility has a new logo and branding that features the club name with an image of the Jayhawk. According to KU, the new club will also feature officially licensed merchandise reflecting the name change.
KU's 20-year agreement with Eagle 1968 LLC allows the club to use KU's registered marks and names for an annual fee of $120,000 for the first 10 years, according to KU. For the final 10 years of the agreement, that annual amount is adjusted for inflation. Fritzel is a local businessman who led a partnership with KU at the Rock Chalk Park sports complex in northwest Lawrence. He also is an owner of The Oread, a Lawrence hotel that is at the center of a tax dispute between Fritzel and Lawrence City Hall.
Half of the licensing revenue from the Jayhawk Club will go to KU and the other half will go to Kansas Athletics Inc., according to KU spokesman Joe Monaco. He said KU's portion will be used for student scholarships and academic programming, and KU Athletics' portion will be used for student-athlete scholarships.
In a statement shared by KU, Fritzel said the club's partnership with the university would bring new energy to an historic community landmark and its founder.
"Bob Billings was such a positive and energetic force," Fritzel said. "There is much to learn from his approach — in business and in life. Every day is a gift, and we should live it fully. It is an honor and a privilege to continue what he started."
Fritzel's company took over ownership of the club more than a year ago. Work continues on a major redevelopment effort that includes private residences as well as renovations to the clubhouse and golf course.
The club previously had an 18-hole public course and an 18-hole private course, but it's no longer open to the public.
Wes Lynch, general manager of Jayhawk Club, said the club went all private as of December 2016.
The public clubhouse has been torn down, and major renovations to the private clubhouse are ongoing, Lynch said. He said the clubhouse is expected to be complete in April or May. A new swimming pool also is under construction and anticipated to open this summer, he said.
As for the golf course, it's going from 36 holes to 27, Lynch said. Portions of the course are open now, he said. The whole course should reopen in late spring or early summer after resodding and reseeding.
As for the private residences, Lynch said the first phase is hoped to be completed and available by late summer. The building will feature one-, two- and three-bedroom residences. The club also has broken ground on a wellness and fitness center.
Lynch said the club plans to break ground soon on a new building for the KU golf teams, which is hoped to open in time to use next golf season.
Lynch said representing "Jayhawk nation" should be a boon to business for the club and development.
"It kind of gives us a step up," Lynch said. "I think people will be excited that they're a part of that."
Have a tip or story idea?
---
More stories