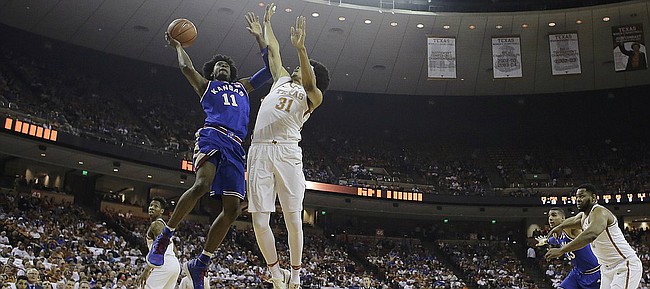 For the second consecutive week and seventh time during his outstanding freshman season, Kansas swingman Josh Jackson has picked up a Big 12 Newcomer of the Week award.
As the Jayhawks (26-3 overall, 14-2 Big 12) wrapped up the program's 13th straight league title, Jackson averaged 16.5 points a game this past week, in victories over TCU and Texas. The 6-foot-8 Detroit native averaged 8.0 boards and 4.5 assists, as well, while turning the ball over just three times in two KU wins.
Jackson's seven Newcomer of the Week honors tie him for the second-most in the 21-year history of the Big 12. The nearest Jayhawk with as many Big 12 weekly newcomer nods is guard Tyshawn Taylor's four during the 2008-09 season.
Kansas State's Michael Beasley won the weekly award eight times in 2007-08. Jackson is now tied with Oklahoma's Willie Warren, who won it seven times in 2008-09. Jackson surpassed Texas' Kevin Durant (2006-07) and Iowa State's Marquis Gilstrap (2009-10), both of whom earned the distinction on six occasions.
Also a two-time Big 12 Player of the Week, Jackson has earned a weekly award nine times this season. That's more than any other Jayhawk in the history of the conference, with Nick Collison's seven times from 2000-03 ranking second for Kansas players.
HIs nine conference recognitions rank third all-time, in the history of the Big 12. Beasley is the Big 12's all-time leader, with 11 total, while Durant ranks second, with 10.
Jackson enters the final week of the regular season averaging 16.5 points and 7.0 rebounds, while shooting 50.1-percent from the floor.
Kansas plays host to Oklahoma Monday night in this season's Allen Fieldhouse finale.