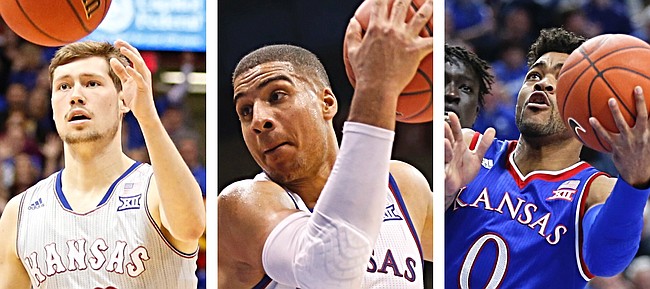 The look in his eye and expression on his face said it for him, but Kansas senior Frank Mason III decided to go ahead and attach the words anyway.
Asked after Saturday's victory at Texas if he was prepared to play his last game at Allen Fieldhouse — 8 p.m. tonight vs. Oklahoma on ESPN — Mason made no attempt to hide what the finale will mean to him.
"I'm not ready," he said. "Yeah. I'm not ready."
There will, of course, be more games for Mason in a KU uniform after tonight's home finale. The Jayhawks play at Oklahoma State on Saturday, have the Big 12 tournament after that and whatever run they make in the NCAA Tournament will follow.
But for the lone remaining player in a star-studded, six-man recruiting class, tonight's warm-up, tonight's run through the tunnel, tonight's starting lineup announcement and action on the floor, will be the last at Allen Fieldhouse.
Mason enters the game with 1,717 career points and in 12th place on KU's all-time scoring list, 38 points away from moving into the Top 10. He said he did not know what to expect in terms of emotions from Senior Night. And he really did not want to think too much about it until it arrived.
"I'm just enjoying before Monday gets here, taking it day by day," Mason said. "Whatever happens Monday, I'm really not ready for it."
Those comments themselves demonstrate the emotions Mason is likely to experience in what has been a time-honored tradition at Kansas, excluding the 2006-07 season, when there were no seniors on the roster.
Each season, with fans standing, cheering and tossing flowers onto the floor, as many seniors as possible are inserted into KU's starting lineup — no matter who the opponent is — and given their opportunity to shine. Following the game, in front of the 16,300 fans in the stands who refuse to leave, the seniors deliver speeches that include laughs, tears, jokes and heartfelt thank-yous.
When that portion of the night arrives this year, fellow-senior Landen Lucas believes he has an idea of what people will get from Mason.
"I'm sure it'll be a great one," Lucas said of Mason's speech. "He's like a Kansas legend now and I'm sure he'll probably get his number retired at some point in time, so I'm sure the crowd's gonna love it and everyone is gonna eat up everything he's gonna say."
Lucas will join Mason and head coach Bill Self's son, Tyler, in saying goodbye to Allen Fieldhouse one final time.
Said Mason of Tyler Self getting a chance to hear his name called in the starting lineup: "He works really hard at practice, helps us get better and when his opportunity comes to get out there in the game, he'll be ready. I can't wait for that."
As usual, Self, who indicated he would join his son on the floor once everyone else is out there, said the seniors will try to limit their speeches to three or four minutes. He admitted that experiencing one of these from the perspective of both father and head coach would be special.
"I think it'll be one of the best Senior Nights that we've ever had," Self said. "And we've had some great ones. I think there'll be a lot of emotion in the building."
Lucas agreed and said, in order to not get overwhelmed with the flood of emotions that come with reflecting on his five-year KU career, he planned to make his speech more about thanking people and less about his journey.
"If you want to sum up a career or something, maybe write a book later on," Lucas joked. "That's probably not the time to go on and on about every up and down."
There have been plenty of ups and downs along the way for all three players who will be honored after KU's home finale. But through it all, each has given his heart and soul to the program and felt a lot of love from the adoring fan base in turn.
"I think I'm a better leader, better everything, better shooter, just a better overall point guard," Mason reflected. "I'm just thankful for my coaching staff and my teammates for pushing me every day and helping me become a better young man and player. I'm just thankful for the opportunities."