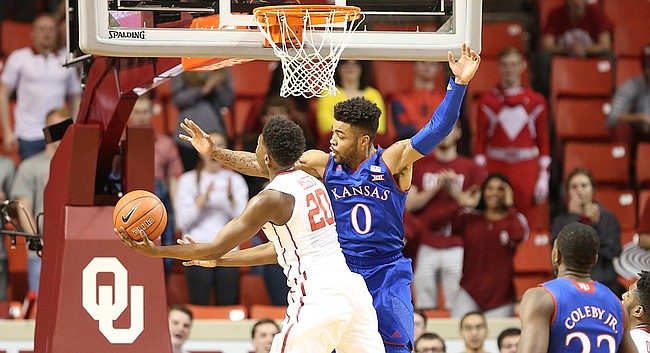 Kansas Jayhawks (26-3 overall, 14-2 Big 12) vs. Oklahoma Sooners (10-18 overall, 4-12 Big 12)
Time: 8 p.m. Monday | Location: Allen Fieldhouse, Lawrence, Kansas
TV: ESPN | Radio: IMG Jayhawk Radio Network
Log on to KUsports.com for our live game blog coverage and follow the KUsports.com staff on Twitter: @KUSports @mctait @TomKeeganLJW @bentonasmith & @nightengalejr
Keys for Kansas
1. Enjoy the night, maintain the focus
There will be a lot of distractions and emotions at Allen Fieldhouse on Monday night, and the Jayhawks absolutely should enjoy every minute of saying goodbye to seniors Landen Lucas, Frank Mason III and Tyler Self.
Because of that, it could be a challenge for this team to keep its focus on the task and hand and competing against Oklahoma.
Much like last Wednesday, when the Jayhawks were eyeing a clinch of their 13th consecutive Big 12 title but first had to dispose of TCU in order to get it, tonight's game with OU could be viewed by some as more of a necessary evil to a night of celebration.
Don't count the Kansas players in that group. Said Mason after Saturday's win at Texas: "We wanted to come into the game playing with a lot of pride and toughness and things like that because we want to use this momentum moving forward."
2. Start fast
A fast start against an obvious underdog, especially at home, can go a long way toward eliminating a potential upset bid.
But starting fast against the Sooners tonight figures to be of extra importance to the Jayhawks because of the way things went back in January when these two teams first got together in Norman, Oklahoma.
After a decent first few minutes, Kansas fell asleep and watched the Sooners completely dominate the rest of the first half en route to a nine-point halftime advantage. The Jayhawks erased that deficit with a stellar start and overall strong second half, but the idea tonight is to prevent that hole in the first place.
The Jayhawks have trailed at halftime in 5 of their last 10 games, but led Texas by nine at the break on Saturday after a stellar start.
3. Match OU's effort
Although their record leaves more than a little to be desired and they're a far cry from last year's ultra-talented and successful Final Four team, this year's Sooners have proven to be scrappy.
Home, away, favored or the underdog, Kruger's teams have fought and made opponents work for every victory they've gotten against them.
That figures to be no different tonight and, clearly, is OU's game plan once again. Talking after Saturday's win over K-State, OU junior Khadeem Lattin, who tallied 17 points, 10 boards and 3 blocks against KSU, already was thinking about OU's strategy for Monday night.
"We're going to go in, we're going to fight and we're not going to give them anything easy," Lattin said. "Of course, it is their home, so we can't let them have easy looks. We just want to attack everything and just be aggressive."
Mega Matchup
Bill Self vs. Lon Kruger
Thanks to the Sooners' 30-point win over Kansas State last weekend, tonight's coaching match-up will pit a pair of veteran leaders in the 600-win club against one another. OU's win over the Wildcats marked the 600th win of Kruger's long and successful career, which has included stops at six schools. Self, who secured his 600th win earlier this season, now has 618 career victories. These two longtime friends and conference rivals have maintained the ultimate respect for one another throughout their time and have waged some pretty good battles against one another. Although there isn't much on the line in tonight's game, you can bet both coaches will operate like it means everything.

Jayhawk Pulse
This one will be all about the seniors and the Jayhawks did extremely well in the last week to clear the deck so all of the focus can be on them in the final Allen Fieldhouse game of the season.
With KU clinching a share of the Big 12 title last Wednesday and ensuring that they win their 13th Big 12 crown in a row outright with a win over Texas over the weekend, the Jayhawks turned the home finale into a game that means little in the standings but a lot in the minds and hearts of Jayhawks everywhere.
Frank Mason III and Landen Lucas have meant so much to this program over the past few years and Tyler Self's status as a fan favorite and the head coach's son should make his impact on this one rather memorable, as well.
In looking ahead to Senior Night following Saturday's 77-67 win at Texas, Self predicted that this year's Senior Night would be one of the more special celebrations KU has had while noting that he was well aware of how many big nights have accompanied the final home game of the season in the past.
"It'll be great for Tyler," Self said. "This place means a lot to Tyler for different reasons because this is all he knows, this is what he's grown up on. And then Landen, the way he's grown, and, of course, Frank, to come from where he has to where he is now, it'll be a fun night."
Probable Starters
Kansas
G – Frank Mason III, 5-11, 190, Sr.
G – Devonte' Graham, 6-2, 185, Jr.
G – Tyler Self, 6-2, 170, Sr.
G – Josh Jackson, 6-8, 207, Fr.
F – Landen Lucas, 6-10, 250, Sr.
Oklahoma
G – Darrion Strong-Moore, 6-1, 180, Jr.
G – Rashard Odomes, 6-6, 212, Soph.
G – Kameron McGusty, 6-5, 191, Fr.
F – Kristian Doolittle, 6-7, 236, Fr.
F – Khadeem Lattin, 6-9, 212, Jr.
More like this story on KUsports.com