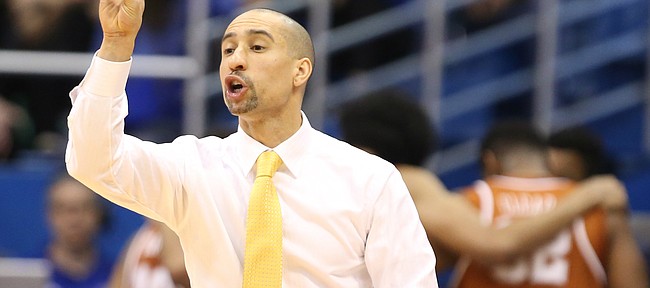 Nearing the end of just his second season as a head coach in the Big 12 Conference, Texas coach Shaka Smart has been around long enough to get a full understanding of just how impressive Kansas' streak of 13 consecutive Big 12 titles has been.
"I don't know what to say," said Smart earlier this week, when asked about KU's streak. "It's a tremendous accomplishment and, more than anything, it's just a testament to Bill Self and his staff. There's a lot of factors that you can point to, and great players is obviously a huge part of it. But the players come and go and the one constant over the course of 13 years is Bill Self and his staff and the program they've built."

The Longhorns, who play host to No. 3 Kansas at 5 p.m. today at the Erwin Center, have been experienced all of the emotions associated with the streak throughout the years, from being a team battling with the Jayhawks for the title to being little more than a road block along the way.
Although this year's record would indicate the current crop of Longhorns is closer to the latter, Texas' 12-point loss in Lawrence last month featured a strong effort from Smart's team, which faded at the end of a highly competitive game.
Those memories, which remain fresh in the minds of the struggling Longhorns, — losers of four straight entering the clash with Kansas — have both Smart and his players fired up for their latest test.
"It's important for us to look at it as an opportunity," Smart said. "Obviously, it's a big time challenge. But that's why you play the game.... As a coaching staff I know we're really excited about seeing what our guys can do and how our guys can grow from the last time we played 'em."
Back then, Kansas was 6-0 in conference play and just reaching the halfway point of its run to Big 12 title No. 13. Today, the Jayhawks will be playing to guarantee that No. 13 will be of the outright variety, and Smart said that accomplishment, during a season that featured two other conference teams (Baylor and West Virginia) spending so much time in the Top 10, was incredibly impressive.
"If you're a competitor in this league as a player or a coach that's something that should really, really stand out to you," Smart said. "I think it says more about Kansas (than the rest of the Big 12). But it is really strange because you're talking about arguably the most competitive league and one of the most competitive leagues year in and year out.... You have other teams that are, at different points in the year, talked about as elite teams.
"It certainly creates an urgency for the rest of us to say, 'Hey, we're not there yet.' No matter who you're talking about in the league, the other nine teams are trying to strive toward something that Kansas has done consistently."

Smart continued: "Somebody asked me the other day, 'When is that streak gonna end?' I wasn't trying to evade the question, but I said, 'The streak's gonna end when a Big 12 team wins more conference games than Kansas. That's what you have to do if you want to dethrone them and nobody's been able to do that.'"