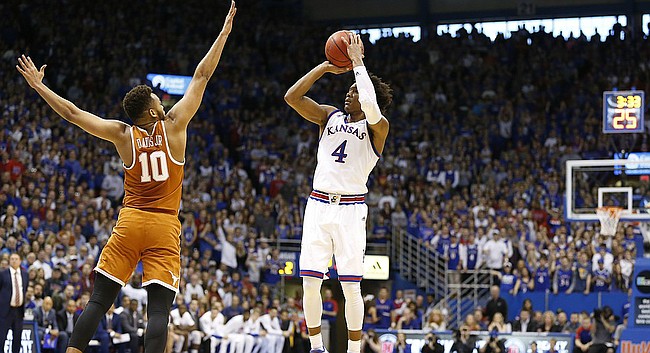 No. 3 Kansas Jayhawks (25-3 overall, 13-2 Big 12) vs. Texas Longhorns (10-18 overall, 4-11 Big 12)
Time: 5 p.m. | Location: Erwin Center, Austin, Texas
TV: ESPN | Radio: IMG Jayhawk Radio Network
Log on to KUsports.com for our live game blog coverage and follow the KUsports.com staff on Twitter: @KUSports @mctait @TomKeeganLJW @bentonasmith & @nightengalejr
Keys for Kansas
1. Avoid a letdown
For months, from summer conditioning and boot camp to the start of practice and the grind of the season, the Kansas men's basketball team has operated with a primary goal — win the Big 12 Conference.
With that box checked and the Jayhawks preparing to move on to the next goals on their list — Big 12 tournament title, Final Four, national championship, etc. — the final three games of the Big 12 regular season have the potential for trouble.
The Jayhawks could lose all three games and still be Big 12 champs and in position to make a run in the postseason. While that outcome is neither likely nor desired, Kansas will look to emphasize a couple of key carrots to get up for the rest of the regular season, including winning the Big 12 outright — a victory against Texas will clinch that — and playing for seeding.
The Jayhawks are positioned well to be a No. 1 seed and have their road to the Final Four go through Kansas City, Mo. No one on this team wants to see that disappear.
2. Play with free minds
Wednesday night ended with a wild celebration and a lot of hugs and smiles from the Jayhawks, who clinched at least a share of their 13th consecutive Big 12 title.
With that accomplishment now in the bag, KU coach Bill Self is hoping his team will be able to play with more freedom and even have a little more fun.
"Whether you see it or not, these guys, during conference play, they operate under pressure and they get most everybody's best shot," Self said. "... I think in the next two weeks we can focus in on trying to just play our best basketball that we've played all year long because the pressure's off a little bit."
An important part of reaching that goal in the days leading up to the postseason will be to look at the areas in which this team has struggled and times and fine-tune those for the stretch run.
"I think right now," Self began. "What we have to do is stay fresh, minds and bodies as much as possible, and work on some things that we aren't doing as well as we should and play with a freer mind than we have."
3. Keep finishing
During Thursday morning's Big 12 coaches teleconference Self said he expected KU's upcoming game with Texas to come down to the final few possessions because, "it seems like every game does in our league."
The Jayhawks have been fantastic in late-game situations during recent weeks, surviving road tests at Texas Tech and Baylor and a close-call at home against West Virginia by executing nearly flawlessly in the final few minutes of each game.
In order to get out of Austin with a victory, the Jayhawks are going to have to start strong and play to the end and Self and his staff have emphasized that in the past couple of days.
"Texas was good against us the first time," he said. "Playing on the road is always a challenge and we respect (UT coach) Shaka (Smart) and his staff and their players. They have good players, they're just young. We know we're gonna have to play good to win."
Mega Matchup
UT freshman Jarrett Allen vs. KU senior Landen Lucas
A lot of times, the key match-up for any particular game is an examination of two players and what they can do against one another.
In this case, the key match-up for Kansas-Texas comes down to what the Jayhawks can prevent Texas freshman Jarrett Allen from doing. A monster in the paint, who continues to be more confident by the day, Allen hit the Jayhawks for 22 points and 19 rebounds in the first meeting in Lawrence and, obviously, will be a focal point for the Kansas defense in the rematch.
"Jarrett Allen played unbelievable and we've gotta do a better job on him," said KU coach Bill Self earlier this week of the UT freshman who finished 9-of-14 from the floor and played 34 minutes in the loss to Kansas.
Although the 6-foot-11, 235-pound freshman who chose Texas over Kansas put up monster numbers against the Jayhawks back in January, he's not the type of player who solely sits in the post and waits for the ball to be thrown to him. Allen got a lot of his points and rebounds off of offensive put-backs (7 offensive rebounds) and also got the free throw line seven times.
Limiting both of those numbers will be key for Kansas in this one.
Jayhawk Pulse
All is well in Jayhawkland, where the Kansas men's basketball team is again king of the Big 12 Conference and the third-ranked Jayhawks are roaring toward March as a likely No. 1 seed and serious threat to contend for a national title.
But just because it's business as usual for the boys in Lawrence does not mean the rest of the conference is going to let up now.
Those same teams that have been gunning for Kansas all season still have as many as six shots to knock off the Jayhawks, therein proving something to themselves and the college basketball world.
With a veteran group that appears to be well prepared for the challenges that lie ahead, the Jayhawks figure to continue to bring razor-sharp focus into game days and will look for time to rest on their off days.
KU's limited depth and short rotation has been a concern all season, but Self said recently that he did not see any reason for this team to pull back now.
Probable Starters
No. 3 Kansas
G – Frank Mason III, 5-11, 190, Sr.
G – Devonte' Graham, 6-2, 185, Jr.
G – Josh Jackson, 6-8, 207, Fr.
G – Sviatoslav Mykhailiuk, 6-8, 205, Jr.
F – Landen Lucas, 6-10, 250, Sr.
Texas Longhorns
G – Kerwin Roach Jr., 6-4, 175, Soph.
G – Jacob Young, 6-2, 185, Fr.
G – Eric Davis Jr., 6-3, 195, Soph.
F – Jarrett Allen, 6-11, 235, Fr.
F – Shaquille Clear, 6-8, 275, Sr.