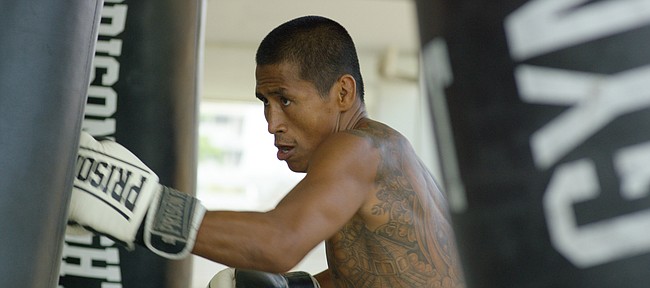 Imagine a world where the better a prisoner is at beating up another man with his fists and feet, the greater his chance at gaining freedom.
Better yet, don't imagine that world. Immerse yourself in it from a safe distance for 90 minutes Friday night in front of your television. You can do that by watching former Kansas football player Micah Brown's documentary, "Prison Fighters: 5 Rounds to Freedom," which airs for the first time on Showtime at 7:30 p.m. Friday.
Brown started with the general theme of forgiveness and looked for forms of it in various religions and cultures. When his research took him to a story about Khao Prik Prison in Thailand that grants freedom to murderers and rapists if they are successful enough in a series of Muay Thai fights, a form of kickboxing, Brown hit the mother lode.
"If they see you have potential to bring glory to your prison and glory to Thailand, you have a much better chance at freedom," Brown said. "Best elevator pitch ever. There's a prison in Thailand that allows inmates to fight for their freedom. How do you not tune into that?"
Redemption via precisely executed brutality. Only in sports.
"This story is unlike anything we've ever encountered," said Stephen Espinoza, executive vice president and general manager of Showtime Sports, in a release. "Redemption is a common metaphor in sports stories, but this is a story about actual redemption and rehabilitation, with prisoners literally fighting for their release from prison."
Brown's attempt to gather more information on the controversial practice stalled for six months after first learning about it. Daily emails went unanswered, so Brown flew to Thailand and arranged meetings with prison officials, treated them to a round of golf, a nice dinner, did whatever he could to break down their defenses and make them trust him.
It worked, which enabled Brown to mingle with 4,000 inmates, many locked up for violent crimes, secured by 10 prison guards. Lucky guy, that Brown. Oh well, at least most days it was about 110 degrees, so it's not as if the air where, according to Brown, "60 people are packed in like sardines in a cell no bigger than my bedroom with a toilet in the corner," had a ripe scent to it or anything.
"It was a pretty dangerous situation," Brown said.
Noy Khaopan, imprisoned for murder, is the Showtime original film's central character. He seeks a reunion with his young son, whom he has not seen for five years. A loved one of his stabbed-in-the-head victim weighs in on the notion of a murderer gaining freedom via his boxing prowess.
To tell the story, Brown, the director, teamed up with writer Mark Kriegel, author of the most compelling unauthorized biographies on Joe Namath ("Namath") and Pete Maravich ("Pistol") as have ever been written, as well as a smart novel ("Bless Me, Father") on the relationship between a teenage boxer and his father. Ron Perlman, Clay Morrow in the television series "Sons of Anarchy," narrates.
Hard-core Kansas football fans might remember Brown's 22-yard reception on a fake punt in the Orange Bowl victory over Virginia Tech. Others might even remember he came to Kansas on a track scholarship as a triple-jumper, but gave that up after a year to walk-on to the football team.
Some might know that his twin sister, Ashley, was a track star at KU and their father, Todd, was a starting wide receiver for a Nebraska offense that featured Mike Rozier, the Heisman Trophy-winning running back, NFL receiver Irving Fryar and star quarterback Turner Gill, former Kansas football coach.
Not as many know that following in his father's footsteps took a back seat for Brown to following his uncle's professional path.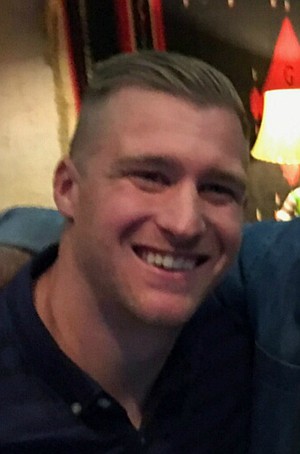 David Robichaud, an Emmy Award-winning journalist for WBZ-TV in Boston, "planted the seed in me of how to tell stories," Brown said. "He got me excited about story-telling. It's what I've wanted to do since I was 6 years old. My uncle would stay up with me until 2 in the morning making home movies. I was MC Hammer in my first movie."
Brown, who attended Kearney High, in Nebraska, said he chose that high school because of its drama program and chose KU because of its film school.
"I played sports because it was something I was able to do and it was fun," Brown said. "But making movies always has been my passion."
For those who don't have Showtime or have plans that conflict with the initial airing of Brown's first full-length film, he will be host to a screening Wednesday, March 1 at Liberty Hall, and the public is invited to show up and pepper him with questions about the fascinating project, rightly a great source of pride for him.