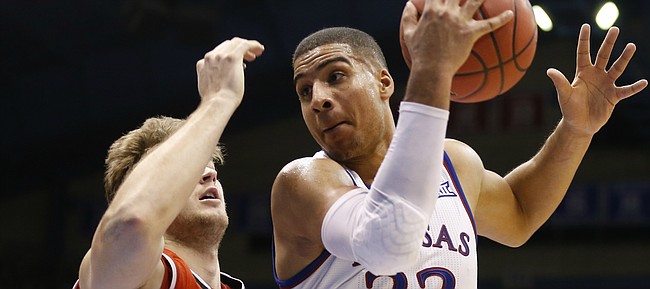 One day after helping the team secure a record-tying 13th consecutive Big 12 men's basketball title, four members of the Kansas basketball team added some academic hardware to their memorable week.
Seniors Landen Lucas and Tyler Self, along with juniors Svi Mykhailiuk and Dwight Coleby, on Thursday were named Academic All-Big 12 selections by the conference.
Lucas, Self and Coleby earned first-team nods on the 26-man team while Mykhailiuk landed on the second team.
Kansas now has a league-leading 57 all-time Academic All-Big 12 honorees — 43 first-teamers and 14 second-team selections — since the inception of the conference in 1996-97. Texas ranks second with 48. Thirty-five of those 57 have come during Bill Self's time as head coach, including 25 on the first team.
Mykhailiuk, a junior guard from Ukraine who is averaging 10 points in 28 minutes per game this season, is a repeat honoree from last season, while the Lucas, Self and Coleby are being named Academic All-Big 12 for the first time.
Both Lucas and Self graduated from Kansas in spring 2016 and are currently pursuing master's degrees in business administration.
First-team members consist of those who have maintained a 3.20 or better grade point average, while second-team distinction indicates a player holding a GPA between 3.0-3.19 GPA.
To qualify, student-athletes must maintain a 3.0 GPA or higher and must have participated in 60 percent of their team's scheduled contests.
Freshmen and transfers are not eligible in their first year of academic residence. Senior student-athletes who have participated for a minimum of two years and meet all the criteria except percent of participation are also eligible.