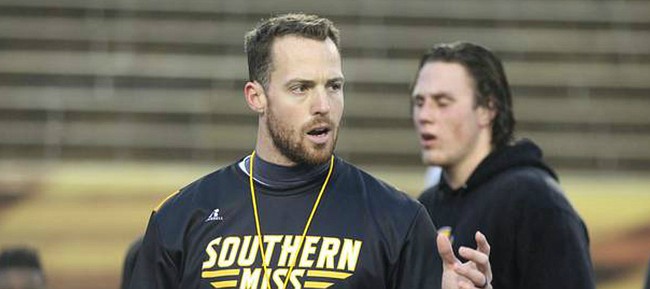 Currently operating within a crucial portion of the college football offseason, Kansas head coach David Beaty wasted no time in filling a staff vacancy.
Beaty announced Thursday the addition of Zac Woodfin as director of strength and conditioning, roughly two weeks after Je'Ney Jackson moved on from the position. KU associate athletics director of sports medicine Murphy Grant oversaw the strength program in the meantime.
"Zac is a guy who really knows how to put his stamp on a program," Beaty said in a release. "He has a disciplined method of running his strength and conditioning program, yet knows how to make it fun for his players. I was really impressed with his general knowledge of the culture of college athletics and think he is a great fit for our program as continue to move forward."
A former UAB linebacker, Woodfin worked the previous two years as the head strength and conditioning coach for the entire athletics department — 16 teams in total — at Southern Miss.
Just over a year ago, Woodfin served as Southern Mississippi's interim athletics director while the university searched for a full-time replacement.
In 2014, Football Scoop named Woodfin its Strength and Conditioning Coach of the Year, after UAB went from 2-10 in 2013 to 6-6 the following season, with Woodfin serving as the head strength coach at his alma mater. UAB decided to shut down its football program following the 2014 season, but has since reneged on the move and will return to the college football landscape this coming September.
Woodfin also brings some NFL experience to the KU football program. He played briefly for Baltimore in 2005. More recently, before he began working at UAB, he spent three seasons as a strength-and-conditioning assistant with the Green Bay Packers.
A 2004 graduate of UAB, with a bachelor's degree in exercise science, the Prattville, Alabama, native got his first work as a volunteer at Alabama and UAB. Woodfin then spent four years working for Athletes Performance, in Los Angeles, where he worked with professional athletes from the NFL, NBA and MLB, as well as Olympians.
Woodfin played at UAB from 2001-04 and ranks second in program history, with 372 tackles. He ranked No. 1 until Marvin Burdette broke his record in 2012. Woodfin made 149 tackles in 2003. His 99 solo stops that season still lead UAB's record books.
Woodfin and his wife, Fawn, have a son, Valor, and a daughter, Violet.