Serenaded by the sweet sounds of "Happy Birthday" from Kansas fans throughout the night, KU junior Devonte' Graham could not have imagined a better way to spend his 22nd birthday.
"Definitely a special day," Graham said after No. 3 KU's 87-68 victory over TCU on Wednesday night. "Glad we could get the win and my birthday and just being with all these guys, being in Allen Fieldhouse with all the fans and then winning 13 straight. I couldn't ask for a better day."
Graham was one of four Jayhawks who scored in double figures on Wednesday night, finishing with 17 points on 4-of-10 shooting, including 3-of-7 from 3-point range. After missing his first three shots of the night, Graham connected on a 3-pointer with just over four minutes to play in the first half to give Kansas a 32-31 lead and Graham his first field goal.
After the make, Graham held both hands in front of his face and gestured to no one in particular an expression of "finally" before heading back on defense.
Photo Gallery
Kansas basketball v. TCU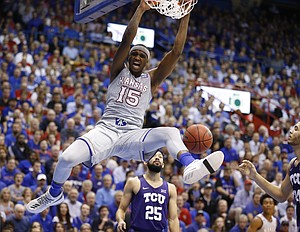 View a gallery of images from Wednesday night's game between the Jayhawks and Horned Frogs at Allen Fieldhouse.
Graham added four rebounds, seven assists, one steal and one monster block on to his birthday-boy line.
The block and one of his seven assists came on back-to-back possessions, as Graham rejected a dunk attempt by TCU's 6-foot-11 center Karviar Shepherd and then started the break and ended it by finding Svi Mykhailiuk for a 3-pointer to put Kansas up 9-8 in the early going.
More on Jackson's injury
Wincing in pain underneath the TCU basket with 11:37 to play in the first half, KU freshman Josh Jackson may have known he was OK, but just about everyone else in the building had their doubts.
Jackson said the injury, which sent him to the locker room until the 7-minute mark of the first half, was the result of a rolled ankle he suffered in practice a couple of days earlier.
"I wasn't worried," he said after the game. "I knew what was wrong with me."
What he couldn't quite figure out was what was wrong with Allen Fieldhouse.
"Quiet," he said. "That's the quietest I've ever heard that place. You could hear a pin drop when I was just laying there. I knew I'd be fine. Just an ankle twist. Felt like I just needed to get up and move around a little bit."
After returning to action, Jackson appeared to move around as if nothing had happened.
"It felt pretty good to get back out there," he said. "What I was worried about was whether I was going to be able to get back into the groove of things and get myself engaged in the game, but I think I came out there and did fine."
Just Joshing?
After expressing his emotions about experiencing something he had heard discussed since before he even joined the Kansas program, Josh Jackson was asked if he could see himself back at Kansas helping the Jayhawks go for a 14th-consecutive title next season.
"Possibly," Jackson said while smiling as laughter filled the room around him. "I think so. Maybe."
Rush visits with team
The man of the halftime hour, former KU great Brandon Rush, who had his jersey raised into the Allen Fieldhouse rafters at intermission of Wednesday's game, took a few moments before Wednesday's tip-off to visit with the team in the locker room.
Joined by four other members of the 2008 national championship squad — Mario Chalmers, Brady Morningstar, Brennan Bechard and Jeremy Case — Rush and his title-winning teammates made Wednesday as much about this year's accomplishments as anything they had done in the past.
"They're all men of few words," Self joked. "But they let them know that there's a lot bigger fish to fry."
Added Jackson of the message shared by those former Jayhawks: "The hard part is just beginning. We just gotta stay focused and know that we don't have any pressure, we don't have anything to prove to anybody. Just go out there and play our game and we'll be fine."
"We want Ty-Ler"
Asked if he heard the louder-than-ever chants from the home crowd for his son and senior walk-on Tyler Self, KU's coach smiled and took a minute to crack a couple of jokes.
"Yeah, I heard that," Self said. "And then it made me a little nervous because they had their starters in and we emptied the bench and I thought, 'God, are we doing it too early?'"
The last time walk-ons Tyler Self, Tucker Vang and Clay Young took the floor together came in December. Since then it's been all about practice for the end of KU's bench. But, all joking aside, Self said he was happy with the way his entire team closed out Wednesday's clincher.
"They finished strong. Clay making his two free throws was probably the most impressive play of the night," Self dead-panned. "Because he hadn't shot 'em that well, but it's great. Tonight's for the team, Monday night will be for the seniors, though."
This and that...
KU now leads the all-time series with TCU, 14-1, including 10 consecutive Kansas wins and a 5-0 record at Allen Fieldhouse.... In clinching its 13th consecutive Big 12 title, KU now has won 17 Big 12 titles in all and 60 regular season conference titles all-time.... KU's 22 bench points were its most since matching that total Dec. 30 at TCU.... Frank Mason III's 20 points moved him into 12th place on KU's all-time scoring list with 1,701 career points.
https://www.youtube.com/watch?v=VVXuwJ5s3zY
https://www.youtube.com/watch?v=GkJscahsYv0
https://www.youtube.com/watch?v=sGjP8IuW07Y
https://www.youtube.com/watch?v=-qQm_ajYSjw
— See what people were saying about the game during KUsports.com's live coverage.
---
More news and notes from Kansas vs. TCU
---