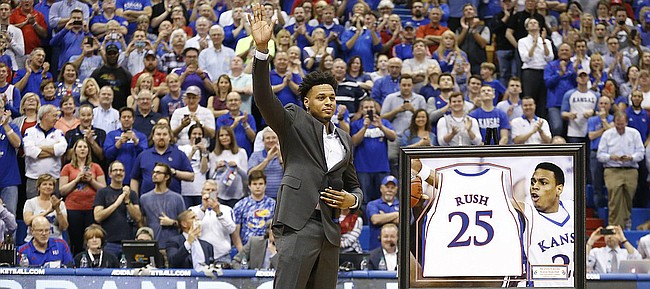 With about five minutes remaining in the first half of the Kansas men's basketball game Wednesday, Brandon Rush took a few moments to step away, drink water and gather himself.
Playing basketball in front of 16,300 fans at Allen Fieldhouse was one thing, but speaking center-stage brought a different level of nerves.
Rush, a Kansas City native, saw his No. 25 jersey unveiled on the south wall rafters during a halftime ceremony in Kansas' 87-68 victory over TCU, which clinched the team's 13th-straight Big 12 title. Rush contributed to three of those title-winning teams.
"Before we even started, I was on the bench," Rush said afterward. "I was about to break a tear and stuff like that. My wife had to calm me down a little bit. It turned out great. I had a great time. It was a great feeling to have."
Photo Gallery
Kansas basketball v. TCU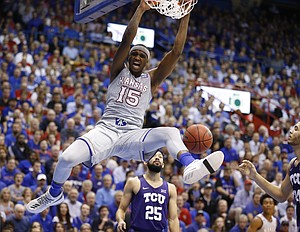 View a gallery of images from Wednesday night's game between the Jayhawks and Horned Frogs at Allen Fieldhouse.
Before introducing Rush to the Allen Fieldhouse crowd, former Kansas radio announcer Bob Davis shared a couple of stories of Rush: his quick return from ACL surgery in his junior year and his defense against Davidson's Steph Curry in the Elite Eight of the 2008 national title season.
"Man, it feels so good to be back on this floor again," Rush started his four-minute speech after receiving a standing ovation.
Rush called it one of the biggest days of his life. Former teammates Mario Chalmers — who had his jersey retired in 2013 — and Brady Morningstar were in the stands alongside several of Rush's family members.
A three-time all-Big 12 selection, Rush did his best, unsuccessfully, to fight back tears when he saw the curtain drop in the rafters.
"To see your name go up there with all those legends up there," Rush said, "all those guys that did a lot for the university and to see my name go up there along with my good friend Mario — who wouldn't be happy after that?"
Rush, who led KU in scoring during all three of his seasons and ranks 23rd on KU's all-time scoring list, credited his older brothers Kareem and Ja'Ron for paving the way for his success.

During his speech, he thanked his entire family, KU academic counselor Scott "Scooter" Ward and his former coaching staff, among others.
When asked who he'd like to see go up in the rafters next, Rush paused a few seconds before mentioning one of his old teammates.
"I'm thinking Sherron (Collins)," Rush said. "Sherron had a great career here. He was a little bull. He was talented. He was just a tough guy. He definitely deserves his jersey retired."
When Rush, in his ninth year in the NBA, walked off of the Allen Fieldhouse floor, after joking about running the treadmill in practice — "I loved every single moment of it" — he received one final standing ovation.
"My heart was racing the whole time in front of 16,000 people," Rush said, "but it was fun."
— See what people were saying about the game during KUsports.com's live coverage.
---
More news and notes from Kansas vs. TCU
---