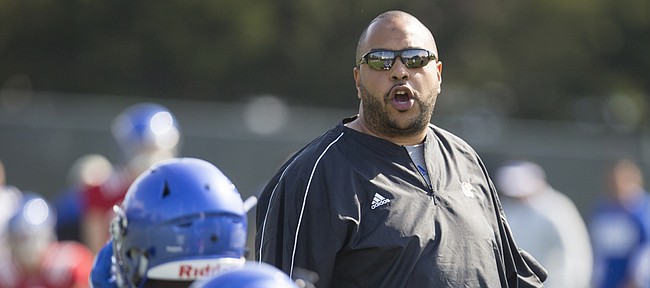 When a football program such as Kansas — which hasn't posted a winning record in eight seasons or won more than three games in seven — starts landing commitments from four-star prospects and appearing on national top-10 lists dedicated to recruiting success, those following the sport can't help but wonder how something like that occurs.
As a result, the college football nation is getting an informal introduction to second-year KU running backs coach Tony Hull.
Those who follow the Jayhawks closely already knew all about the assistant coach who joined David Beaty's staff in early 2016, after giving up a career in rocket engineering to turn around a once defunct football program at Warren Easton High. Now, thanks to a feature by Andy Staples for Sports Illustrated, Hull's name and story are becoming more well known.
The assistant coach really began generating positive buzz for Kansas when, earlier this month, he helped land verbal commitments from six highly touted high school juniors from his home state of Louisiana. The unprecedented run of success for KU within the cutthroat world of college football recruiting prompted Beaty to give Hull a raise and a new job title: associate head coach.
Though two of the Louisiana preps have since de-committed from Kansas, the rebuilding program still has four other juniors from "The Boot" on board: four-star receiver Devonta Jason, four-star defensive back Corione Harris, three-star defensive back Aaron Brule and three-star running back Anthony Williams.
Hull told SI.com he sat with a number of Louisiana recruits inside Allen Fieldhouse the first Saturday in February on KU's junior day, when numerous prospects visited Lawrence to check out the program in person. They watched together as New Orleans native Mike Lee, who became a starter at safety for KU as a true freshman in 2016, and other Jayhawks were honored at mid-court for individual accolades.
As one would expect, Hull told SI part of his and KU's recruiting pitch includes the chance for football players to contribute quickly.
"They don't have to go to other schools and other conferences and wait two or three years to play," Hull said. "They can come and make an immediate impact. What competitor do you know who doesn't want to make an impact and leave a legacy as someone who started something?"
As of Monday afternoon, Rivals.com ranked KU's 2018 recruiting class No. 8 in the nation.
Hull also revealed to Sports Illustrated he aspires to one day become a head coach at the college level: "One of my greatest fears about this profession is that I'm just pigeonholed as a great recruiter," Hull said.
Strength and conditioning update
Beaty currently has a vacancy on his staff due to the recent departure of former strength and conditioning coach Je'Ney Jackson, who joined KU when the third-year head coach took over.
Since Jackson left to pursue a new line of work within the medical industry and spend more time with his family, KU associate athletics director of sports medicine Murphy Grant has overseen the strength program.
Slater joining another former KU aide
When Kansas announced Jackson's departure a week ago, the program also revealed defensive line coach Michael Slater's contract wasn't renewed.
Slater quickly landed at Arizona State, where he will coach the Sun Devils' D-linemen.
Earlier this offseason, former Kansas offensive coordinator Rob Likens joined Todd Graham's ASU staff, too. Likens, who initially signed on as a passing-game coordinator, has since been promoted to co-offensive coordinator.
Walk-on tryouts set for next week
On Feb. 28, Beaty and his staff will welcome KU students to Memorial Stadium for walk-on tryouts.
Potential walk-ons will go through individual drills, cone drills, the 40-yard dash and more.
Full-time students interested in trying out have to be in good academic standing and registered with the NCAA eligibility center.
Interested KU students can contact KU football's director of high school relations, Gene Wier, for more information at gwier@ku.edu, and must have information turned in to KU by Friday.