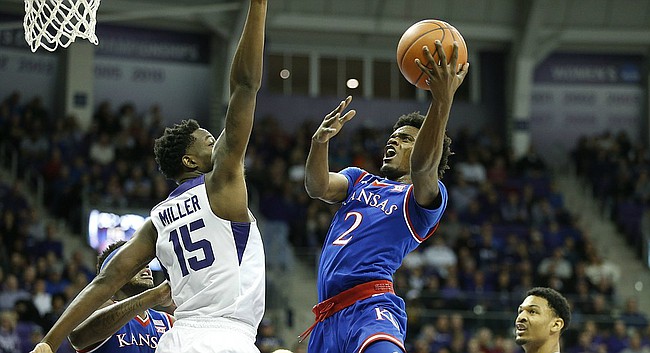 No. 3 Kansas Jayhawks (24-3 overall, 12-2 Big 12) vs. TCU Horned Frogs (17-10, 6-8)
Time: 6 p.m. | Location: Allen Fieldhouse, Lawrence, Kansas
TV: ESPN2 | Radio: IMG Jayhawk Radio Network
Log on to KUsports.com for our live game blog coverage and follow the KUsports.com staff on Twitter: @KUSports @mctait @TomKeeganLJW @bentonasmith & @nightengalejr
Keys for Kansas
1. Stay the course
Through 27 games this season, the Kansas men's basketball team has spent most of it ranked in the Top 5 and lost just three times.
The Jayhawks, as usual, seem to have found a recipe that produces pretty good results and there's no reason to think they're going to change it up any time soon, even with them owning a three-game lead in the Big 12 standings with four games to play.
Even though giving players some extra rest during games would seem beneficial, KU coach Bill Self does not believe it's necessary.
"We're not gonna change who we are," Self said. "What we've been doing works pretty good. Practices are short. And the thing about it is, Saturday-Mondays stink when you're playing 'em, but after you play 'em you get two days off and we've got a Saturday-Monday next week too, so there's no reason we can't take a couple days off next week."

2. Expect the unexpected
It's been nearly two months since the Jayhawks first played the Horned Frogs and Self said both teams enter this one with some significant differences.
"It feels like it was a different season almost (since) we've played them," he said. "They've changed a lot. And we've certainly changed a lot from when we played 'em. Although, I look back and we're still trying to do comparable things as we did before."
One of the things that KU will have to keep a close eye on is 6-foot-11, 220-pound junior Vladimir Brodziansky, who hit the Jayhawks for 28 points in the first meeting on 9-of-19 shooting from the floor and 10-of-11 at the free throw line.
"They were so good off of ball screens and rolling him to the basket and we did an awful job guarding it," Self explaining Brodziansky's career night. "They picked on us and found something that worked and stuck with it.... He's a good player, but we didn't guard him very well."
While Brodziansky's impact was not exactly a surprise, it's important that the Jayhawks do not focus all of their effort on slowing him down because the Frogs have more around him.
TCU, as a team, has shot 50 percent or better 10 times on the road this season and freshman guard Jaylen Fisher, who grew up with KU's Lagerald Vick, has played his best basketball of the season in recent weeks.
"Fisher's just become so much more aggressive looking to score," Self said. "And (he) is shooting the ball so much better. (And then) they've always rebounded the ball, especially on the offensive end."
TCU ranks fourth in the conference in offensive rebound percentage and is third in rebounding defense, giving up an average of just 31.9 rebounds per game to opponents.
3. Keep Vick going
In KU's first meeting with the Horned Frogs, it was Vick who came off the bench to drop 17 points in relief of foul-plagued Josh Jackson who played just 12 minutes and scored 4 points while fouling out.
Vick was 5-of-11 from the floor, including 3-of-6 from 3-point range in a season-high 34 minutes.
The timing could not be better for Vick to see the Horned Frogs again, as the sophomore from Memphis is coming off of back-to-back strong games in wins over No. 9 West Virginia and No. 4 Baylor. In an average of 24 minutes per game, Vick scored 22 points and grabbed 8 rebounds to help the Jayhawks pull out the wins.
Both his teammates and KU coach Bill Self believe that Vick is playing with more confidence today than at any time during the 2016-17 season and that should bode well for Vick against a team he already feels comfortable competing against.
Mega Matchup
KU freshman Josh Jackson vs. TCU sophomore JD Miller
In the first meeting with the Jayhawks back in December, Miller delivered a modest line of 8 points and 8 rebounds in 23 minutes. Having scored in double digits in five of the Frogs' last seven games, it's safe to say that the sophomore from Dallas enters this one with much more confidence than he had in the Big 12 opener for both teams.
So, too, does Jackson, who has tallied double digits in nine consecutive games, posting double-doubles in points and rebounds in five of those. With Jackson's offensive production seeming somewhat consistent, it will be his defense on Miller that is worth watching in this one.
Jackson struggled with foul trouble in the first meeting and looked rattled by the flow of the game. Since then he has had some up-and-down defensive efforts, but never for lack of effort.
If Jackson is locked in on the idea of slowing Miller and helping the Jayhawks clinch a share of the Big 12 title, it could be a long night for Miller. That will be especially true if Jackson elects to hit the boards, which is likely given his one-rebound effort in last weekend's win at Baylor.
Jayhawk Pulse
With just two home games remaining in the 2016-17 season, the Kansas basketball team has reached the point where it is starting to fine-tune every aspect of its offense and defense in preparation for March.
Wednesday's battle with TCU figures to give the Jayhawks a great look at just how far they've come in the past couple of months and freshman forward Mitch Lightfoot said that fact would provide a big advantage for Kansas.
"I think we've gotten a lot better since we played them," Lightfoot said of an 86-80 KU victory on Dec. 30 in Fort Worth, Texas. "We've played a ton of games, we've had a lot of close games, we've come together a ton as a team. We're much closer now and I feel like that's gonna be helpful for us."
A win Wednesday against TCU would give the Jayhawks a guaranteed share of a record-tying 13th consecutive Big 12 Conference title, but Self said he thought his players had their minds in the right place entering this one.
"They were great (Monday) and I think that we'll be excited to play and focused," Self said. "I won't give an impactful speech about (the league title). I don't think those work really work that well anyway. At least mine don't. We'll talk about how this may be a special night. It won't be anything more than that."
Probable Starters
No. 3 Kansas
G – Frank Mason III, 5-11, 190, Sr.
G – Devonte' Graham, 6-2, 185, Jr.
G – Josh Jackson, 6-8, 207, Fr.
G – Sviatoslav Mykhailiuk, 6-8, 205, Jr.
F – Landen Lucas, 6-10, 250, Sr.
TCU
G – Alex Robinson, 6-1, 180, Soph.
G – Jaylen Fisher, 6-2, 195, Fr.
G – Kenrich Williams, 6-7, 210, Jr.
F – JD Miller, 6-8, 235, Soph.
F – Vladimir Brodziansky, 6-11, 220, Jr.
More like this story on KUsports.com