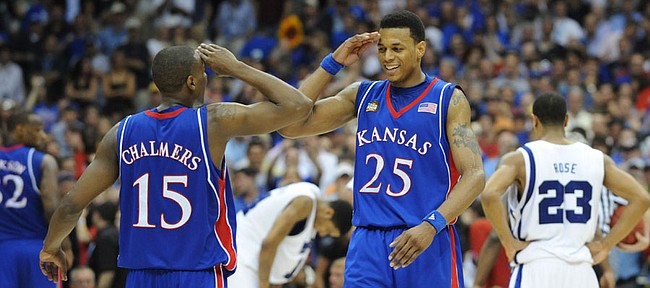 On a night when the current Kansas basketball team can help clinch a share of a record-tying 13th Big 12 regular season title, one former Jayhawk who played a huge role in delivering three of those titles will share the spotlight with the 2016-17 team.
Former KU great Brandon Rush will have his No. 25 jersey retired and sent to the Allen Fieldhouse rafters during a ceremony at halftime of Wednesday's KU clash with visiting TCU.
During a conference call with local reporters on the eve of his big night, Rush admitted he was equal parts excited and nervous.
"I was talking to my wife about that (Monday night)," said Rush, 31, now with the Minnesota Timberwolves in his ninth NBA season. "She asked if I was nervous and, yeah, I am kind of nervous. I really don't like public speaking and speaking in front of 16,300 people's got my nerves a little rattled."
Those nerves figure to be calmed by the adoring roar of the Allen Fieldhouse faithful who watched Rush help lead the Jayhawks to 95 victories in three seasons, including the 2008 national title.
While acknowledging that the 2008 team's comeback win over Memphis in the NCAA Tournament championship game was an all-time favorite memory, Rush pointed to a less celebrated moment as one of his other favorite KU memories.
"Bouncing back from my ACL injury and just hearing the crowd at my first game back was a real special moment and I'll never forget that," Rush said.
That injury, which kept Rush from turning pro after his sophomore season, was one of the first key steps in KU's run to the 2008 national title.
Currently playing with former Jayhawks Cole Aldrich and Andrew Wiggins in Minnesota, Rush said he thinks about the 2008 title "all the time" and added that he and Aldrich, who was a freshman on that team, talk about it a lot.
KU's leading scorer during all three seasons he played at Kansas (2006-08), Rush was a three-time all-Big 12 first-team selection, a two-time Wooden Award All-American and the 2006 Big 12 Freshman of the Year.
He currently ranks 23rd on KU's all-time scoring list with 1,477 points and his 205 career 3-pointers are the fifth most in KU history. Rush knocked those down at a 43.5-percent clip, which sits as the third best KU career 3-point percentage of all-time.
Rush has known about Wednesday's ceremony for a while and actually found out about sooner than he was supposed to. Before Self could tell him the news, one of Rush's friends, whom he did not name, "spilled the beans a little early."
Despite getting wind of the plans a couple of months earlier than planned, Rush said his reaction to the news would not have been any different no matter when he found out.
"I was really excited," he said. "I knew sometime it was gonna come. But for me and my family it's a really exciting time for us."
Rush said KU teammate Mario Chalmers was planning to be at Wednesday's game to celebrate the second member of that title team going up into the rafters.
"Mario loves it," Rush said. "He's been waiting on that day to happen for me since he got his jersey retired in 2013. He's definitely excited. He's gonna be there."
Rush and Chalmers are far from the only Jayhawks looking forward to the retirement ceremony.
"I'm really looking forward to seeing him. I haven't seen him in a bit and I know that he's excited to be here," KU coach Bill Self said. "He said he only needed 16 tickets, which is about 16 less than I thought he'd ask for. I hope people, which I'm sure they will, will show him the appreciation he deserves."

Asked to list the first things that come to mind when the name Brandon Rush is brought up, Self jumped right in.
"Best teammate. Most liked," he began. "Everybody liked him no matter if you're a senior and he's a freshman or you're an 18-year-old and he's a 22-year-old. Everyone got along with B. He was ornery, but did it in a very quiet way, kept to himself in so many ways and I don't think people that didn't know him really got a chance to understand his humor because he's really, really funny and he's very dry."
One of Self's favorite funny-guy moments from Rush came in a number of KU practices.
"He used to tell us all the time, 'Hey, run this play,'" began Self, explaining that he always asked why Rush wanted to run that particular play. "'Because Mario doesn't know it. Watch, watch, watch.' And we'd run it in practice and Mario doesn't know where he's going and, sure enough, that'd stop practice and he'd just giggle and chuckle the whole time."
Rush will become the 28th former KU men's basketball player to have his jersey hoisted into the rafters at Allen Fieldhouse. There is no formal criteria for inclusion on the exclusive list of KU's all-time greats and Self said Rush's status as a three-time all-league pick, leading scorer and national champion made him a slam dunk.
His will be the first jersey raised at Allen Fieldhouse since Chalmers had his retired in February of 2013 and Rush will be the third former Jayhawk to wear No. 25 to have his name and number hanging high above the south end of Allen Fieldhouse, joining B.H. Born and Danny Manning.
"It means that all the hard work has paid off. Growing up 30 minutes outside of Lawrence and being able to have my name in the rafters is a pretty big deal for me and my family."