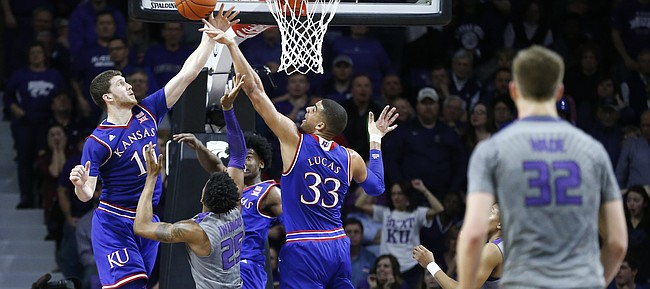 When KU senior Landen Lucas looked at the Kansas basketball roster last summer, he saw help.
Sophomore Carlton Bragg Jr., carried a physically bigger frame and seemed poised for an increased role. In 7-foot freshman Udoka Azubuike, Lucas saw a mountain of a man who not only could tackle some of the scoring and rebounding load but also lean on some of the bigger bodies Lucas had been asked to defend in the past. And junior Dwight Coleby, who sat out last season after transferring from Ole Miss, was eligible and almost fully recovered from a knee injury.
Right there, without even mentioning incoming freshman Mitch Lightfoot, Lucas saw a few legitimate options in the front court that could help support this team's terrifically talented perimeter players.
And then, as the season began, one by one, the help started disappearing.
First Azubuike was lost to a season-ending wrist injury in late December. And then Bragg, who struggled to find his way on the floor, encountered off-the-court issues that led to two separate suspensions and consistently underwhelming performances.
Those setbacks thrust Coleby and Lightfoot into more prominent roles for which neither player was quite ready.
And that left — and still leaves — Lucas as arguably the most important player on a Kansas team that features the Big 12's top player and top freshman, both of whom have been mentioned as national player of the year candidates throughout the season.
You'd never know the burden of that kind of pressure from watching or talking to Lucas. But it has affected him — some for the better, some for the strange.
"It's changed a lot, and not all bad things," said Lucas of how navigating foul trouble has impacted the way he plays. "It definitely has helped me prepare for games where I might be in early foul trouble (because) now I know a little better how to play (through it)."
Lucas has reached four fouls 10 times in the 16 games Kansas has played without Azubuike. But only once in that stretch has he picked up his fifth foul. And even that came with just 38 seconds remaining in a six-point win at Kentucky.
Often hit with two fouls in the first half, KU's 6-foot-10, 250-pound senior has finished with more than three fouls in seven of KU's last eight games, including Saturday's victory at No. 4 Baylor, when Lucas again finished with four but managed to stay on the floor.
"Knock on wood, it has been a while (since Lucas fouled out)," KU coach Bill Self said recently. "And even before that, he'd get two early and you'd go back and watch the tape and go, 'Those were ticky-tack' or whatever. But he's a smart player. I'm really proud of him. You tell guys to be aggressive and be tough and compete and, if you're a big guy, that's hard to do without body contact. So he's picked his spots pretty well."
For Lucas, the secret to staying on the floor has been his ability to adapt to the game as it plays out.
In some ways, picking up that second foul in the first half has been a blessing in disguise, because it has forced the third-ranked Jayhawks (24-3 overall, 12-2 Big 12) to give their most reliable big man some much-needed rest.
And rather than kicking back, sucking down Gatorade and relaxing while on the bench, Lucas has managed to keep his head in the game.
A smarter mental approach, which includes being ultra-aware of time, score and circumstances and also paying attention to the way different officials call each game, also has been extremely beneficial to Lucas this season.
"The way I like to play, especially before the ball is entered, I like to make sure that my man doesn't catch it in good position and use my body and stuff," Lucas explained. "And when I have the refs constantly telling me ease up and stuff that's something that I really have to be aware of so I don't pick up any cheap fouls. I've had to change that and pick and choose when I go after balls, offensive rebounds and stuff so I don't pick up any fouls like that."
For Lucas, who earlier in his career was known to pick up a bad foul here and there, one of the things of which he is most proud during this run through the Big 12 is the way he has gotten the most out of every foul and every minute.
Early in the year, Lucas struggled to adjust to the new season and a slightly new role and was limited to less than 20 minutes in eight of KU's first 11 games. Since then, while playing with Azubuike on the shelf, Lucas has averaged right at 30 minutes a game and become an indispensable player on a team full of them.
His ability to stay on the floor without decreasing his impact has been a huge part of what has Kansas headed toward winning its 13th consecutive Big 12 regular season title.
"You're gonna get fouls throughout the game," Lucas said. "You just gotta eliminate any silly ones that don't really do anything for the team. I've done OK. I think I can improve in some areas. You know, I still gotta make sure that I keep my mindset to still be physical and just be smart about when I am.
"It's just all a learning process, though. And the fact that it kind of happened earlier on in the season, about halfway through, gives me a lot of time before the tournament to get better."