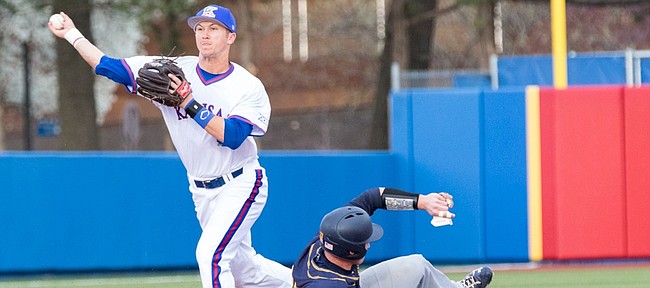 Four-year letter winner and three-time all-league selection in baseball and two-time all-county quarterback, Matt McLaughlin specialized in making his dreams come true at Leland High in central California.
But nobody bats a thousand on his dreams, a harsh reality he absorbed as a teenager when he answered the phone and his uncle, University of Washington head baseball coach Lindsay Meggs, was on the other end.
"It was like my sophomore or junior year and he called me and said, 'Hey stud, I can't recruit you because I can't have my wife and my sister mad at me if you're not playing.' But it couldn't have worked out any better," said McLaughlin, a junior leadoff hitter and shortstop for Kansas. "I absolutely love it here. I'll be a Jayhawk for life. This is my home now. So it worked out great."
McLaughlin has started 110 games for Kansas and will experience his third home opener today at Hoglund Ballpark, where Omaha (1-3) visits Kansas (1-2) for a 3 p.m. first pitch.
McLaughlin smiles now when he looks back on the life-changing conversation with his uncle.
"I think part of it was he didn't think I was good enough to play in the Pac-12, like most of the coaches in the conference didn't think I was," McLaughlin said. "I kind of wore that on my shoulder a little bit. And it bothered me for a while that coaches didn't think I could play in that conference. But Skip took a chance on me and it worked out great."
Skip is what Price's players have called him for his 15 years on the job at Kansas. He has known McLaughlin's uncle for about twice that many years.
"He's one of my favorite guys in the country. He's really proud of Matt," Price said of Meggs. "He's a really demanding guy and he can be really hard on his players, and I mean that in a positive way. His sister's his best friend, and what he told me when he called me was, 'Hey, Ritch, my sister's my best friend and I don't want to ever do one thing to jeopardize our relationship, so I'm going to send him to come play for you.' "
Price liked the sound of that, having worked with McLaughlin during the Stanford baseball camp at which Price instructs every year.
"He was on my team at Stanford when he was a sophomore, and he's got a great body and he's got swagger," Price said. "And I like swagger. I like guys who aren't arrogant but are confident and love to play. First time I saw him play, I knew he was going to be a Jayhawk."
Reached by phone Monday before his team's opener of a three-game series at St. Mary's in Moraga, Calif., Meggs sounded like the proud uncle Price described.
"Many people asked me, 'Why don't you try to get Matt to come to your place?' and obviously Matt's a Pac-12 player," said Meggs, who has coached two of his sons at UW. "If you can play in the Big 12, just like if you play in the Pac-12, you can play for anybody. As I said to my family members and anyone else, I didn't think it was fair to Matt. My own boys knew what to expect from me. We were in the same household for 18 years. I saw Matt off and on as he was growing up. I didn't know if he truly knew what to expect. I love my sister and I love my brother-in-law and I didn't think it would be fair to Matt to recruit him."
Meggs keeps a close eye on his nephew's progress.
"We were the losers in that one," he said. "He's a good player. We could have used him. But it has worked out great for him."
Meggs took his son Jack, a senior outfielder for Washington, on a recruiting visit to Kansas.
"I've known coach Price since the late '80s," Meggs said. "As a parent, during that trip, I was really impressed with their academic support system and, really, with everything you'd want as a parent. My thought was that if Matt was going to leave the West Coast, as a dad coach Price is a guy I'd have no issues handing my son off to for three or four years. He's not only a great baseball coach, but a great person and mentor, and I knew Matt would be treated about as well as a person can be treated."
McLaughlin's hardware suggests he's responding well to how Kansas is treating him. He made the Big 12 all-freshman team, twice has earned All-Big 12 honorable mention and was a first-team Academic All-Big 12 honoree last season.
A tri-captain with senior catcher John Remick and senior closer Stephen Villines, McLaughlin gained valuable experience playing in the prestigious, wood-bat Cape League over the summer. Lawrence High head baseball coach Brad Stoll was third-base coach for the Falmouth Commodores for which McLaughlin played shortstop and third base. Villines came out of the bullpen for the Commodores, runners-up in the playoffs.
"He had a great heads-up, base-running play in big (postseason) game," Stoll said of McLaughlin. "He advanced home on a ball that skipped by a guy that most players wouldn't have been in tune enough to get such a great jump on. I appreciate how much he bought into everything. When we got beat in the final game, he cried. We all cried. At that point in the summer, kids sometimes just want to get out of there and get home. Not him. He took it hard."
Scouts rank a baseball prospect's five tools — running, throwing, hitting, hitting with power and fielding — with an eye to intangibles that come under the headings of head and heart, where McLaughlin earns straight As.
"Matt's a really good baseball player with a really good baseball IQ," Price said. "There are guys in our league who run faster than he does and have a better arm velocity-wise on throws across the diamond, but I think I read somewhere that he's the preseason choice to be first-team all-conference at shortstop. ... He does all the little things within the game that are huge."
McLaughlin's experience will come in handy for talented freshmen in key spots today with James Cosentino, of Leawood, as his double-play partner and hard-throwing right-hander Ryan Zeferjahn, of Topeka, on the mound for his first collegiate start.
Price (436-404-3) has a 16-2 record in February home games at Kansas and is three victories shy of passing Floyd Temple (438) as the school's all-time winningest baseball coach.