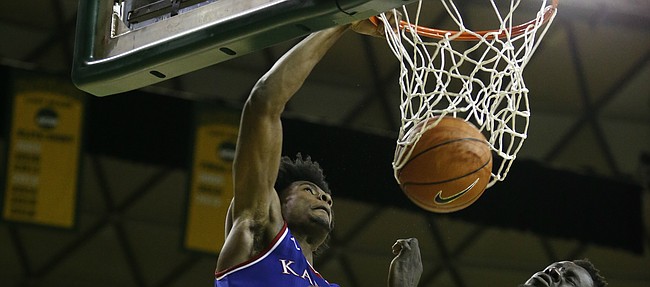 In what is becoming a regular occurrence, the Big 12 on Monday named Kansas freshman wing Josh Jackson its Newcomer of the Week. It marked Jackson's sixth such honor this season — a record for first-year Jayhawks.
While averaging 16 points and 6.0 rebounds in KU's back-to-back wins over top-10 opponents, Jackson put up his team-leading ninth double-double in an overtime victory over West Virginia, with 14 points and 11 rebounds, to go with a career-high five steals.
The 6-foot-8 Detroit native followed that up with 16 points on 7-for-14 shooting and four blocked shots in a Saturday victory at Baylor that gave Kansas a three-game lead in the Big 12 standings with four regular-season games to play.
Jackson's six Newcomer of the Week honors tie him for the third-most in the 21-year history of the Big 12. The nearest Jayhawk with as many Big 12 weekly newcomer nods is guard Tyshawn Taylor's four during the 2008-09 season.
Kansas State's Michael Beasley won the weekly award eight times in 2007-08, and Oklahoma's Willie Warren seven times in 2008-09. Jackson is tied with Texas' Kevin Durant (2006-07) and Iowa State's Marquis Gilstrap (2009-10) with six.
Also a two-time Big 12 Player of the Week, Jackson has earned a conference weekly award eight times this season. That's more than any other Jayhawk in the history of the conference, surpassing Nick Collison's seven times from 2000-03.